The 2021 Alumni Band Reunion has been scheduled for the LSU vs. ULM game. The Four Notes Club has some exciting events planned for all!
About this event
Registration is now open!
Read below for an overview of Alumni Weekend, a description of the ticket packages and add-ons, and more information pertaining to this exciting event.
Alumni Weekend Events
Friday, November 19th
Sectional / Auxiliary Luncheons
Various sections and auxiliary units have luncheons planned in conjunction with Alumni Band Weekend. The following are known events and contacts for them:
Colorguard Alumni Association Luncheon
Location: Hilton Baton Rouge Capitol Center
Time: 11am
Contact: Sheri Kirley | sherikirley@yahoo.com
Golden Girl Alumni Luncheon
Location: Hilton Baton Rouge Capitol Center
Time: 11am
Contact: Lana Cocreham | cocreham@aol.com
Send an email to fournotes@lsu.edu if you'd like your sectional luncheon featured.
Stands Rehearsal
Alumni Band Members who select the Gold Package should plan on attending a stands tune practice Friday evening. Alumni and current band members will practice stands tunes, down cheers, touchdown sequences, horn flashes, and more so that everyone is on the same page for Saturday in Death Valley.
Alumni Reception
Shortly following the stands rehearsal Friday evening, the Four Notes Club will host an adult's only social at the Tiger Band Hall. Light food options will be available as well as a cash bar. All reunion weekend packages include one (1) pass for the social. Participants are allowed to bring an adult guest to this event.
Saturday, November 20th
Alumni Band Halftime Registration & Rehearsal
Alumni will receive their 2021-specific alumni band t-shirt, hat and instrument rental (if ordered), wristbands for the day, and game tickets. After registration, all alumni will participate in a rehearsal with the Golden Band from Tigerland. Participants will practice procedures on how to get on the field, the field show, exiting the field, and returning borrowed instruments.
Post-Rehearsal Tailgate
Following rehearsal, Alumni Band Members are invited to spend time socializing on the Band Field with friends, new and old, for a catered tailgate. Food and beverages will be provided for all registered alumni and their families. During this time, we will also pay tribute to Dr. Frank B. Wickes. Add-on passes are available for guests/family members.
March Down Victory Hill or Walk In Front of Tiger Band
For Gold Package Alumni
Contingent upon instrumentation and other factors, Alumni Band Members will report to the Greek Amphitheater at a specified time. At the Drum Major's signal, these alumni who will also be playing in the stands will take to the street in parade block and march down Victory Hill. Alumni will stop in front of Tiger Stadium, play Pregame, and continue parading into the PMAC to watch the TAF Tiger Band performance. In observance of their 50th Anniversary, the LSU Colorguard alumni will lead this group.
NOTE: To celebrate the 50th Anniversary of the LSU Colorguard, CG Alumni who do not register for the Gold Package will be allowed to walk in front of this group without performing to ensure that all Colorguard are as together as possible for this momentous occasion.
For All Other Alumni
Alumni Band Members with the white and purple packages have the option to walk in front of the current Tiger Band as it marches down Victory Hill, but will not have floor level access to the TAF performance in the PMAC. Purple/white participants will be released immediately after the Tiger Band runs down the hill.
Perform in the Stands with the Tiger Band
Alumni Band Members who select the Gold Package will be directed into Tiger Stadium after the PMAC TAF performance. They will take their seats next to the current Tiger Band and will perform with Tiger Band for the 1st half of the game. Alumni Band Members will not perform in the stands for the 2nd half of the game, but will be allowed to return to the same section.
Halftime Alumni Band Performance
"Relive the glory days of yesteryear" with a halftime performance of Fight for LSU, Hey Fightin' Tigers, and Pregame! Performers will meet in uniform at designated entry portals around Tiger Stadium, line up on the sidelines, and perform halftime with the current Golden Band from Tigerland.
Packages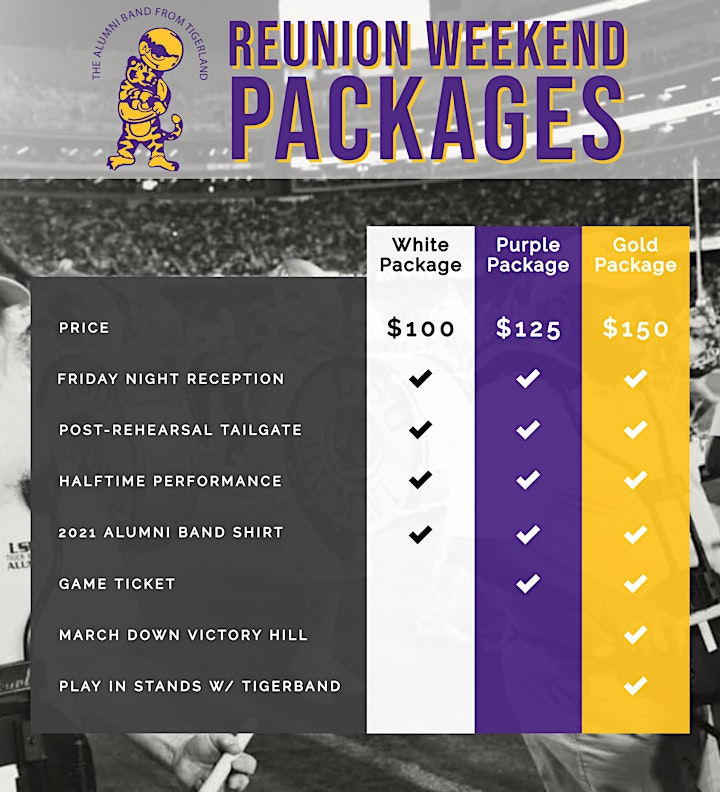 Package Add-ons
Alumni Band Hat
Any Alumni Band Member who needs a hat will need to include this add-on in their package selection. This year's hats are the same as the most recent yellow Alumni Band hats. All wind and percussion performers must wear the Alumni Band Hat while on the field.
Extra Game Ticket
Bring your family to the game. This add-on includes one (1) game ticket per quantity purchased. Seats are located in the North Endzone of Tiger Stadium. Family and guests will not be seated in the same section as the Alumni Band performing in the stands.
Tailgate Pass
Bring your significant other or friends to the adults-only Alumni Social and/or Tailgate. Each pass is valid for one (1) person's attendance. Adult and Kid options are available.
Parking Pass - Tiger Band Practice Field Lot
A limited number of parking spots have been secured in the lot behind the Tiger Band Practice Field. Reserve a space for your vehicle by purchasing this add-on. Those purchasing the parking pass will be emailed an eTicket to place on their car's dashboard to enter the lot. One pass is available per order. If you need multiple passes, you should create separate registrations.
Rent a Tiger Band Instrument
If you need to use a school-owned instrument, you should add this to your pass package. Only registrants with this option added will have a school-owned instrument to use on Gameday.
Game Ticket Locations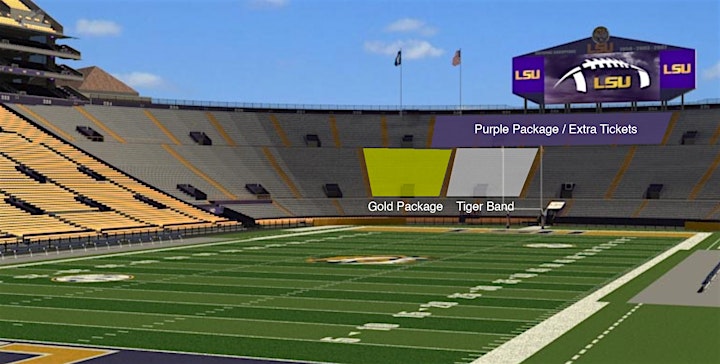 Gold Package
Those purchasing a Gold Package will be performing in the stands in Section 218 next to the current Tiger Band in the stands. Tiger Band sits in Section 217.
Purple Package
Those purchasing the Purple Package will receive a game ticket in the stands above the current Tiger Band and below the scoreboard in the North End Zone. Tickets will be grouped in Sections 230 - 234. Only tickets purchased on the same order will be seated together. Friend groups who wish to sit together should purchase as one group on one of the individual's order form.
Extra Game Ticket
Those purchasing Extra Game Ticket(s) will receive ticket(s) in the stands above the current Tiger Band and below the scoreboard in the North End Zone. Tickets will be grouped in Sections 230 - 234. This is the same seating section as the Purple Package.
Schedule
The weekend schedule is dependent upon kickoff time. Look for a schedule to be posted shortly after the networks announce the game time.
Hotel Accommodations
We have blocked off 10 singles and 5 doubles at the Holiday Inn on Constitution for Friday, November 19th, and Saturday, November 20th at a room rate of $119 per night (plus tax). To take advantage of the block rate, please call the hotel directly at 225-925-2244 and use group code TBA.
FAQ
What is the Alumni Band uniform?
To be allowed on the field at halftime, Alumni Band members MUST wear their 2021 Alumni Band Shirt provided by the Four Notes Club with registration, khakis (shorts or pants - weather dependant), mostly white tennis shoes, and the Alumni Band hat (winds and percussion only). Hats have not changed, so members can reuse a hat from prior years. Feel free to wear a different change of clothes during the Alumni Band rehearsal.
Is there a discount available for early registration?
Yes! Use code EARLYBIRD for 15% off your registration up until September 30th.
Are there any discounts for young alumni?
Yes! If your final year in Tiger Band was 2016 or later, email fournotes@lsu.edu for a 25% off discount code to use at checkout. Young Alumni discounts end on October 31st.
Previously, I was able to rent an instrument. Is that still an option?
Yes! Add the "Rent a Tiger Band Instrument" add-on to your purchase. You will receive an email a few days in advance of the Reunion with pickup instructions.
I am unable to attend certain aspects of the weekend. Is there a refund or discount available for those parts?
Packages are inclusive of all events described and there are no "a la carte" options available. For the first time in Alumni Band Reunion history, event proceeds will be used to fund scholarships and other philanthropic activities for the benefit of future Tiger Band members. Your support in this new endeavor for students is greatly appreciated!
I am interested in providing a donation or sponsorship for the Reunion. Who should I contact?
Send an email to fournotes@lsu.edu.
Where will the rehearsals be?
The Friday evening stands rehearsal will be at the Tiger Band Hall on Aster Street. The Saturday rehearsal will very likely be at the Tiger Band Hall as well, due to Football's use of the Indoor Football Facility (IFF); however, that may change. We will know more as we get closer to the event.
Is transportation available for me to get around campus?
All participants are responsible for their own transportation around campus for Alumni Reunion weekend.
How will instruments get to/from the stadium?
Some of these logistics are still being worked out with the Band Department and Athletics, so information is subject to change.
For alumni playing in the stands with Tiger Band, you will more than likely carry your instrument to the stadium as we will parade there. Cases for those instruments, as well as the instruments for those performing only at halftime, will be collected after the Saturday rehearsal for transport to Tiger Stadium. More information will be forthcoming.
For members who are not playing in the stands, prior to halftime, you will need to collect your instrument for the performance. After halftime, borrowed and large instruments will need to be returned to the truck. Smaller instruments can be carried with members as they return to their seats or depart. At the conclusion of the game, the truck will be at the Old Band Hall/Greek Amphitheater for instrument collection.
What is the refund policy?
In the event that Reunion Weekend is cancelled, all attendees will receive a refund for their order. Please note - this does not include the fees that Eventbrite charges and Eventbrite does not refund those fees. Outside of the event being cancelled, the Four Notes Club does not offer refunds or cancellations for packages or add-ons. Once your order is confirmed, it cannot be cancelled or modified.
Sponsors
If you would like to become a sponsor of the Reunion Weekend, please email fournotes@lsu.edu for more information.