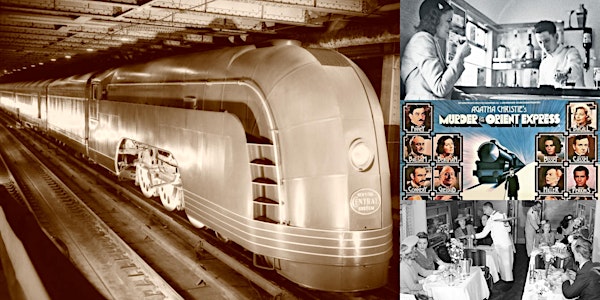 'The Golden and Silver Age of Passenger Trains' Webinar
Can't make it live? Register and get access to the full replay for one week! New York Adventure Club | www.AdventureClub.com
About this event
1 hour 30 minutes

Mobile eTicket
Early passenger trains were noisy, often dangerous, relatively slow, and offered few creature comforts. While improvements in technology eventually led to faster trains, and the introduction of safety regulations led to safer ones, it was interior changes that transformed trains into a cultural experience. Why did enhancements in train comfort lead to an influx of well-heeled passenger across the country, and why are trains today not nearly as glamorous as they once were? It's time to explore the golden and silver age of passenger trains between the 1890s and 1950s like never before.
Join New York Adventure Club as we uncover the history of passenger trains, from the first transcontinental railroad of 1869, to the railroad boom of the golden age, through the twilight years of the silver age when the luxury rail experience was in full swing.
Led by historian Lucy Jane Santos, our virtual experience surrounding passenger trains will include:
How George M Pullman was inspired to create a worldwide phenomenon that changed travel all over the world
A discussion of the golden age of passenger trains when new railroad companies and lines were popping up all over the world to transport people across great distances — though comfort, speed, and safety were hard to come by
An overview of the silver age of passenger trains — as train comfort increased with the likes of air conditioning, reclining seats, improved lighting, and restaurant-quality dining, companies competed with each other to offer faster, more luxurious, and more reliable services
A deep dive on flagship luxury trains introduced to entice customers onboard including the Super Chief, 20th Century, and the Flying Scotsman
Passenger trains in pop culture, from when staged train wrecks were a popular event at fairs and festivals across the U.S. to being prominently featured in major works of film and literature
How advertising campaigns romanticized rail travel and encouraged more people than ever on board
A look at the most luxury trains to have ever ridden the rails, including the Orient Express, Trans-Siberian Express, Le Train Bleu, and The Blue Train
How competition from airlines finally offered a serious challenge to the dominance of rail travel and marked the end of an era
Afterward, we'll have a Q&A session with Lucy — any and all questions about the golden and silver age of passenger trains are welcomed and encouraged!
Can't make it live? Don't worry, you'll have access to the full replay for one week!
See you there, virtually!
*Once registered, you will receive a separate, automated email containing the link to join this webinar
**For the best possible viewing experience, please ensure you're using the latest version of your internet browser — Google Chrome is the most compatible. Exact technical requirements and a webinar user guide will be shared in the automated confirmation email upon registration.
***A full replay will be available after the experience for all registered guests
About Lucy
Lucy Jane Santos is an expert in the history of 20th century leisure, health, and beauty.
After completing a BA in Egyptian Archaeology and a MA in Arts and Heritage Management Lucy worked for several private members clubs and societies in London including The Arts Club, the Authors' Club, and the International Wine and Food Society.
She has been a judge for the Historical Writers' Association Non-Fiction Crown, the recipient of the Stephen Joseph Research Award and was the Non-Fiction Writer In Residence for the Stay-at-Home! International Literature Festival (2020). She is a founder of the Art Deco Society UK and co-founder of the Cosmetic History and Makeup Studies Network.
Half Lives: The Unlikely History of Radium is Lucy's debut book and was shortlisted for the 2021 BSHS Hughes Prize, for books that bring scholarship to new readers by capturing the public imagination while conforming to the rigorous standards of academic research. Her next book, which is a history of the element uranium, will be published in 2024.
Lucy also works as a freelance historical researcher and consultant.
Disclaimer
By attending a New York Adventure Club experience, you accept our terms of service.
Categories: Virtual, Moments in History