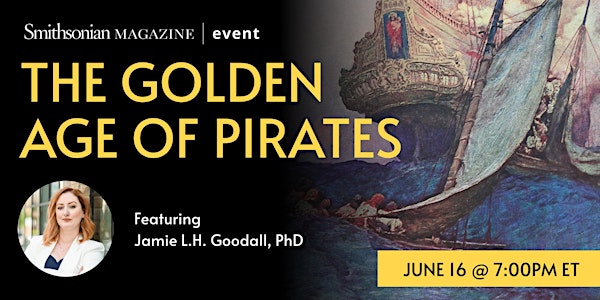 The Golden Age of Pirates
Learn all about the Golden Age of Pirates.
Refund Policy
Contact the organizer to request a refund.
Eventbrite's fee is nonrefundable.
About this event
Join Smithsonian magazine for a journey back in time of nearly 400 years, when pirates prowled the Atlantic Ocean, from the balmy islands of the Caribbean to the colder waters of Long Island.
Hear the surprising, swashbuckling stories of infamous pirates like Blackbeard and Mary Read, the dangerous lives they led, and the treasures they plundered. In a captivating lecture, Dr. Jamie L.H. Goodall, author of the new book Pirates and Privateers from Long Island Sound to Delaware Bay, will upend what you thought you knew about this Golden Age of Pirates. Who were these sea captains, who were they secretly working for, and what's their legacy today (beyond the ride at Disney World, of course)? At the end of the program, hosted by Smithsonian's digital editorial director Brian Wolly, you'll have the chance to pose your own questions to Dr. Goodall.
After the event, a recording will be available to ticketholders via email and will be accessible for on-demand viewing for one week.