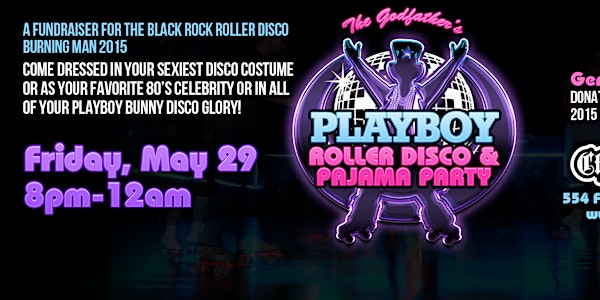 The GodFather's Playboy Roller Disco & Pajama Party
Location
Church Of 8 Wheels
554 Fillmore Street
San Francisco, CA 94117
Description
On Friday, May 29, come on out to the Church of 8 Wheels Roller Disco in San Francisco as we relive the event that launched roller skating into the stratosphere in the 80's. In November, 1979 ABC broadcast the Playboy Roller Disco and Pajama Party on national TV. Hugh Hefner transformed the tennis court at the Playboy mansion into a roller disco and invited all of the Hollywood hotties and studs to go for a roll. We are going to recreate that unique roller disco party experience as only we in San Francisco can!!!
https://www.youtube.com/watch?v=mRSBPgmwwkI
It's time to get sexy on those wheels!!! D. Miles, San Francisco's "GodFather of Skate" will serve as your MC/DJ for this epic affair!!! Come dressed in your sexiest disco costume or as your favorite celebrity of the 80's or in all of your Playboy Bunny disco glory!!! Just do that little extra to make it funky!!! The doors open at 8PM and we roll until midnight. There will be food and drink and a photo booth to capture your glorious roller disco moments!!!
This event is a fundraiser for the Black Rock Roller Disco, a Burning Man Theme Camp. Each year we build a build a roller rink on the playa and spread rolligion to the masses!!! All funds from this event will go towards the costs of brining the roller disco to Burning Man 2015.
THERE WILL BE NO TICKET SALES AT THE DOOR!!!
In order to get into this roller disco event all participants must get tickets in advance. Tickets for general admisson are $25 per person. Anyone making a donation of $50 or more will receive a one of a kind, first ever edition of the 2015 Black Rock Roller Disco medallion.
As always, we're going to have a funky good time!!!