Event Information
Refund Policy
Refunds up to 1 day before event
Description
"There is a profound beauty and a Divine magick that happens when women come together in support of one another." ~M. Hall
Women's Circle changed my life.
A few years ago I prayed and asked the Universe to send me friendship. I was alone and I was going through the hardest time of my life. I had already been through some difficult times, and I was ok with being alone and not having a support system. But, this time was different. Life had me on my knees, and I was scared of the place where I found myself.
What does a spiritual woman do when she is on her knees? She prays. She prays hard.

I prayed for sisterhood and I gave it to the Universe.

Within a few days my first women's circle found me. I remember that moment so vividly. I was sitting on the train and by chance, I took a short survey that brought me to connect with an amazing group of women. A group of women that today I call, My Tribe. They held me through some difficult times, they witnessed me through some joyous times and they cheered me on as I took a leap of faith and reclaimed my power.
Not only has Circle been about creating deep life connections with women who I recognize as my soul sisters, it's been about rediscovering and connecting with my inner Goddess. The Divine Feminine.

It's been about self-care and self-love.
It's been about deep reflection, soul art and journaling.

It's been about remembering my connection to the Divine and that everything is sacred.

As a women's circle facilitator I now bring that joyous and life changing experience to you because...

"Women are wired for Tribe." ~M. Rose
The Goddess Connection Women's Circle is a sacred container and safe space for women to come together in sisterhood and reconnect to their spiritual being.
The Circle will meet monthly (locations to be announced) with each monthly circle holding a different theme and spiritual practice.
Feeling ready to connect in sisterhood?

Feeling a desire to rediscover your highest and truest self?
The Goddess Connection Women's Circle initial circle and opening ceremony will be held on Sunday, July 23rd at 3:00 pm in Veteran's Park, Kendall Park, NJ.
We will come together in sisterhood to discuss the word "Sacred" and what it means to us. There will be discussion on self-care and spiritual practice, and how the two are intertwined. There will be an anointing ritual using essential oils, and each sister will create her own signature bath salts. In honor of the new moon, we will perform a new moon ritual and set our intentions for the month.
We will connect as sisters; we will connect as spiritual beings.
Grab your yoga mat, cushion or blanket (ground seating is recommended for a deeper connection to Pachamama, Mother Earth), your journal and pen and join me for a sacred and soulful experience that is sure to stir your inner Goddess.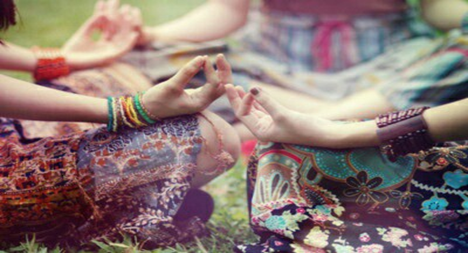 Date and Time
Location
Refund Policy
Refunds up to 1 day before event