A NEW GENERATION IS ARISING! The Time for REVIVAL is NOW! God has raised up a NEW GENERATION OF REVIVALISTS! (FRI. AT 5:30PM & SAT.10AM)
About this event
IT'S HAPPENING!
REVIVAL IS NOW BREAKING OUT!
IT IS NOW LANDING IN DALLAS, TX
The Glory Revival Presents: A New Generation Arising!
Friday, September 3rd - Saturday, September 4th 2021
In PRAYER MOUNTAIN in Dallas, TX - We will be linking arms to see a MIGHTY OUTPOURING of the Holy Spirit!
(Exact address: 5950 Eagle Ford Dr, Dallas, TX 75249)(LIMITED PARKING & BRING YOUR OWN LAWN CHAIR)
Jesus Christ will be Magnified!
Miracles will break out!
Demons will be Cast out!
Souls will be saved!
Holy Spirit will FILL MANY!
& WE WILL BAPTIZE THOSE WHO WANT TO FOLLOW JESUS!
Do Not Miss this MIGHTY REVIVAL OUTPOURING in DALLAS, TX
The Glory Revival IS POURING OUT NOW!
EVENT DETAILS:
Friday, Sept. 3rd -
5:30pm - Doors Open
6:00pm - REVIVAL SERVICE
Saturday, Sept. 4th -
9:30am - Doors Open
10:00am - REVIVAL SERVICE
1:00pm - LIVE Baptisms (bring extra clothing & towels)
2:00pm - Break /Lunch
4:30pm - Doors Open for LAST SERVICE
5:00pm - REVIVAL SERVICE
THIS IS A FREE EVENT!! BUT WE NEED YOU TO REGISTER FOR FREE THROUGH HERE!
*IMPORTANT DETAILS TO KNOW*
PARKING IS LIMITED... WE WILL NOT HAVE ENOUGH PARKING SPOTS, SO PLAN ACCORDINGLY! CAR POOL AS MUCH AS POSSIBLE, UBER/LYFT AS MUCH AS POSSIBLE! (BRING A LAWN CHAIR)
Great opportunity to share the LOVE of JESUS with an UBER/LYFT driver!
WE NEED YOU TO RSVP THROUGH HERE!
THIS EVENT IS FREE!
However, If God is Leading you to SOW into this Event ahead of time to help us be more prepared for this event please do so!
Here are the Ways to Give: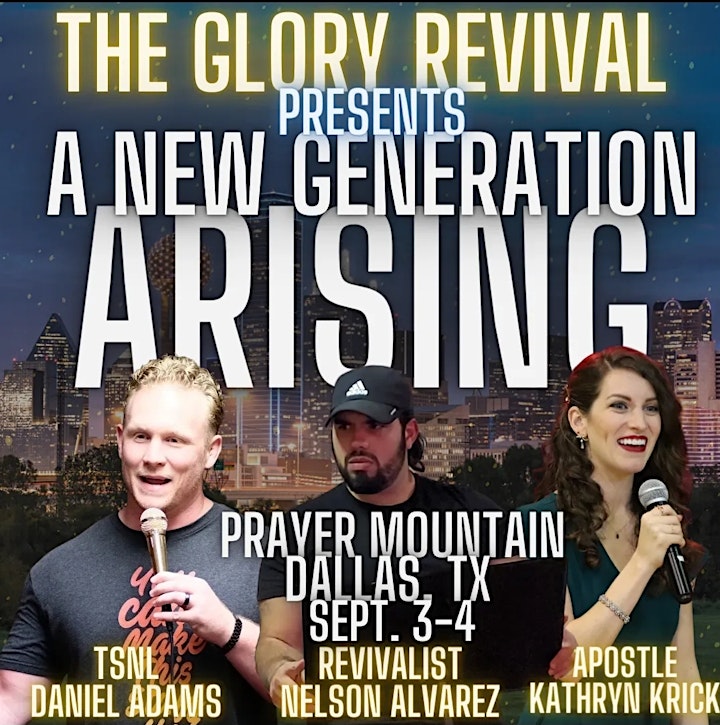 Organizer of The Glory Revival: A New Generation ARISING!