Description
The Parent Action Coalition for Education (PACE) has announced their 2018 annual reception, affectionately titled "THE GLORY AWARDS" on Saturday, September 29, 2018 at the EXPO Center Department of Recreation and Park in Los Angeles.
Please join us for the 1st Annual GLORY AWARDS luncheon to help us honor those who have let their LIGHTS shine by serving YOUTH and OTHERS in the community.
When: September 29, 2018
Where: The EXPO Center, Los Angeles, 3890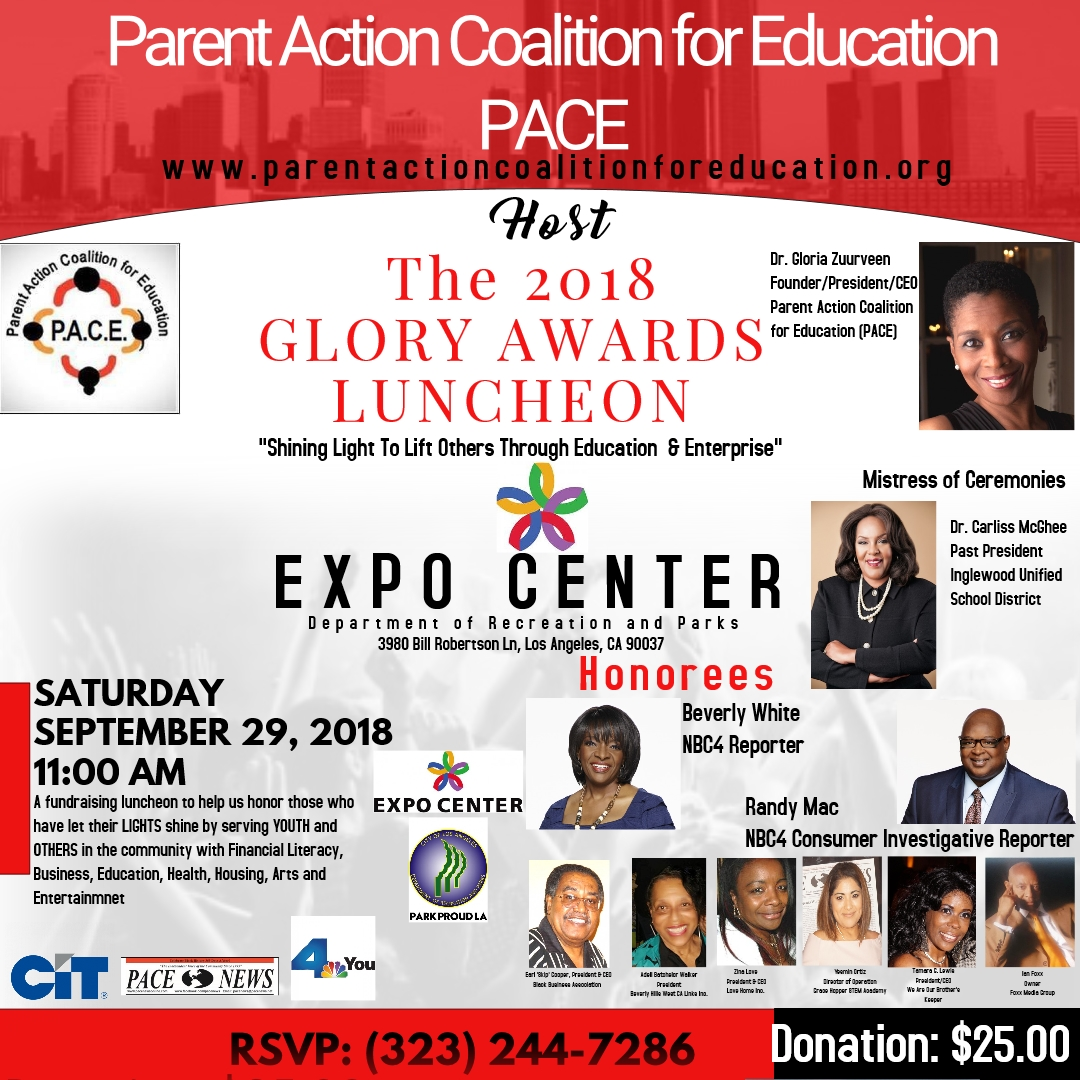 Honorees include: Beverly White, NBC4 General Assignment Reporter; Randy Mac, NBC4 Consumer Reporter; Earl 'Skip' Cooper, President & CEO, Black Business Association (BBA); Adell Batchelor-Walker, President, Beverly Hills West CA Links Inc; Zina Love, Founder, Love Home Inc.; Yesmin Ortiz, Director of Education, Grace Hopper STEM Academy; Tamara G. Lewis, Founder & President, We Are Our Brother's Keeper and Ian Foxx, Owner, Foxx Media Group.
These esteemed "Light Leaders" have exemplified the mission and values of the Coalition and have made a valuable impact on the community by letting their Lights shine by serving OTHER LESS FORTUNATE in the community with Financial Literacy, Business, Education, Health, Housing, Arts and Entertainment. For this reason, the Coalition has chosen to recognize their work and personal efforts at this year's event.
Through GTS's "Recycled Love and Generosity" resales operation, funds raised will help provide programs such as: financial literacy education, mentoring, tutoring, computer literacy, economic job skills, economic literacy, general education/recreation and after school programs to include "Dress for Success" through a collaborative partnership with multiple organizations who have demonstrated credible and intentional history in making a profound impact in the lives of others. With this collaboration, PACE, will provide basic life-sustaining services in addition to cultural, art, financial and technical education in preparation for self-sufficiency.
"Glory Thrift Store will provide FREE clothing and other resources to any homeless or low-income youth and their families", states Dr. Gloria Zuurveen, Founder/President & CEO, Parent Action Coalition for Education (PACE). "With homelessness as rampant as it is, now more than ever, these resources are even more meaningful to the homeless, children and their families, which is why we need to put Glory Thrift at the forefront of our initiatives."
· $250.00 - Table for 10 guests, a publicized advertisement and name recognition on PACE's website
· $200.00 – Table for 8 guests, a publicized advertisement
· $25.00 – Individual ticket
Proceeds from the event will go towards Glory Thrift Store's (GTS) "Recycled love and Generosity" social enterprise created for the purpose to help the homeless and at-risk youth with basic resources and support services that includes after-school programs and entrepreneurial training through retailing used apparel (Clothing, accessories and footwear and other used goods that are donated by the member of the public for the purpose of raising funds, who are living in poverty.