Event Information
Refund policy
Refunds up to 7 days before event
Equipping (future) female leaders with the competence, confidence & connections needed to get their seat at the table.
About this event
𝘠𝘰𝘶 𝘮𝘪𝘴𝘴𝘦𝘥 𝘵𝘩𝘦 𝘳𝘦𝘨𝘪𝘴𝘵𝘳𝘢𝘵𝘪𝘰𝘯 𝘥𝘦𝘢𝘥𝘭𝘪𝘯𝘦 𝘣𝘶𝘵 𝘥𝘰𝘯'𝘵 𝘸𝘢𝘯𝘯𝘢 𝘭𝘰𝘴𝘦 𝘵𝘩𝘦 𝘪𝘯𝘴𝘪𝘨𝘩𝘵𝘴?
🔴 𝗝𝗼𝗶𝗻 𝗼𝘂𝗿 𝘀𝘁𝗿𝗲𝗮𝗺 and listen to our speakers #live, starting May 5th at 11 am CEST at: www.limitless.femalefactor.global/live
---
Worldwide, women of all ages play key roles in the social and economic growth of their communities. However, they still account for less than 30% of leadership roles and face more obstacles when trying to step into leading positions. Recent studies all point towards the same result: aspiring female leaders need the right competencies, confidence & connections to achieve success.
so what are we doing about it?
The limitless conference, supported by the Vienna Business Agency, aims to equip the next generation of women with the tools needed to get their seats at the table, so that they can continue to drive change and impact their surroundings, our economy and the world.
Taking place online on the 5th of May, the event will bring together a curated audience from around the globe for a day full of insights and inspiration. Uniting women across industries and borders, no matter if entrepreneurs, corporate leaders or creatives, the conference is all about learning from those who've been there and done that. No bullsh*t, only hands-on advice!

what can you expect?
Our agenda is designed to fit your needs & interests and provide you with the kind of powerful knowledge you can immediately put to use. Some of the hot topics we'll be covering include: 

who will you learn from?
Because we know there's nothing more powerful than being able to directly connect with global decision-makers and role-models who've #beenthere and #donethat, we're bringing together industry leaders ready to share their hard-earned wisdom through inspiring keynotes, hands-on masterclasses, panel discussions & intimate connection spaces.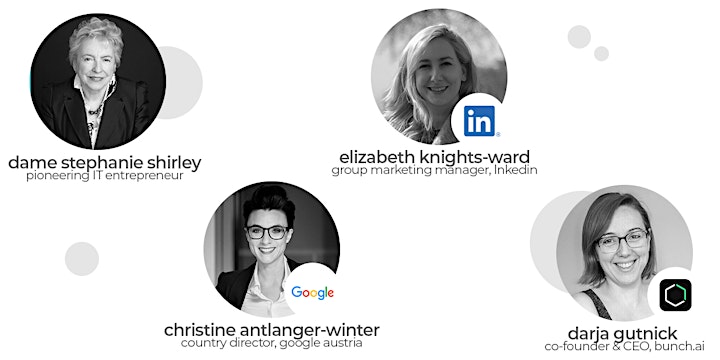 who can attend?
Anyone (from any industry) who's ready to make it happen, to design the career of her dreams, step up as the true leader she was born to be and take that bold step towards the life she always envisioned. Yes, we're looking at you.
how can you join?
You can apply to participate in the limitless conference by selecting your ticket of choice. Once the application process is completed, you will be contacted by the female factor team with your results. If confirmed, you will receive further details about your participation in the upcoming weeks.
Please keep in mind: The global limitless conference aims to bring together a highly curated audience. In case your application didn't make it through the process, you will be contacted and receive a full refund.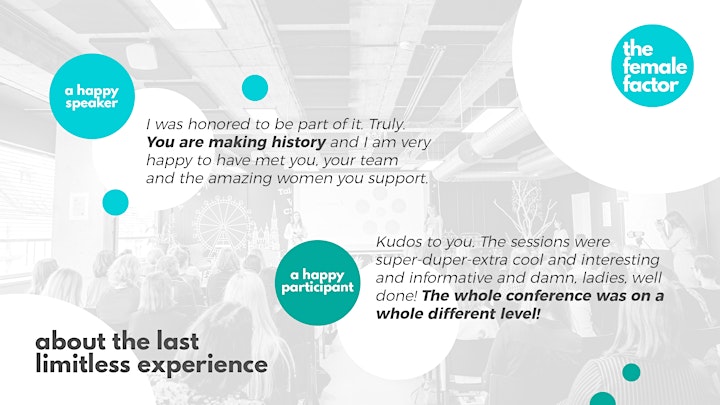 Date and time
Location
Refund policy
Refunds up to 7 days before event