The Global Campaign against Democratic Norms
Description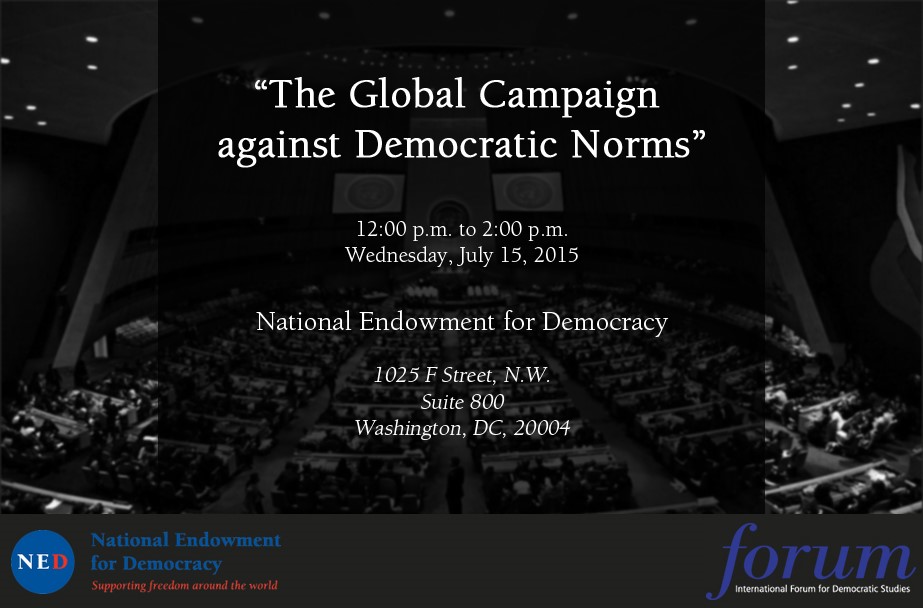 The International Forum for Democratic Studies at the
National Endowment for Democracy invites you to a panel discussion
The Global Campaign against Democratic Norms

Wednesday, July 15, 2015
12:00pm-2:00pm
(light lunch served from 12pm to 12:15pm)
at the
National Endowment for Democracy
1025 F St NW, 8th Floor, Washington, DC
Panelists
Alexander Cooley
Director, Harriman Institute, Columbia University
Professor of Political Science, Barnard College
Steven Heydemann
Former Vice President, Applied Research on Conflict and Senior Advisor, U.S. Institute of Peace
Professor and Janet W. Ketcham '53 Chair in Middle East Studies, Smith College
Ronald Deibert
Director, The Canada Centre for Global Security Studies and the Citizen Lab
University of Toronto
Christopher Sabatini
Adjunct Professor of International Affairs, Columbia University
Editor, Latin America Goes Global
moderated by
Marc F. Plattner
Editor, Journal of Democracy
Vice President for Research and Studies, National Endowment for Democracy
Livestream of the event will be available here.
Twitter: Follow @ThinkDemocracy and use #NEDEvents to join the conversation.
All cameras and media must register with NED public affairs. Please email press@ned.orgto register as a member of the press.
Using a number of justifications, including that of regional security or defending state sovereignty, authoritarian regimes are pursuing new antidemocratic norms. To shield themselves from international scrutiny, resurgent authoritarians are seeking to reshape global institutional frameworks that have been integral to the liberal post-Cold War order. Seeing regional and international rules-based bodies as a threat to regime interests, authoritarians have focused their efforts on undercutting the democracy and human rights mechanisms of institutions critical for safeguarding democratic standards. Recent developments suggest that democrats are on the defensive and that anti-democratic forces are cooperating and learning from one another with a greater degree of determination. In Eurasia, the domestic political and governance norms of Russia and China are migrating beyond these regimes' borders, manifesting themselves through organizations such as the Shanghai Cooperation Organization, the Commonwealth of Independent States, and the Eurasian Economic Union. With leadership from Saudi Arabia, the Gulf Cooperation Council has reoriented its activities to include coordination among members to suppress dissent. Meanwhile, a growing list of repressive regimes are devoting their energies to reshaping Internet governance standards. Alexander Cooley, Steven Heydemann, Ronald Deibert, and Christopher Sabatini will discuss the implications of the campaign against democratic norms in Eurasia, China, the Middle East and North Africa, Latin America, and cyberspace. Articles on this subject by Cooley and Deibert will be appearing in the July 2015 Journal of Democracy.
Organizer of The Global Campaign against Democratic Norms