Description


2019 GLAMCON Experience is dedicated to igniting sisterhood for breast cancer survivors, survivors, thrivers, caregivers, Holistic Beauty, and Wellness Vendors and any woman passionate about implementing health and wellness in their life. (Yes, GLAMCON is for everyone) Giving women a day to reinvigorate their inner and outer beauty through our #survivinginstyle initiative.
Join us in Dallas for a high-powered day with a group of amazing women ready to empower, engage, and excite you. Our focus for this experience is to provide wellness, nutrition, and overall health education for attendees to set the tone on how to "live your best life". The GLAMCON experience is more than a conference, it's a lifestyle, a movement, a community of women who are on the path of self-healing, rejuvenation, and restoration. We combine beauty, wellness, nutrition, and art for women from all walks of life. Expect to be engaged and empowered!! You'll laugh, cry and build sisterhood within a sisterhood. All women leave as GLAMOROUS CONQUERORS.
Friday, October 11th, 6 pm - 9:30 pm at the Riveter Dallas. 3333 Welborn Street, Dallas Texas 75219 Wine & Wig Beauty Soiree" (Pajama Jam) Ladies, kick off your GLAMCON experience weekend with a night of wigs, pajamas, free food, games, music, and fun. Get style and beauty tips from KRK Medical Solutions, while enjoying refreshments from "Make your life sweeter" and meeting fabulous women during this special beauty event and reception. Bring your favorite wigs and we will provide everything else for you!!!
Saturday, October 12th 8:30 am - 5 pm "The GLAMCON Experience" The Study, 801 West Irving Blvd, Irving, Texas 75060 At our 3rd annual GLAMCON, tap into your inner goddess GLAMaste Yoga, financial wellness workshops, manifesting and vision boarding, sisterlouges, interactive panels, meditation, vendor, healthy food and more; while getting tips and resources to enhance the quality of life. We promise you once you attend the "GLAMCON Experience" you'll never leave the same way you came. #glamorousconqueror Come create the best version of you.
*Sunday, October 13th, 1:00 pm to 3:00 pm "Mindfulness and Meditation Brunch at The Asian Mint" 111617 N. Central Express Way, Suite 135, Dallas, Texas 75243Mindfulness Brunch is an afternoon of fellowship, nutrition, and connection with yourself and the tribe around you. With the Mantra, "Today I look and feel good", we invite you to take a mindfulness journey to connect with your highest self to improve your emotional well-being. After our Mindfulness and Meditation practice, please join us for a tantalizing Asian style brunch at Asian Mint, making wellness inspirational and digestible.
Don't miss the opportunity to join forces with regionally and nationally acclaimed health influencers, breast cancer survivors, friends, celebrity keynote, health professionals, and vendors, with health-focused products. Women who are on the same mission as you to experience the exhilaration and influence that only GLAMCON can bring. This event is for anyone with a passion for living a WHOLISTIC life.
Invite your good girlfriends and more!!
2019 Keynote Speakers: Dr. Jessica Shepard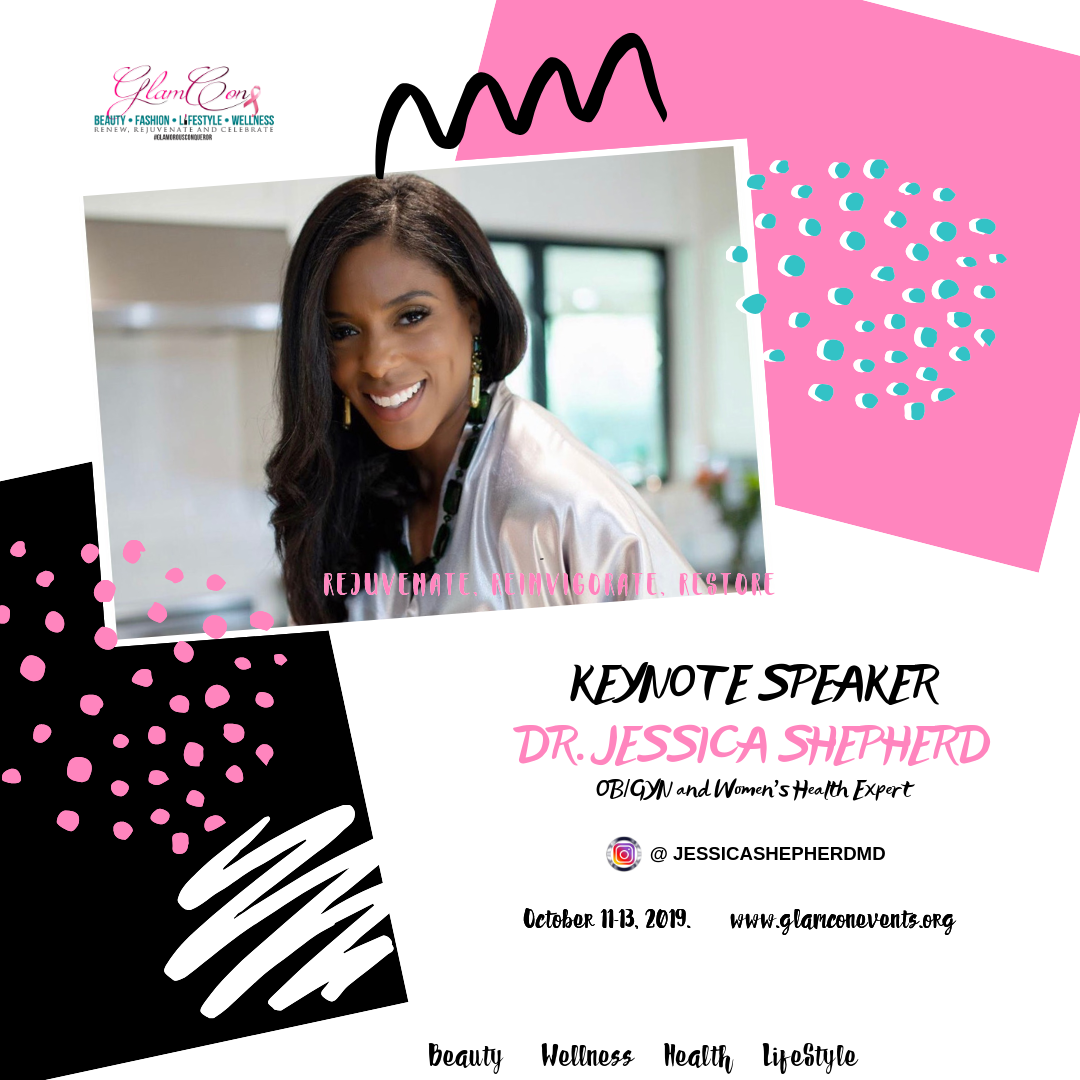 ---
Dr. Shepherd is an OB/GYN and women's health expert and also the founder of Her Viewpoint, an online women's health forum that focuses on addressing taboo topics in a comfortable setting. As an OB/GYN, she practices at the University of Illinois at Chicago and also serves as the Director of Minimally Invasive Gynecology. Dr. Shepherd has written in various journals including Women's Day, Women's Health, Self, Family Circle, Parents, LifeScript.com, Heart and Soul, Best Health, Essence, and WebMD.
She is also seen regularly as an expert on The Today Show, Dr. Oz, Steve Harvey, CBS News, FOX News (NY, LA Chicago, and Dallas), WGN News and WCIU in Chicago where she is a monthly health contributor as well as guest co-host. In addition to radio programs nationwide, Dr. Shepherd also gives lectures nationally and internationally on fibroids and myomectomies and women's health issues.
Please visit our website site to see additional speakers and guest @ www.glamconevents.org
See our event schedule on www.glamconevents.org