A family-friendly Charity FUNdraiser Basketball Tournament located right in the heart of Brooklyn! Open registration for all ages
About this event
🗣 YERRR!!! NYC is finally open and we all back outside!
It's been a wild year plus for us all, so now that we can all come together... What better way than to spend the day having fun all while giving back to the youth of our communities and help our beautiful black and brown babies pave a way to their futures!
N.O.A.H. [No One's Alone Here] and Bare Canvas Sounds Presents: The Give Back, a charity fundraiser basketball tournament located right at St. Johns Park. Whether you're a hooper looking to ball out or just wanna watch the games and enjoy the vibes, we got something for all to enjoy!
So if you think you got game, come through and put it up to the test all for a great cause! 🏀❤️
Come and enjoy:
LIVE DJING from Bare Canvas Sounds
We also have 3 (THREE) RAFFLE PRIZES:
Pop Smoke Piece by Deezy Basquiat 💫
GRAND PRIZE: Nintendo Switch 🎮✨
Raffle tickets must be purchased BEFORE start of event. All raffle tickets sales will be held ONLINE, purchasing tickets at the event by cash is not permitted. Winner of raffle prize MUST be present at the time of announcement in order to be eligible to win.
*FOR PARTICIPANTS*:
Registration for teams will be divided into 3 age groups: 12 y/o & under, 13-17 y/o, 18+ y/o
There will be 4 teams per age group
Required registration fee will include personal game jersey
Registration fee:
$5 (12 & under)
$10 (13-17)
$25 (18+)
Team space is L I M I T E D so be sure to act fast!
For registration and related inquires: call (646) 221-9506, ask for 'B'
$10 SUGGESTED DONATION
PROCEEDS GATHERED FROM EVENT WILL BE DONATED TO Children of Promise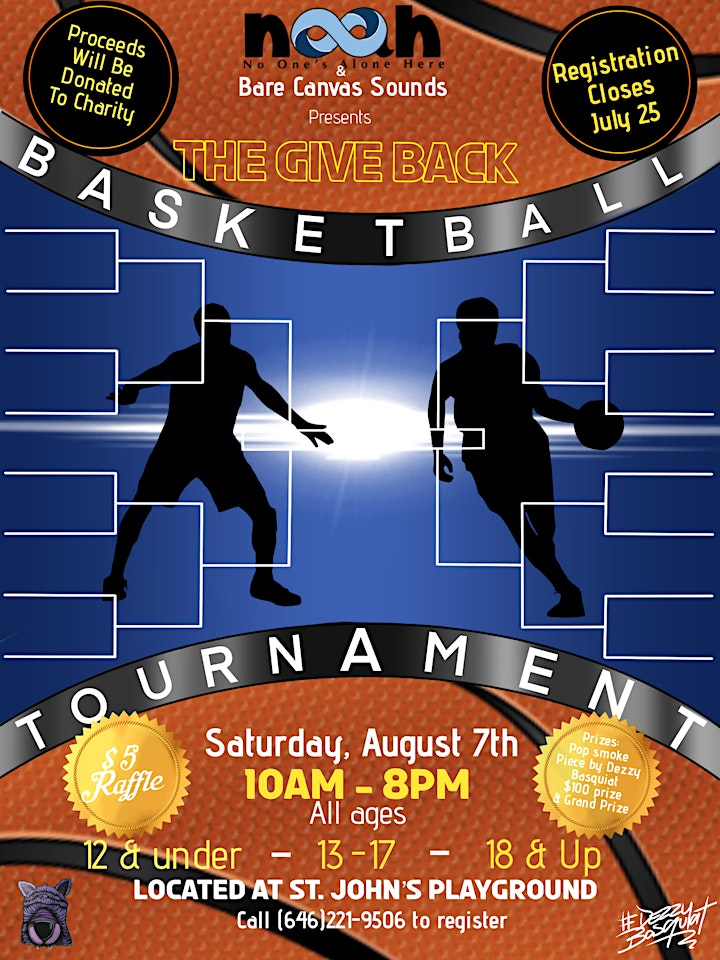 Organizer of The Give Back (Charity Fundraiser Basketball Tournament)