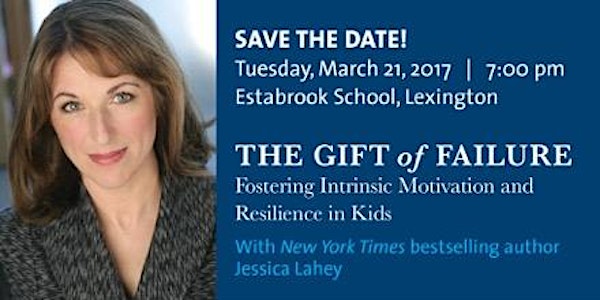 Date and time
Tuesday, March 21, 2017 · 7 - 9pm EDT
Location
Estabrook School Cafeteria 117 Grove Street Lexington, MA 02420
Description
Jessica Lahey, author of the New York Times bestselling book, The Gift of Failure: How the Best Parents Learn to Let Go So Their Children Can Succeed, will speak to the Lexington community on Tuesday, March 21, 2017 at 7:00 p.m.
Join us at Estabrook Elementary School for this evening presentation and discussion:
The Gift of Failure: Fostering Intrinsic Motivation and Resilience in Kids

What's the best way to motivate students to own their education, learn deeply and durably, and develop resilience? Research has shown that the key to all these things is intrinsic motivation, or motivation that comes from within. Jessica Lahey summarizes the current research on autonomy-supportive parenting and teaching, competence, rewards, praise, and failure. Finally, she explains how parents and educators can give students the support and encouragement they need in order to stay motivated over the long term.
This talk is open to the entire Lexington community. Adults and high-school-aged children are welcome and encouraged to attend. Attending this event is FREE, courtesy of the Lexington Education Foundation.
Join The Gift of Failure Book Club

The Estabrook PTO, in cooperation with Estabrook Elementary School, will be hosting a discussion of The Gift of Failure in book club format. To participate in the book club, please register at this link: bit.ly/BookClubGOF