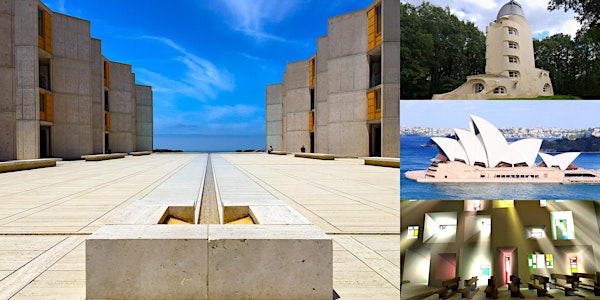 'The Gesamtkunstwerk Movement, Part III: Architecture As Artifact' Webinar
Can't make it live? Register and get access to the full replay for one week! New York Adventure Club | www.AdventureClub.com
About this event
As the 19th century progressed, new forms of architectural expression were created in the face of the advancing Industrial Age as concerns with the perceived sterility of new buildings mounted. This search for a new type of architecture, where aesthetics took priority over profit-making, led to a design movement known as the Gesamtkunstwerk — "total work of art" in German — which attempted to synthesize all parts of a building to a single artistic whole. Who were the first architects to adopt this approach, and what buildings throughout the world featuring this unique design style still exist today? It's time to explore the history and impact of one of architecture's most influential movements.
Join New York Adventure Club for our three-part series on The Gesamtkunstwerk Movement and its influence over 180 years of building, which features some of the most astonishing landmarks in human history. In Part Three — Architecture as Artifact — we'll visit the great pre and post-war landmarks that defined architecture as a free-standing form in space.
Led by architectural historian David V. Griffin of Landmark Branding, this digital showcase featuring a selection of unique structures will include:
The results of the Expressionist movement, which sought to explore architecture as a sculptural platform
The rise of Modernism and the International Style in Germany, Russia, Italy, and the United States
Experimental building methods and new technological systems
An in-depth look at each building's construction, context, and current status, with a focus on how culture and innovation drive architectural symbolism
Afterward, we'll have a Q&A with David — any and all questions about these unique buildings are welcomed and encouraged!
Can't make it live? Don't worry, you'll have access to the full replay for one week!
See you there, virtually!
*Immediately upon registering, you will receive a separate, automated email containing the link to join this webinar
**For the best possible viewing experience, please ensure you're using the latest version of your internet browser — Google Chrome is the most compatible. Exact technical requirements and a webinar user guide will be shared in the automated confirmation email upon registration.
***A full replay of the experience will be available to all registered guests for up to a week
'The Gesamtkunstwerk Movement Series
Part I: Architecture As Art
Part II: Architecture as Artifice
Part III: Architecture as Artifact
Testimonials
"Amazing variety in styles within this characterization. Thoroughly enjoyed this 3-part series!" -Pam
"Terrific content, very well presented" -Clare
"David Griffin is one of our favorite presenters--he is absolutely wonderful. Interesting, insightful and funny--we could listen to him for hours. The images for this presentation were fabulous!" -Karen
"David Griffin is an excellent presenter, one of the best I have seen. He is thoroughly prepared, well-organized, efficient and easy to understand. His subjects are thoughtfully selected, and his format is well-ordered and logical." -Charles
"Great slides. Presentation that was informative, as well as fun. Moved right along. Appreciate the list of sites provided." -Henrietta
"Visuals were incredible, and I enjoyed the commentary as well." -Ellen
"Just an incredible array of photographs, explanations, social history, everything about this presentation is just fascinating. The presenter is so knowledgeable and has such affection for his field. I like how he gives some of the architecture a unique personality, explains what he means by high maintenance buildings and people in the world of architecture that is. I learned so much and knew absolutely nothing about this kind of approach to architecture. One of the buildings noted is very close to me and I have visited it. I look forward to going again with this new conceptual understanding in mind." -Sharon R.
"Great flow. Perfect amount of info/time on each. My fav of all webinars" -Jane
"The outstanding lecturer presented an amazing collection of wonderful photos ... and I was overwhelmed by how many of the presented buildings were completely new to me!" -Harold
"The teacher was excellent and clearly had much more to tell us about everything, had he been able to catch his breath." -Marilyn
"Excellent, knowledgeable presenter, informative content, nicely paced, not repetitive, didn't drag." -Gail
"Wonderful selections for a condensed presentation covering a lot of styles" -Bette
"David Griffin gives an excellent detailed and informed survey of architectural history and its renown trailblazers." -Mardine
"The presenter, David Griffin, was outstanding. In the 90-minute webinar, he provided a wealth of information. Pictures were excellent. Sometimes architecture as artifact doesn't receive the attention it so well deserves so it was great that David created a webinar with this type of architecture front and center." -Susan
"This series exceeded my expectations. It's a topic I know very little about and David made it coherent and engaging, managing to be both educational and entertaining, firmly rooted in facts but never stuffy. Lots of places to visit when life returns to normal!" -Lahring
"The presenter showed some well known buildings, but more important he showed some buildings that I had not seen. The quality of the pictures was very good." -Louis
"Pleasant and enthusiastic presenter - organized, Informative, wonderful photographs" -Elaine
"Wonderful to see so many building interiors and such a variety of examples from all over the world!" -Tracy
Disclaimer
By attending a New York Adventure Club experience, you accept our terms of service.
Categories: Virtual, Art & Entertainment