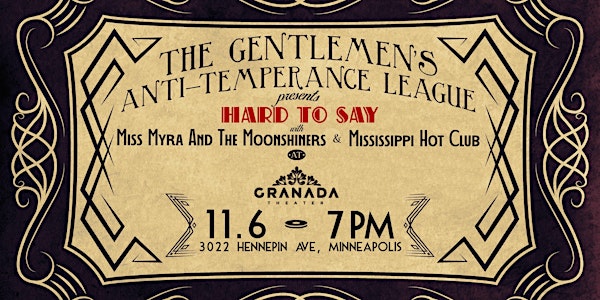 The Gentlemen's Anti-Temperance League CD Release W/ Special Guests
Ages 21+
Granada Theater & Uptown Lobby
The Gentlemen's Anti Temperance League CD release show with Special Guests Miss Myra and the Moon Shiners and Mississippi Hot Club
When and where
Location
Granada Theater 3022 Hennepin Ave S Minneapolis, MN 55408
Performers
Headliners
The Gentlemen's Anti-Temperance League
About this event
The Gentlemen's Anti Temperance League
The GATL plays jazz originals. Modern songs under an old-time facade. It's music your granddad would listen to, if your granddad was a time-traveler from 2050 with a hankering for vintage cocktails and hot jazz. It's hot, infectious, and emotional. Kind of like that on-and-off relationship you had in your early twenties, but a lot more grounded.
Six years, five albums, and hundreds of shows have honed GATL into a finely tuned machine— greased with whiskey, regular exercise, and a taste for wheels on pavement. Keep a weather eye out. They might be in your town soon.
They take things all the way back to the 1930s with their Django Reinhardt-influenced gypsy jazz, and they do it damn well."
[Andrea Swensson, The Current]
Miss Myra and The Moonshiners are a formidable 5-piece swing band bringing a fresh female-driven perspective to traditional New Orleans and hot club jazz, playing a broad repertoire of classic tunes from the '20s and '30s and inspired originals. With powerful vocals, a smoking horn section, and sweet rhythm, they are guaranteed to lift spirits and fill the dance floor.
"Beautiful horns, delicious vintage jazz and ragtime music and excellent vocals"
- Richard Wagenaar, The Next Gig
Mississippi Hot Club is inspiring a new generation of young swingers in Minnesota. With reverence and chops, Mississippi Hot Club's new album, Swing Cities, shines light on the bold music of Django Reinhardt from a fresh pop-oriented perspective.
Recorded at Wild Sound Recording Studio in Minneapolis, Swing Cities masterfully captures MHC's spunky performances, featuring an upbeat approach to jazz manouche, hot club jazz, and gypsy jazz. Swing Cities captivates with its high caliber swing and rhythms that run from cool to fiery.
Joshua Parlanti's engaging improvisation on lead guitar is complimented by the fierce solos of violinist Alissa Jacobsen. This fearless duo is supported by la pompe rhythm guitarists Ian Stenlund and Luke Zupan, along with airtight upright bassist Joseph Downing.
"Over the past five years, this quintet has become one of the Midwest's preeminent string bands. Originally an homage to French Gypsy Jazz, the quintet's music has begun to take on a more eclectic, adventurous persona as other influences have crept into the palette."
-Twin Cities Jazz Fest, 201