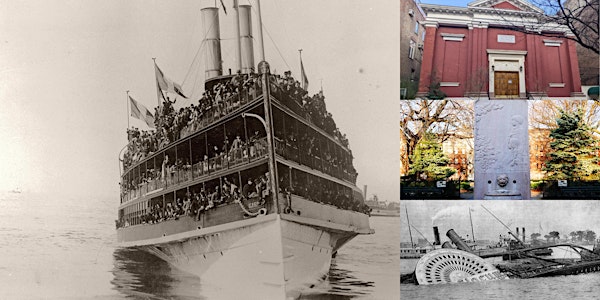 'The General Slocum Disaster: New York's Worst Tragedy Before 9/11' Webinar
Can't make it live? Register and get access to the full replay for one week! New York Adventure Club | www.AdventureClub.com
About this event
On June 15, 1904, more than a thousand people boarded a boat in lower Manhattan heading for a church picnic on Long Island — only 321 of them would return. How could a small fire onboard result in one of New York City's greatest losses of life? And why did it result in an exodus of residents from today's East Village? It's time to uncover a catastrophe largely forgotten by the general public, and the few landmarks that honor this terrible day.
Join New York Adventure Club as we explore the full story behind the 1904 sinking of the General Slocum, and its profound impact on New York Harbor, the ferry industry, and New York City for decades to come.
Led by licensed tour guide and General Slocum researcher Dave Gardner, our deep dive into this ill-fated voyage will include:
A brief overview of Kleindeutschland (Little Germany), a thriving German community that once resided in Manhattan's East Village
A background of the General Slocum ferry, which was chartered that day to transport mostly women and children for their church's annual community outing
A play-by-play of the doomed pleasure-cruising paddle-steamer, from the moment a small fire broke out to the fateful missteps made by the captain
A discussion of the aftermath of the disaster, including the inquiry, Presidential report, and final recommendations
The physical plaques, statues, and memorials dedicated to the lives lost on the General Slocum
Afterward, we'll have a Q&A with Dave — any and all questions about the General Slocum are welcomed and encouraged!
Can't make it live? Don't worry, you'll have access to the full replay for one week!
See you there, virtually!
*Immediately upon registering, you will receive a separate, automated email containing the link to join this webinar
**For the best possible viewing experience, please ensure you're using the latest version of your internet browser — Google Chrome is the most compatible. Exact technical requirements and a webinar user guide will be shared in the automated confirmation email upon registration.
***A full replay of the experience will be available to all registered guests for up to a week
Testimonials
"This was extraordinary in my view. I had never heard of the General Slocum disaster and I am a history buff and lived in Manhattan in younger years. (I'm the one in Boston now.) his detail and documentation both photos and verbal statements recollections and specific dates and places was just amazing, encyclopedic! There was so much detail in this presentation to help set the stage, to explain what actually happened and why, and then to tell us the unfortunate aftermath and how very badly regulated were all the preventive aspects of this tragedy. This tragedy of the Slocum is in that category of neglect and incompetence and greed. I really appreciate knowing about this part of our dark history. This guide was superb and his knowledge and scope of how he viewed his topic. I learned so much! Thank you so much to Dave. I hope it's presented again, perhaps with a little more drama in its title because drama is an understatement of the truth of this story. An excellent piece of work! Thank you!" -Sharon
"It was interesting learning about this tragedy. The clip from the film was the most evocative part." -Melissa
"The presenter was interesting, had wonderful knowledge of his subject, more than the usual number of slides made the presentation VERY interesting. He spoke clearly and at just the right pace so we could hear every word...this made the talk just about perfect! ( Many presenters rush, speak indistinctly, and wander from their thoughts with parenthetical comments. )This speaker was fantastic!" -Kathryn
"Host was very knowledgeable about the subject. Presentation was well paced." -Nancy
"Interesting history made relatable. Great visuals." -Brian
"Presenter spoke clearly. Engaging personality. Subject was presented well" -Janet
"Presenter knew his material. Liked the archival and present day photographs" -Michael
"Lots of information; good slides/video; well presented" -Carol
"It was quite educational and informative." -John
"I had never heard of this tragedy, and debated whether to sign up for the webinar. I decided to educate myself, and am glad that I did. The speaker did a terrific job of relaying the background, geography, incident and outcome in an informative, factual and compassionate presentation that flew by. His many visuals illuminated the subject. Bravo!" -Emily
"David was organized and knowledgeable and had great pictures and graphics to accompany his talk." -Virginia
"I liked the historical specifics, photos, language." -Diane
"Well done mixing old and new photos easy to follow, good basic intro to this tragic event" -Bart
"I didn't know about this event, so all the info was new. I enjoy learning new things." -Aleisa
Disclaimer
By attending a New York Adventure Club experience, you accept our terms of service.
Categories: Virtual, Moments in History