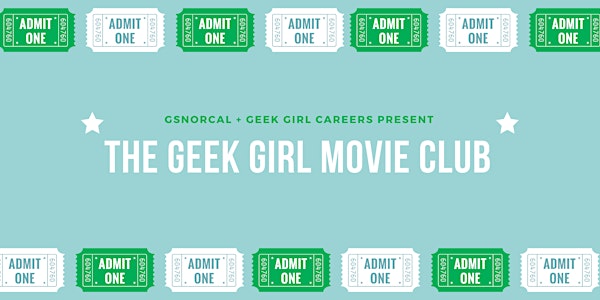 The Geek Girl Movie Club
GSNorCal and Geek Girl Careers present The Geek Girl Movie Club, a special three-part series featuring movies about inspiring women in STEM.
Refund Policy
Contact the organizer to request a refund.
Eventbrite's fee is nonrefundable.
About this event
DATE + TIME
Sunday, November 1 from 11am-12pm PT
Sunday, November 22 from 11am-12pm PT
Saturday, December 19 from 6-8pm PT
COST
$5 per meeting // $15 for all three (if you attend all three meetings, you'll also get a fun patch and a movie club snack pack!)
MOVIES:
HIDDEN FIGURES (Nov. 1): Academy Award-nominated movie, which tells the story of three brilliant Black women at NASA — Katherine Johnson, Dorothy Vaughan and Mary Jackson — and their critical role in the American Space Race and then mission to send an astronaut into orbit.
BLACK PANTHER (Nov. 22): The blockbuster film was a pivotal moment for representation in Hollywood, but it also spotlights the importance of women in STEM. We'll be analyzing the movie, specifically highlighting Shuri, Wakanda's warrior (and scientist) princess.
MERCURY 13 (Dec. 19): This documentary shares the story of the First Lady Astronaut Trainees, a group of female pilots who were qualified to become NASA astronauts, but denied the opportunity solely because of their gender.
GEEK GIRL CAREERS
Want to learn more about GSNorCal's partner, Geek Girl Careers? We're a startup that helps young women discover their dream careers in tech — take our personality assessment and explore the rest of the site at geekgirlcareers.com!
CANCELLATION AND REFUND POLICIES
Cancellation and refund requests must be made in writing, email is acceptable. No refunds will be issued for registration fees of less than $10 per individual. Thirty (30) days written notice is required to receive 50% of registration fees of $10 or more per individual. There are no refunds if less than 30 days written notice is given except for medical reasons. Refunds for medical reasons will only be processed if notification is made before the event and is followed within one week by a written refund request accompanied by a note from a physician. No refunds will be issued for no-shows.
Reach out to Brenda Gabel at bgabel@gsnorcal.org with any questions!