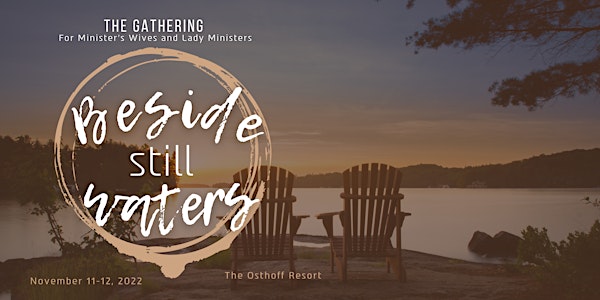 The Gathering
It's time for … The Gathering!
When and where
Location
The Osthoff Resort 101 Osthoff Avenue Elkhart Lake, WI 53020
About this event
Please consider joining us for
two days of rest and rejuvenation with other women in ministry
Leave behind
obligations or burdens that keep you from relaxing (to-do lists, high heals, and anxiety we're looking at you)
Check in to a luxury resort ...
beginning at 4 pm, November 11, and consider taking advantage of the resort amenities
Breathe deep and take time
to learn useful tools for spiritual strength, mental health, and ministry
Who's it for?
The Gathering is a biennial event held by Wisconsin Ladies ministries and is open to wives of UPCI-licensed ministers, Women of Worth, and UPCI-licensed lady ministers. No children, please – unless it is a nursing infant.
The Gathering Schedule
November 11-12, 2022 - Friday evening, starting at 7:00 pm – to Saturday, until 12:30 pm.
We are excited to announce that licensed counselor Jennifer McCurrach will be facilitating workshop-style sessions at Beside still Waters. Jennifer holds a master's degree in Psychology from Houston Baptist University and a master's degree in Christian Ministry from UGST and is completing her dissertation for her PhD in Counseling Education and Supervision at Regent University. She has practiced as both a Licensed Specialist in School Psychology and a Licensed Professional Counselor Supervisor in the state of Texas for more than 16 years.
Registration & Reservations
Registration for The Gathering is $35, this includes all the "extra" of your Friday evening snacks and Saturday morning breakfast buffet. You register for The Gathering here on Eventbrite.
We have secured a block of rooms at The Osthoff Resort, 101 Osthoff Avenue, Elkhart Lake, Wisconsin. The room rate is $189 per room/1 night, this is for two-sleeping rooms with a living room and kitchen area so you can double up with another lady and share the room fee.
The Registration and Room Reservation Deadline is October 12. We encourage you to register EARLY – both for The Gathering and to reserve your hotel room.
- Register TODAY! Right here on Eventbrite
- Reserve your room by calling directly to the Osthoff Resort (800) 876-3399. Mention "Wisconsin District UPCI Ladies Retreat in November"
If you still have additional questions, please contact your Ladies Ministries Sectional Rep, or you can send us a message here through Eventbrite.