About this Event
"To Slow Down To Hurry Up".
Date: 15th September
Time: 5pm - 8pm
Location: Freemasons' Hall, 60 Great Queen Street London WC2B 5AZ
Unaji experience is a combination of well-curated elements from visual & audio content that entices & immerses the human senses. Visitors are invited into a contemporary make-shift world - the garden of Eden under construction.
The evening will include a mix of art, garments, performance, live music and film, exploring the socio-political constructs of artificial reality which consequently impacts people's value systems.
Within the whirlwind of information, which is the technological age one must take the time to dissect information & conclude narratives based on facts as opposed to popular opinion.
Do corporations gentrify our minds? Slowly eroding away at the core essence of our humanity.
Also in regards to the flyer, we were thinking to follow a similar set up to this post, using the "Alton Mason wear Louis Vuitton" artwork.
Unaji
Unaji&co is an art and design company that specializes in Fashion and Fine Art. Our practice explores utopia whilst challenging social constructs, using vibrant and captivating art pieces. Fusing this unique outlook on design, Unaji creates expressive and illustrative products.
The brand encompasses creative consultancy involving creative direction, styling, set design, branding, and curation. This is marketed through immersive experiences (exhibitions, presentations, installations, and international stockists.)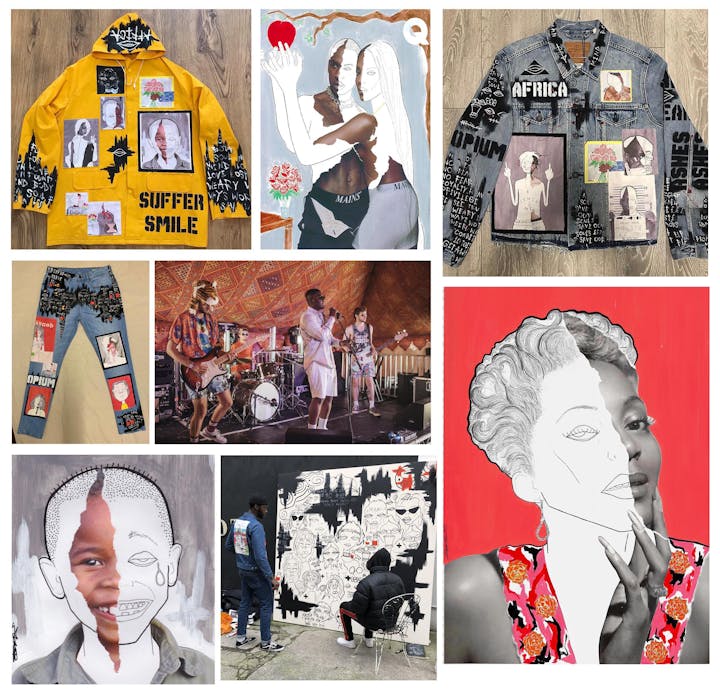 Emmanuel Unaji
Emmanuel Unaji is a multimedia artist based in London. Combining painting, drawing, collage and fashion design, Unaji's style is rebellious and bold.
Unaji's work is principally an exploration of what lies beneath the surface. He critically examines our tendency to form opinions on the basis of media headlines and photographs, thereby critiquing the digital era we live in and the vast amount of information we are bombarded with on a daily basis.
The contrasting aspects of his characters, who frequently appear as images torn between beauty and high-fashion on the one hand and deep-suffering on the other, aim to give us a glimpse into complex personal realities. Emmanuel has studied fashion design and is currently pursuing a degree in Fine Art at Kingston University, London.
Lemuel Unaji
Lemuel Unaji is an audio-visual based artist in London. His practice specializes in design, branding, illustration, and animation. In addition to being a singer-songwriter. Lemuel's work is based around utopia, exploring the idea of identity. emphasising the individuality and appreciating the unique characteristics of a variety of people. Eluding to a reality that eliminates social constructs which divide humanity. Lemuel has recently graduated from Ravensbourne University with a degree in Fashion Promotion, in addition to winning the Incubation Lite Award.
Studio 32 Oke
Studio 32 Oke is a band from Sevenoaks, Kent. The band consists of four members, Lemuel Unaji (vocals), Jake Norburn (Guitarist), Chris Allen (Bass/Synths) and Joe Cook (Producer/Drums). Their genre of music is best described as being Alternative Soul, the band fluidly blend elements from different genres like hip-hop, RnB and Funk pushing sonic boundaries. The production style of the band's music is driven by live instrumentation accompanied by soothing vocals and narrative lyricism. Creating a collage of memories and daydreams, love stories emphasizing nostalgia and the necessity for growth.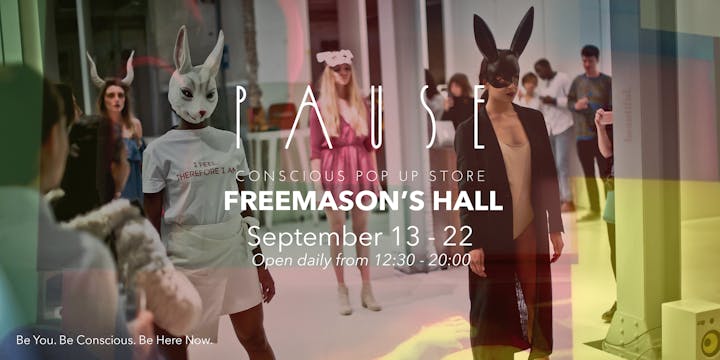 The event will be taking place during the PAUSE Conscious Pop-Up #9 at the Freemason's Hall, Covent Garden, in London, England, between September 13 to 22, 2019
It is a ten-day pop-up event, conveniently taking place during London Fashion Week, where sustainable fashion, art, music, and live performances meet in one place, to create awareness, educate the consumer, and provide an open forum of discussion on how we can all take sustainability forward within our lives. P A U S E will invite the most influencing sector of the London and the global fashion world to rethink their production and consumption choices in order to create together a more conscious fashion industry. This event is to help bring this important issue to light.