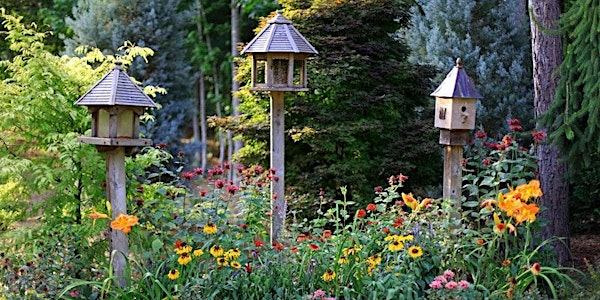 The Garden Gurus of Lee County present online: 2022/23 Gardening Series
Join the Lee County Garden Gurus this season for a new set of topics in our Gardening Series.
About this event
You will learn wonderful gardening tips from knowledgeable presenters to help you get started on a new project, increase your success with your current garden and/or ease your work with landscape maintenance - all while being Florida Friendly!
All are scheduled on Thursdays from 2:30pm-3:30pm.
09/15/22 Plant This, Not That Ever wonder what the best plants are for your yard? Want to know how to be a more successful gardener, "Florida Friendly", AND save money too? Join us to learn about commonly made mistakes and learn which plants are best for our USDA "Zone" in this informative talk by Mary Ann Parsons, Lee County Master Gardener.
10/20/22 Gardening in Containers & Raised Beds Do you live in an apartment or condo and wish you could grow your own plants, herbs, tomatoes, and veggies? You Can! Ideas for gardening in limited spaces! Susan Yeomans and Madeline Helmstetter, Lee County Master Gardeners
11/17/22 The Art & Science of Planting Trees This class is perfect for any homeowner thinking of adding trees to their landscape. You will learn how to select a "good tree", how to prepare the site for planting, soil amendments, planting depth, when pruning is needed, and fertilization. Rick Joyce, Certified Arborist
01/19/23 Everblooming Plants Who doesn't want to enjoy color in their garden year round? From this presentation you will learn which plants provide seasonal color as well as some of the best year-round bloomers for our region. Andie Psaras, Lee County Master Gardener
02/16/23 Gardening with Native Plants Native plants promote stewardship of our native wildlife, enhance the aesthetics of the landscape, and can save you money with less need for fertilizers and pesticides. Gardening with Native Plants will address these benefits and more, and include an array of vivid pictures of plants that grow well in our area. There will be tips on planting natives using Florida-Friendly Landscaping principles from Rose Larkin, Lee County Master Gardener.
03/16/23 Compost: Black Gold for Your Garden Did you know that 20 percent or more of household waste is organic material that can be composted? Compost amends our sandy soil and helps our gardens retain water and nutrients so that we can grow edibles and ornamentals without the use of chemical fertilizers. Compost also helps our landscape retain water and is just good for our delicate environment. Come and learn different methods of composting and decide which one(s) work for you. Sandy Salzman, Lee County Master Gardener
04/22/23 Butterfly Basics This program will cover the four life stages of butterflies and will focus on four types of butterflies that are found throughout SW Florida. The plants that attract these butterflies in their different stages will be discussed as well. Colorful butterfly and garden pictures will help you to envision the steps you need to take to start a butterfly garden of your own. Sandy Salzman, Lee County Master Gardener
05/18/23 Microplastics & Water Quality An introduction to microplastics: This presentation will explain sources and threats of microplastics, and highlight steps individuals can take to lessen their contribution to microplastic pollution. Lara Milligan, Natural Resource Agent, UFL/IFAS Extension, Pinellas County
Once you have completed this Eventbrite registration, you will be sent a confirmation email along with the ZOOM LINK for the workshop.