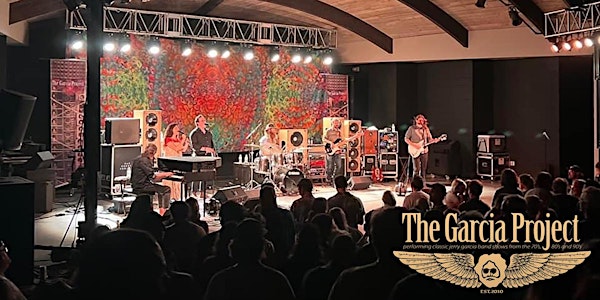 THE GARCIA PROJECT w/Special Guest Jacklyn LaBranch
Ages 21+
A Special 2 night run w/members of the original Jerry Garcia Band!
Performing Jerry Garcia Band set list recreations from 1970's and 1990's.
When and where
Location
Club Fox 2209 Broadway Redwood City, CA 94063
About this event
3 hours

Ages 21+

Mobile eTicket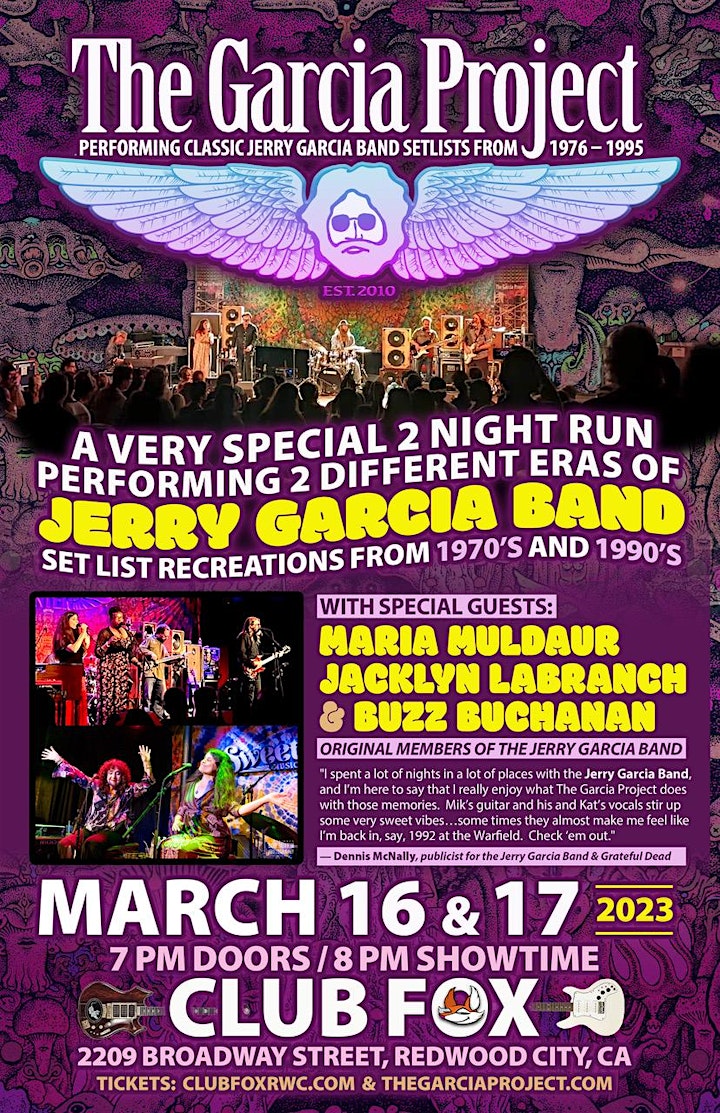 The Garcia Project: Celebrating 12 years and performing full, classic Jerry Garcia Band set lists from 1976-1995!
Let's celebrate the triumphant return of the nation's top tribute to the classic Jerry Garcia Band! For two very special nights, the band that folks call the "DSO of JGB," will recreate classic set lists from the 1990s and the 1970s. Featuring very special guests, Jacklyn Labranch, long time bandmate of Jerry Garcia's, from 1983-1995, on March 16; and Maria Muldaur and Buzz Buchanan from the 1977-78 Jerry Garcia Band, on March 17. Get your tickets now!
Praised by Dennis McNally, the press, and fans, The Garcia Project has been recreating classic Jerry Garcia Band shows with stunning accuracy and detail across the country. The Garcia Project's performances are based on actual set lists performed by The Jerry Garcia Band. All of their shows are a classic recreation of a full Jerry Garcia Band show from 1976 to 1995. For anyone that never had a chance to experience the Jerry Garcia Band, or for fans that want to relive a classic show, The Garcia Project delivers.
With precise arrangements and the proper instrumentation and feel for the various eras, The Garcia Project faithfully channels and projects the feelings, emotions and music that propelled the Jerry Garcia Band and the fans through many years of musical bliss. It's about family, soul searching, rejoicing, contemplating, celebrating, seeking truth and loving one another.
These shows were originally schedule In March of 2020, as the band had finished their new album called "Spirit: a tribute to Jerry Garcia and the spiritual songs he performed". Produced by Maria Muldaur and featuring Jerry Garcia's bandmates and friends, Peter Rowan, Jacklyn LaBranch, Rick Turner, Buzz Buchanan and Maria Muldaur. The CD and other merchandise will be available for sale at this show.
The Spirit album and the digital download are also available now at www.thegarciaproject.com/spirit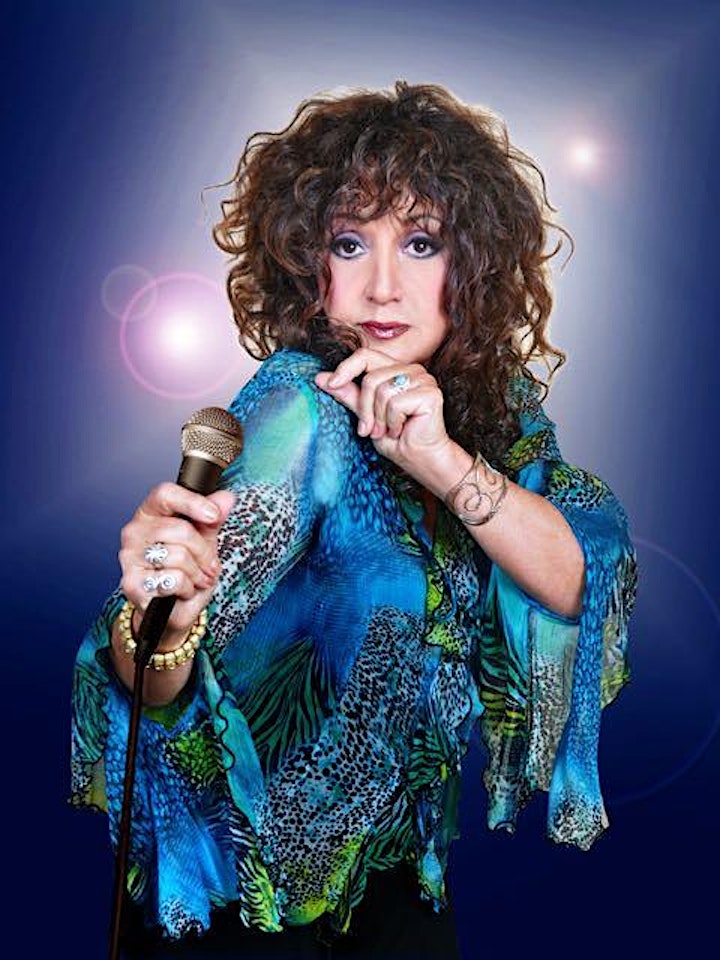 Maria Muldaur is best known world-wide for her 1974 mega-hit "Midnight at the Oasis," which received several Grammy nominations, and enshrined her forever in the hearts of Baby Boomers everywhere; but despite her considerable pop music success, her 52-year career could best be described a long and adventurous odyssey through the various forms of American Roots Music. During the folk revival of the early '60s, she began exploring and singing early Blues, Bluegrass and Appalachian "Old Timey" Music, beginning her recording career in 1963 with the Even Dozen Jug Band and shortly thereafter, joining the very popular Jim Kweskin Jug Band, touring and recording with them throughout the '60s. In the 42 years since "Midnight at the Oasis," Maria has toured extensively worldwide and has recorded 40 solo albums covering all kinds of American Roots Music, including Jazz and Big Band, Blues, Gospel, R&B, (not to mention several award-winning children's albums). Often joining forces with some of the top names in the business, Maria has recorded and produced on-average an album per year, several of which have been nominated for Grammy and other awards.