The Gaming Industry & Entrepreneurship

Thursday, November 6, 2014 from 6:45 PM to 9:45 PM (CET)
Event Details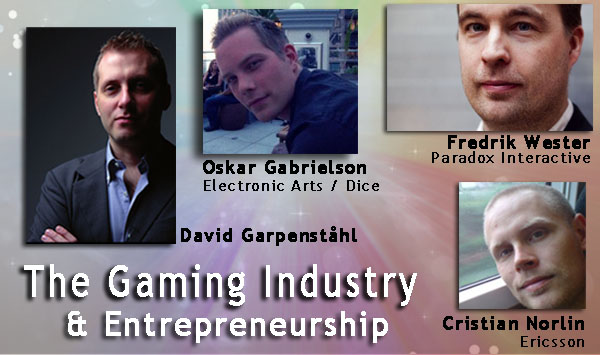 Entrepreneurship and innovation in the gaming industry 
Learn about the current state of the gaming industry, its opportunities, and what role you or your company might be able to play in the gaming industry. 
In a short key note, David Garpenståhl draws on his personal experiences as an entrepreneur, leading the world´s largest digital festival – DreamHack and creating technology for gaming companies, taking you behind the scenes into an industry that has in just a few decades profoundly changed entertainment forever. 
After the talk, David will moderate a panel of gaming industry experts who will share their insights and knowledge and answer questions from the audience.
Oskar Gabrielson - Executive Producer, Electronic Arts (EA) (DICE) 
David Garpenståhl  - Serial entrepreneur, advisor, guest speaker and moderator of this event
Cristian Norlin - Master researcher User Experience Lab at Ericsson  
Fredrik Wester - Co-Founder, CEO & President at Paradox Interactive
Register now. You must register here on Eventbrite to attend this event! (And please also go to the Meetup event page and click 'Yes' at http://www.meetup.com/StockholmEntrepreneurs/events/215222152/). Thanks!
SPEAKER / MODERATOR 
David Garpenståhl is a serial entrepreneur with 20+ years of experience founding and leading more than 10 companies. He has a successful track record from the music, gaming and events industries. One of the pioneers in the gaming and e-sports industry on an international level, David is a former owner and CEO of DreamHack, who led DreamHack to becoming the world's largest digital festival. He has also been involved in companies such as ESN Social Software (acquired by Electronic Arts) and Inferno Online (world´s largest gaming center). 
David holds guest lectures on the topics of Entrepreneurship, Gaming, Gamification, Project leading, Leadership, and more.  
ABOUT THE PANELISTS 
Oskar Gabrielson has over 14 years of experience in building and shipping major web applications and games for +20M users in Europe, the US and Asia. He has created and developed core technology for games such as Battlefield 3 & 4 and is passionate about leading teams and building consumer products. In his work he focus on great leadership, engineering, product design and commerce.
Fredrik Wester has been an entrepreneur for almost 25 years and has run Paradox Interactive for the last 11 years, now as Principal Owner, CEO & President. Paradox Interactive has 170 employees across three offices and another 10 partner companies throughout the world making games under the Paradox publishing brand. Paradox has published over 70 games as well as being involved in numerous books and movies. Wester is also an investor and advisor in IT, media and entertainment companies and is a popular speaker at game industry events.
Cristian Norlin is a Master Researcher at the Ericsson Research User Experience Lab. With the task to explore and influence current and future technologies, Cristian and his colleagues conduct design driven research in the intersection between people, business, and technology. The scope of their current research activities includes developing a deeper understanding of societal changes and how these affect (and are affected by) technologies such as the Internet of Things, big data, and cloud solutions.    
Prior to joining Ericsson, Cristian worked as an art director, interaction designer, and lecturer/tutor. He is the co-author of two books, the co-author of several academic papers, and has given several workshops and presentations at international conferences. He is also the co-holder of several patents. 

Cristian holds a Master of Arts degree in Computer Related Design from the Royal College of Art in London. 



SCHEDULE: 
18:45-19:15 Check-In/Mingling, 19:15-19:45 Keynote, 19:45-21:15 Panel Discussion + Q&A, 21:15-21:45 Meet The Panelists/Mingling. Times are approximate. No food/drinks to be served but there may be an 'after party' at Story Bar (21.30). 
Special thanks to Sudio and to Impact Hub Stockholm! 
EVENT LOCATION:
Impact Hub is located in the building that's straight back through the street entrance (pictured below). Look for "17 Gårdshus" above the entrance (pictured) and then walk to the building and go up to the 3rd floor. If you have a problem getting in, call me at 076 214 8050  
When & Where

Impact Hub Stockholm AB
17 Riddargatan
11457 Stockholm
Sweden


Thursday, November 6, 2014 from 6:45 PM to 9:45 PM (CET)
Add to my calendar
Organizer
Stockholm Entrepreneurs
Stockholm Entrepreneurs is a social enterprise so revenue generated goes toward Global Music Project, a 501(c)(3) non-profit organization whose mission is to unite people through music and cultural awareness. Support music and cultural awareness with your donation…http://globalmusicproject.org/donation/index.php
The Gaming Industry & Entrepreneurship