Description
INVITATION: THE GAME EXECUTIVES CABAL
Bob Wallace and Rhys Dekle of Strategic Alternatives and Sean Kauppinen of IDEA cordially invite you to The Game Executives Cabal 2020. This year's Cabal will be held on Monday, March 16, 2020, at the Minna Gallery (same venue as last year) in easy walking distance from Moscone Center and the St. Regis Hotel.
This is an invitation-only event for game executives, mostly CEOs and Founders of game studios; attendance is limited and like past years, we expect the event to sell out. The press is not allowed, nor are uninvited guests or walk-ins. As past attendees know, we focus on creating a private, exclusive, yet collegial, event for executive networking and knowledge sharing, with only three short presentations of topical interest. We will take over the whole 4700 square feet of open space in Minna Gallery for the day.
We are working on lining up three fantastic speakers this year including some fan favorites from past years with all new content. There will be a breakout space with small tables for private conversations, if needed, which affords attendees the ability to continue conversations if they would prefer to do so instead of listening to any prepared session.
SUMMARY FEATURES
Venue - The fabulous Minna Gallery in easy walking distance of Moscone

Invitation-only event with no press or uninvited visitors allowed
Members can hear the conversation at their table: round-top tables.

Moving from table-to table is encouraged – no one is stuck at one table. Power strips at every table, so everyone can stay plugged-in and wi-fi is freely available
Private conversation facilities: breakout room

For more-private conversations, or

If you would prefer to continue an important conversation and skip a presentation session in the main ballroom.
Event Hours; from 9:00 AM until 4:30 PM, followed by a Cabal Mixer with open bar from 4:30 PM until 6:30 PM+

Plenty of time allotted for personally greeting and speaking with the other 60-70 Members

Time enough for many in-depth conversations in the event of mutual opportunities.

Morning refreshments will be available, hot buffet lunch at 12:00 PM, afternoon goodies


The Cabal Mixer will also be attended by Corporate Development & Business Development executives from notable Publishers as well as VCs and other investors
SCHEDULE (tentative)
Event Times: 9:00 AM through 6:30 PM+, including Cabal Mixer with open bar and reception snacks
Details: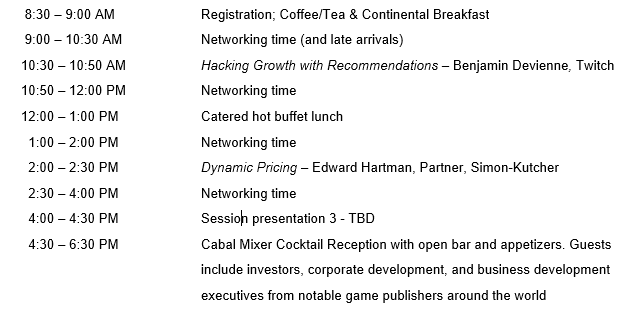 REGISTRATION
The price of the Game Executives Cabal is $339 + online payment fees per participant
If you would like to attend, please:
Register and pay via the Eventbrite invitation page. Eventbrite will provide you with the confirmation and proof of registration required to enter the Cabal. Payment of the attendance fee equals assured registration, emailing intent does not.

Arrange your travel to arrive at San Francisco either the day before, or to be at Minna Gallery by 9:00 AM the day of the event, if feasible.

Contact: rhys@strataltllc.com with Cabal related questions.
The facility has a capacity limit, so please respond quickly. When we reach the limit, registration will be closed.
FAQs
What can I bring into the event?
You may bring whatever you wish except uninvited people (that's a no no). Additionally, weapons, live animals regardless of cuteness, and recording equipment are generally frowned upon. We will make Bob play the role of bouncer at the event and you already know that you don't want to cross Bob.
How can I contact the organizer with any questions?
Please email Rhys Dekle at rhys@strataltllc.com with event related questions. To ensure discovery and response please kindly type "Game Executives Cabal question" in the subject line of your email.
What's the refund policy?
Guests may cancel with refund one week prior to the Cabal. Guests who cancel before March 2, 2020 at 9 a.m. PST can expect a full refund. Guests who cancel before March 9, 2020 at 9 a.m. PST. may expect a refund of 50%. After March 9, 2020 and prior to the event, we would suggest contacting us to transfer your registration to a suitable C-level executive or Founder within your company - though we reserve the right to approve all substitution candidates in advance.
Do I have to bring my printed ticket to the event?
We will maintain a list of who has registered and paid via Eventbrite so please have either a photo ID or your Eventbrite confirmation with you printed or on your mobile phone.
Can I update my registration information?
If you have difficulty updating your registration information directly via Eventbrite, please contact rhys@strataltllc.com for assistance.
Is my registration fee or ticket transferrable?
Because space within the Cabal is limited, we carefully consider the individuals we choose to invite for the benefit of the other attendees. While we are happy to consider your suggestions for an alternate C-level executive or Founder from your company if you are unable to attend, we do reserve the right to judge suitability of the alternate and decline upon consideration. Please contact rhys@strataltllc.com to discuss situations requiring a ticket transfer.
Is it ok if the name on my ticket or registration doesn't match the person who attends?
Sometimes people named Michael go by more colorful nicknames like "Slapchuck" or "Mingelus". If you were invited by us, registered on eventbrite, and paid via eventbrite - we have a high degree of confidence that we can sort your identity out at the registration table the day of the Cabal.