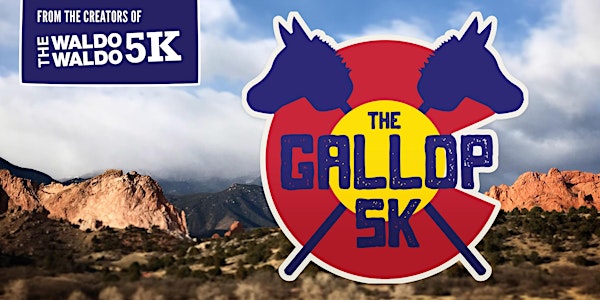 The Gallop 5K - in the Garden of the Gods
When and where
Location
Rock Ledge Ranch 3105 Gateway Rd Colorado Springs, CO 80904
Description
From the creators of the Waldo Waldo 5K:
The Gallop 5K


in the Garden of the Gods and Rock Ledge Ranch

Trot, Gallop or Stampede through one of the most beautiful national landmarks in Colorado. This family-friendly stick-horse 5K is an untimed, one-of-a-kind event. The spectacular, breathtaking experience through the Garden of the Gods is the official Colorado Adventure you won't want to miss.
Each registered participant will receive an official stick-horse. Yes, a stick-horse! Imagine it! You get to gallop through the iconic Garden of the Gods with red sandstone formations to your side, the dramatic Colorado sky, magnificent Pikes Peak to the west, autumn in the air, and of course your trusty companion stick horse by your side.
The Gallop 5K in the Garden of the Gods is a great way for participants to get excited about Colorado Springs, nature, community, health and doing silly fun things. It's a perfect way for families to connect on a beautiful Colorado day!


Go west, be silly, support local!
We highly encourage you to come dressed in costume!
Let's have some fun!
----------
The Gallop 5K is Saturday, October 19, 2019
TIMELINE
7:15 a.m. – Event opens for registration ( limited Stick- Horse tickets, t-shirt registration tickets available after stick-horse tickets are sold out.)
7:30 a.m. – Cambio Yoga, vendors, hula hoops, and so much more
8:00 a.m. – YEEHAW - READY, SET, GO!
*** Note the trail will have two way traffic, please be courteous to others on the route ***
WAVES:
Stampede - Fast runners
Gallop - Quick runners and joggers
Trot - Walkers and strollers
9:00 a.m. 12:00 p.m. – Hoedown (AKA afterparty)
"Watering Hole" (beer garden) opens, food trucks, exhibitors, music, obstacle courses, etc
RMFI - Rocky Mountain Field Institute will be the Beer Garden beneficiary
----------
HORSEY PICK UP DETAILS
When and where to pick up your trusty horse companion
WHEN: Thursday and Friday, October 17-18
TIME: 1:00 p.m. – 7:00 p.m.
WHERE: Garden of the Gods Visitors Center
1805 N 30th St.
Colorado Springs, CO 80904
PLEASE BRING YOUR TICKET TO HORSEY PICK UP!
----------
PARKING, ROUTE AND MORE INFO
Parking will be in the dirt parking lot East of Rock Ledge Ranch. Thanks to Civil Air Patrol, U.S. Air Force Auxiliary for their help with parking for an easy fun day! Huge thanks to the Pleasant Vally Neighborhood. If you choose park in the neighborhood south Rock Ledge Ranch please be mindful to the neighbors.

Route - Photo/Link to come The route is a beautiful Colorado 5K starting and ending in Rock Ledge Ranch. The 5K will bring you on a breathtaking adventure through Garden of the Gods central park. The route is all paved, except for small portions that are gravel. You can bring your stroller but please wait for the last wave as the trail will be use for both incoming and outgoing participants, it might get tight at times.
On the route you will find a water station, live music and a beautiful back drop for a perfect Colorado day! Please note the roads in the Garden of the Gods are not closed, we will have officers and volunteers there to ensure safety. The elevation gain is 276 feet! GIDDY UP!
Go GREEN today and everyday! We care about th environment. We do not use single use plastic water bottles. Please bring your own WATER BOTTLE. We will have two water stations and at each station we will ave compostable water cups. Please make sure you put them in the recycling bins at our event.
Please: NO dogs, due to the amount of people we are going to have in one location, we are choosing to keep dogs out of the event. Thank you for your consideration.
Horse – Your wonderful horse was handcrafted by a small family business. Keep your horse safe and use her again for a discount for next year! When you ride your horse you know you've impacted a small family business! Woohoo!
Good Cause – Our passion is to provide professional, incredibly fun, silly and impactful events. We care about giving people a great experience, hilarious memories and making a difference in our community. We pride ourself in working with local, small and family owned businesses and nonprofits. Join the fun, enjoy awesome events, make an impact, and enjoy life.
OUR Beneficiaries:
Garden of the Gods Foundation
The Mission of the Garden of the Gods Foundation is to improve the quality of the Garden of the Gods Park by gathering resources and making grants that enhance and protect the registered National Natural Landmark.

Rock Ledge Ranch
Funds go toward operational costs such as food for the animals, historic clothing library, and repairs and upkeep of the site, and more. Volunteers contribute their time and talents to docent at a historic site, assist with special events, gardening, cataloging, historic clothing and repair as well as enhancing the overall experience for visitors from all over the world.
Fossil Brewing - Beer Garden Sponsor!
Other wonderful sponsors!
The Independent
Springs Magazine
Folium Bio Sciences
9 Round Boxing
98.9 Magic FM
Orange Theory Fitness
Re/Max Properties Team Secundy