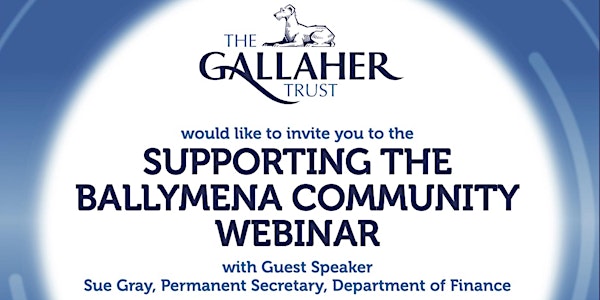 The Gallaher Trust: Supporting the Ballymena Community Webinar
This webinar will provide an insight into The Gallaher Trust, and the support available from the charity to the wider Ballymena community.
About this event
Join The Gallaher Trust webinar on Thursday 22nd April at 2pm to hear about the ongoing work of the charity and its £5 million legacy from Japan Tobacco International (JTI). Find out how the Trust is working to promote job creation and skills development, as well as providing support to disadvantaged adults, in the wider Ballymena community.
During the webinar, you will have the opportunity to find out more about the Trust's purpose, achievements and vision, as well as the long-term support that is available to the local community and the potential for future projects.
We will hear from a number of local delivery partners that have helped individuals benefit from the support of the Trust, as well as keynote speaker, Ms Sue Gray, Permanent Secretary for the Department of Finance.
Since 2018, the Gallaher Trust has supported projects which, by 2023, aim to have created 246 jobs, developed skills for 700 adults and helped provide support for 975 disadvantaged adults.
£1.1m has already been committed to a number of projects for local delivery partners and the Trust has leveraged a total investment of £4.3 million within the local community.
Don't miss this fantastic event to see how you can benefit from The Gallaher Trust.