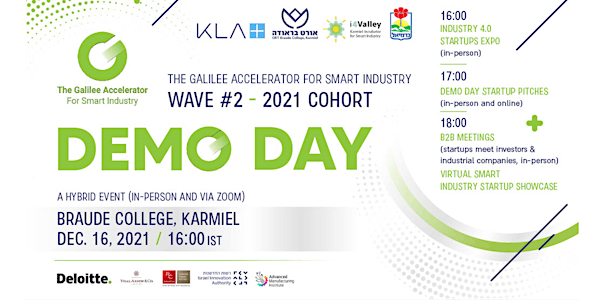 The Galilee Accelerator for Smart Industry: Demo Day W221 - IN-PERSON PART
Location
ORT Braude College of Engineering
51 Snunit Street
VIP Room
Karmiel, North District 2161002
Israel
The Galilee Accelerator for Smart Industry: Demo Day Wave2-21 (in-person) - Meet Industry 4.0 Startups!
About this event
THIS IS A HYBRID EVENT - THE IN-PERSON AGENDA IS INCLUDED WITH THIS EVENTBRITE LISTING
We'd like to see you in-person, if possible!
This way you can take part in the event's parts which are in-person only - the Startup Expo and the B2B private meetings.
If you're NOT in Israel or you CAN'T MAKE IT IN-PERSON, please register to the online part of the event here: https://tga-demo-day.eventbrite.com
Israeli startup addressing industrial companies' challenges? Looking for customers or funding?
Join us and get a unique opportunity to showcase your startup in front of industrial companies' executives (including Multi-National Companies) and investors.
Industrial company? Looking for the best innovations to address your needs?
Join us to explore startups with products that might bring you critical value in these pandemic days - savings, productivity, and competitive edge.
Investor? Scouter? Looking for startups?
Join us to find interesting investment opportunities in the hot Smart Industry domain.
AGENDA (see table below):
Startup Expo: IN-PERSON ONLY - 4 pm IST
Demo Day - IN-PERSON AND ONLINE - Startup Pitches, The Galilee Accelerator for Smart Industry Wave2-22 - 5 pm IST
Virtual Showcase - ONLINE ONLY - Israeli Smart Industry Startups' short Presentations - 6 pm IST
Private B2B Meetings - IN PERSON ONLY - Startups meet industrial companies and investors - 6 pm IST
Here is the list of the startups presenting at the Demo Day (element #2 of the agenda). Note that we'll have some additional startups in the expo and the virtual showcase.
The event is conducted per the TAV YAROK Covid-19 regulations.
The Galilee Accelerator for Smart Industry is the only Israeli early-stage startup accelerator focusing just on Smart Industry.