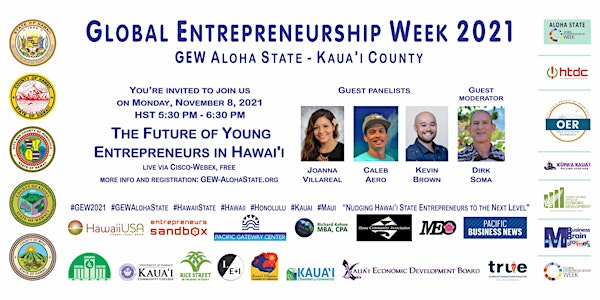 The Future of Young Entrepreneurs in Hawai'i (GEW Aloha State - Kaua'i)
County of Kaua'i joins GEW Aloha State for the first time with this event, including a mayoral proclamation.
When and where
Date and time
Monday, November 8, 2021 · 7:30 - 8:30pm PST
About this event
THE FUTURE OF YOUNG ENTREPRENEURS IN HAWAI'I
The state of Hawai'i and Kaua'i in particular is unique in its desire to nurture culture and nature in the process. The potential for young entrepreneurs is limitless when we meld culture, with innovation while preserving the land. Learn how the new generation of entrepreneurs has created new products or services and lessons learned.
Guest panelists (bio below): Joanna Villareal, Caleb Aero, Kevin Brown
Guest moderator (bio below): Dirk Soma
ABOUT THE GUEST PANELISTS
Joanna Villareal Founder, La Morena Spices. As a second generation Mexican American, Joanna has always had a passion for cooking and experimenting with different cuisines. Growing up she spent most of her time in the kitchen with her mother and grandmother gaining multigenerational experience on how to cook Mexican and Tex-Mex food. All of those familiar flavors and the passion to create great tasting healthy food is what led her to create La Morena Spices and More, where she incorporates locally grown and high quality organic ingredients to create her seasoning blends that can be used for any type of cuisine. Becoming a business owner and creating a product that she loves was something that was only a dream or far fetch goal until now. With lots of hard work and dedication, this unattainable goal has become a wonderful reality.
Caleb Aero is an international artist and model from Koloa, Kaua'i. Aero has worked with Fashion designers such as Prada, Versace, Gianfranco Ferre, and Valentino. He has designed for global brands from the likes of Mitsubishi to Harley Davidson and has traveled as a U.S. aerosol artist to numerous countries instructing clinics surrounding spray painted murals. To check out his work visit Instagram @Caleb Aero.
Kevin Brown owns and operates a specialized tree service company called Bamboo Pro, LLC. He repurposes 100% of the bamboo removed such as, fencing and building materials. In 2017 Kevin co-founded the launch of Neptune Snacks, a snack food company creating a better global seafood industry. He served eight years in the Army which gave him an amazing opportunity to travel to both good and struggling places around the world. He experienced new foods, languages, and cultures that led to developing a deep sense of community and a desire to set our future generations up for success.
ABOUT THE GUEST MODERATOR
Dirk Soma was born in Waimea, Kaua'i, raised in Aliamanu, O'ahu and currently resides in Kalaheo, Kaua'i. A graduate of the Kamehameha Schools, Dirk has spent many years engaging the community in both the private and public sectors. Currently, he is an Assistant Professor and Business Program Coordinator for at Kaua'i Community College and is a partner in a business development firm, Naupaka Consulting, LLP. In addition to his volunteer work on Kaua'i Island Chair, Dirk serves is a Director of Advocacy Four, a community-based non-profit focused on enriching the community through empowering its members.
SPONSORS , SUPPORTERS
State of Hawai'i - Office of the Governor David Y. Ige
County of Hawai'i - Office of the Mayor Mitchell D. Roth
City and County of Honolulu - Office of the Mayor Rick Blangiardi
County of Kaua'i - Office of the Mayor Derek S.K. Kawakami
County of Maui - Office of the Mayor Michael P. Victorino
HawaiiUSA Federal Credit Union (HawaiiUSA FCU)
Entrepreneurs SANDBOX
Pacific Gateway Center
RJK LLC (Richard Kehoe, MBA, CPA)
Hāna Community Association
Maui Economic Opportunity (MEO)
Pacific Business News (PBN)
Hawai'i Technology Development Corporation (HTDC)
Office of Economic Revitalization (OER) of the City and County of Honolulu
Kūpa'a Kaua'i
Maui County Business Resource Center (MCBRC)
Hawai'i Small Business Development Center (HI SBDC)
Maui Business Brainstormers (MBB)
Global Entrepreneurship Week (G.E.W)
Global Entrepreneurship Network (GEN)
Grants Central Station (GCS)
Kauaʻi Community College
Rice Street Business Association
Lady Entrepreneurs and Innovators L.E.I.
Kauaʻi Filipino Chamber of Commerce
Kauaʻi Chamber of Commerce
Kauaʻi Economic Development Board (KEDB)
Technology Readiness User Evaluation (TRUE)