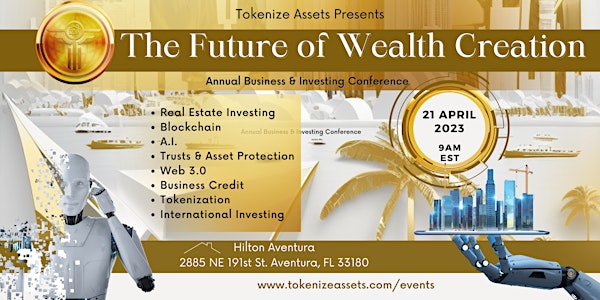 The Future of Wealth Creation - MIAMI - Hosted by Tokenize Assets
Learn what the wealthy are investing in and how they are leveraging the Future of Tech, and the Structures of the past, simultaneously.
By Tokenize Marketplace LLC
Date and time
Friday, April 21 · 9am - 5pm EDT
Location
Hilton Aventura Miami 2885 NE 191st St Aventura, FL 33180
Refund Policy
Contact the organizer to request a refund.
Eventbrite's fee is nonrefundable.
About this event
WHAT is "The Future of Wealth Creation Conference" ?
The avenues that have been impacted the most by new trends and tech are Real Estate, Trusts & Asset Protection, Wealth Creation, Investing, Employee Skill Development, and Entrepreneurship.
The tech and tools that have and will continue to have a huge impact on the world of investing are Tokenization, Blockchain, Web 3.0 & A.I. & Real Estate.
This event serves as your guide to help you learn, navigate, and take advantage of these trends and opportunities.
This event can be leveraged to increase your knowledge, network, and access.
The wealthy understand that your Network is your Net-Worth and no matter how much money you make, it is your connections that create the access you need to maximize on opportunities.
Access and your network can lead to more ideas, business deals, connections, and investments.
So, Get ready to embark on a thrilling journey into the future of wealth creation! Tokenize Assets is proud to present
"The Future of Wealth Creation Conference"
A groundbreaking conference exploring the innovative technologies shaping the future of finance and investments.
Join a community of like-minded individuals and learn from the best in the field as they share their expertise on Blockchain, A.I., tokenization, real estate investing, trust & asset protection, web 3.0., business credit, and more!
Discover how you can leverage these cutting-edge technologies to maximize your wealth and protect your assets.
Do NOT miss out on this once-in-a-lifetime opportunity to shape the future of wealth creation!
Mark your calendars for April 21, 2023 and secure your spot now.
This is not just an conference, it is a movement!
Be a part of the revolution and RSVP today!
+++++++++++++++++++++++++++++++++++++++++++++++++++++++++++++++++++++++
THE CONFERENCE IS OVER AT 5PM BUT THE OPTIONAL BONUS SESSIONS WILL LAST UNTIL AFTER 10PM SO PLAN ACCORDINGLY
+++++++++++++++++++++++++++++++++++++++++++++++++++++++++++++++++++++++
The event ends officially at 5pm BUT that is when the real fun begins.
We will have networking/deal tables with the speakers after the event from 4:30pm to 6pm so that you can actually follow up immediately afterward.
After that, we will continue in a luxurious bar/lounge area from 7pm until!
WHY was "The Future of Wealth Creation Conference" Created?
New opportunities, trends, and wealth strategies have become available due to the emergence of technology and innovation.
The problem is that most people do not know how to leverage them and those that do typically are not willing to share this information with the masses.
We do not want people to continue being left behind and we also understand that there are many people with a lot of disposable income that just do not possess the network or connections to know how to leverage it properly.
This is why this event was created.
We are leading the charge in knowing what the next moves should be and we have created a fantastic network for our attendees to meet and learn from not just on the stage but also off of the stage!
Who is this For and Why should I attend?
This conference is not for everybody.
This event is for entrepreneurs, future entrepreneurs, investors, real estate brokers/agents, and anyone that desires to be a part of a community that enjoys seeing and helping other learn and earn.
This event is NOT about ego.
It is about learning how to maximize the new tech and trends but also leveraging the old and trusted methods as well.
However, the key to this event is YOU and your desire to learn, earn, and give your time in order to network.
Who are the speakers?
Keynotes Speakers
Michelle Lilly - 1st Black Woman in the World with a Masters in Blockchain and Digital Currency, Investor, and Founder of Tokenize Assets
Brenda "BB" Hills - IRS Enrolled Agent with an expertise in Trusts and Tax Prep
Darby Rollins - The A.I. Author, instructor of A.I. classes for businesses and A.I. program creator for UC Berkley University.
Earnest Epps - International E-com expert and Business Credit Coach
Panelists
The Futuristic Investing Panel
Host - Michelle Lilly - Tokenization & Crypto Queen
John "Blockchain" Bowdre - Chairman of Crypto Currency for the city of Miami-Dade
Michael Lo "Kid Jet" - NFT consultant & NFT Community Leader, Estate Investor
Dr. Kimberly West - A.I. Tech Expert, Luxury Expat and former Microsoft Tech consultant
International Real Estate Panel
Host - Rochelle Jones - Real Estate Advisor
Labrescia Dawson - Government contract Specialist
Beqo Hoti - Intl Investor with Forbes Intl Realty (Sweden, Dubai, Europe)
Denise The Broker - - Dubai Real Estate Brokerage and Investor
Tameka Moses - Commercial Real Estate Expert
Trusts & Legacy Wealth Panel
Host- Edmond Lee Legacy - International Legacy Strategist
LaVonne Idlette - Olympian, SEC attorney, and Venture Capitalist
Andres Ospina - Managing Director for the Family Office Club
Nicolle Lafosse - The Crypto Gaming Attorney
Liza Hernandez - New Construction Expert with PMG Development
This is where the Meeting after the Meeting will happen which include networking, deal making, and d even a few laughs are sure to be had in this picturesque, floor to ceiling window filled lounge area.
There will definitely be some Instagram and TikTok pics and vids taken here.
VIPs, Guests that are flying in, and Speakers will also be networking Thurs evening before the event. This is an informal session and it serves as a simple meet and greet.
You never know who you might find in the lobby.
Yes, we are creating this event different than other events as we want to make SURE that our team and our speakers are accessible and that you come away with action items and results!
A limited amount of rooms are available via our room block but these will be sold out soon so make sure you book now if you plan on flying in.
Agenda
9:00 AM - 10:00 AM
Registration and Networking
9:40 AM - 10:00 AM
Doors Open
10:00 AM - 10:10 AM
Welcome
10:10 AM - 10:20 AM
Opening Remarks
10:30 AM - 11:25 AM
PANEL: Futuristic Investing
11:30 AM - 12:00 PM
KEYNOTE SPEAKER - The New 24 Trillion Dollar Industry
12:00 PM - 1:00 PM
LUNCH BREAK
1:05 PM - 1:35 PM
Keynote - Trust the Trusts
1:45 PM - 2:50 PM
PANEL - The Future of International Real-Estate
3:00 PM - 3:55 PM
PANEL: Trust and Legacy Wealth
3:55 PM - 4:30 PM
Business Credit
4:30 PM - 6:00 PM
OPTIONAL - Networking Tables and Mastermind
7:00 PM
OPTIONAL - Networking and Deal Making - Lounge and Bar Area
About the organizer
Who should participate?
- Thought leaders from the private banking and financial sector
- Portfolio managers from hedge funds, pension plans, and private investment firms
- Consultants with a focus on capital markets and digitization
- Brokers and Realtors with an interest in capital markets, crypto assets, and technology
www.tokenizemarketplace.com for more information