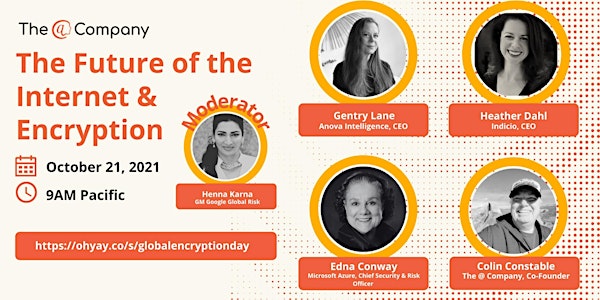 The Future of the Internet & Encryption
This is Global Encryption Day and technologists and human rights organizations around the world are leading events to show their support.
About this event
Title: The Future of the Internet & Encryption
Moderator: Dr. Henna Karna, General Manager Google Global Insurance & Risk, and Board of Directors Member, The @ Company
Online Panel Event: Panel of Encryption Experts Interested in Exploring Advances in Encryption, Who Owns the Keys, and Societal Risks
Online Event Platform: OhyayDesktop (link below) or if you are on mobile (https://www.youtube.com/watch?v=f8MKipz022k)
Panelists:
Gentry Lane, Founder and CEO Anova Intelligence
Heather Dahl, Founder and CEO Indicio
Edna Conway, VP, Chief Security and Risk Officer, Azure at Microsoft
Colin Constable, Chief Technology Officer, The @ Company
Topics to be Covered:
Today is Global Encryption Day… your general reflections...
Risks associated with surveillance and the lack of data protection...
What is security in a connected world?
Where is the Internet headed?
Why encryption now?
How secure is encryption really? Who holds the keys?