Description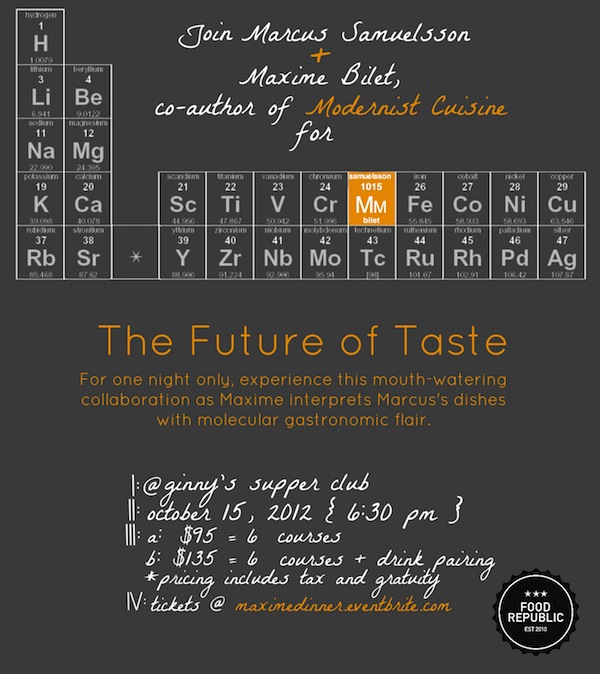 Join Marcus Samuelsson and Maxime Bilet, James Beard Award winner and co-author of Modernist Cuisine, as they embark on a culinary journey into the future. Max re-interprets Marcus Samuelsson signature dishes such as Chicken & Waffles and Steak & Grits, and and gives it his Molecular Gastronomy finishes.
The Six-Course Meal comes with an optional beverage pairing for an additional $40, and also included is a cocktail and nibbles hour before guests are seated to experience a mouth-watering peek at The Future of Taste.
AMUSE
Oyster on the Half Shell
Cryo-Shucked, Oyster Sunchoke Cream, Pickled Roses
Chicken and Waffle
Aerated Scrambled Egg, Chicken and Mushroom Marmalade, Smoked Maple Syrup, Chicken
Skin Soldiers
DINNER
Noble Roots
Carrots and Roots, Caramelized Parsnip Mousseline, Pressure Cooked Seeds, Berbere
Spiced Carotene Oil
Ramen Afrique
Teff Noodles, Miso Broth, Jerk Pork, Shrimp and Scallops, Poached Egg
Steak and Grits
4-Day Aged Steak, Young Mustard Greens, Red Eye Gravy
DESSERT

A Fantastic Future Surprise

PETIT FOURS

Popping Chocolate
WHEN: October 15th, 6:30pm
WHERE: Ginny's Supper Club (downstairs from Red Rooster)
310 Lenox Avenue (between 125th and 126th Streets)
Seating is limited so reserve your seat now to this once-in-a-lifetime event.
Organizer of The Future of Taste with Marcus Samuelsson and Maxime Bilet
Wander downstairs at the Red Rooster Harlem and you'll soon pick up the trail of its spirited sister venue. With a hat tipped to Harlem's Renaissance, Ginny's Supper Club is a modern reincarnation of the glamorous speakeasies and Harlem nights of the Twenties – an intimate lounge with a warm bourbon glow and an even warmer welcome.
Kindled by the hottest live music, creative cocktails, soulful food, inclusive spirit and Harlem's vibrant culture, Ginny's is devoted to hosting nights out with a little bit of magic. And, as its creators chef Marcus Samuelsson and Andrew Chapman will tell you, that means style, culture and genuine down home fun for everyone.