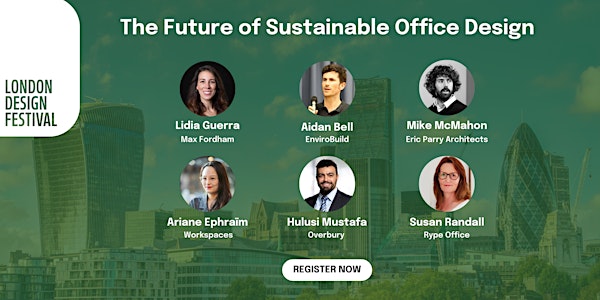 The Future of Sustainable Office Design
This event has been moved to the 5th October- Please register on our new event page - Linked below
When and where
Location
x+why, People's Mission Hall, 20-30 Whitechapel road, London E11EW 20-30 Whitechapel Road London E1 1EW United Kingdom
About this event
New Date Confirmed- Wednesday 5th October
Following our previous event date being made a bank holiday. We have moved this event to the 5th October 2022
Please register for the new date using our new Eventbrite page
The Future of Sustainable Office Deisgn-
How is the design of the modern office building being influenced by sustainability? Join Envirobuild and industry experts to find out.
To celebrate the London Design Festival and inspire more people to embrace sustainable design. EnviroBuild are bringing together industry experts from all areas of the sustainable design process to share their expertise, experiences, obstacles they have overcome and recommendations for designing offices for a circular economy.
With the construction industry being one of the largest users of global resources and contributor to pollution. It is vital for the industry to adopt sustainable practices to enable the UK to reach their net zero ambitions. The adoption of sustainable building design plays a key role in this.
Sustainable building design requires the structure and processes to be environmentally responsible and resource-efficient. Embracing renewable energy and recycled materials as much as possible throughout the entire lifecycle of the building. Including design, construction, maintenance, renovation and demolition. Whilst also preserving the surrounding environment and improving the living conditions, health and wellbeing of the building's occupants.
The Event
The discussion will take a holistic 360° approach to the process putting design at the centre of the discussion. Providing important insights, practical tips and advice. Highlighting the importance of collaboration between each area of the design and construction process. As well as the critical part materials and design play in creating carbon balanced buildings.
The event will begin with short talks from each industry expert followed by a panel discussion on " The Future of Sustainable Office Design ". Followed by with industry networking and further discussion around refreshments and drinks.
Meet our Panel of Industry Experts
Dr Aidan Bell- EnviroBuild
Lidia Guerra -Max Fordham
Mike McMahon- Eric Parry Architects
Ariane Ephraïm- Workspace
Galloway de Groot- Overbury
Susan Randall- Rype Office