Description
The Texas Tribune is pleased to present a symposium on rural policy and affairs in Texas. Join us on Tuesday, Nov. 13, as we dive into the future of rural education, health care, natural resource preservation and infrastructure investment, and explore the current political climate in rural Texas and the state's economic future.
On the evening of Monday, Nov. 12, attendees are invited to join us for a keynote conversation and reception with state legislators from across Texas on the rural agenda heading into the 86th legislative session.
Confirmed panelists include: Sid Miller, Texas agriculture commissioner; Glenn Hegar, Texas comptroller of public accounts; state Sen. Charles Schwertner, R-Georgetown; state Reps. Trent Ashby, R-Lufkin; Drew Darby, R-San Angelo; Mary González, D-Clint; Kyle Kacal, R-College Station; Geanie Morrison, R-Victoria; Poncho Nevárez, D-Eagle Pass; Four Price, R-Amarillo; and J.D. Sheffield, R-Gatesville; Kim Alexander, superintendent of Roscoe ISD; Don Allred, Oldham County judge; former state Rep. Jimmie Don Aycock, R-Killeen; Shelley Brophy, mayor of Nacogdoches; Will Conley, chairman of CAMPO and candidate for Hays County judge; Blair Fitzsimons, CEO of the Texas Land Trust; Becky Garlick, executive dean of Blinn College; Marilu Hastings, vice president for sustainability at the Cynthia & George Mitchell Foundation; John Henderson, president and CEO of the Texas Organization of Rural and Community Hospitals; James Henson, director of the Texas Politics Project; Sylvia Leal, senior program officer for education and economic development at the T.L.L. Temple Foundation; Arleene Lloyd, executive director of the Gainesville Economic Development Corporation; Roel Lopez, director of the Texas A&M Natural Resources Institute; Ines Polonius, CEO of Communities Unlimited; Ramiro Rodriguez, mayor of Palmhurst; Susan Rushing, CEO of Burke; Andrew Sansom, executive director of the Meadows Center for Water and the Environment at Texas State University; Cheryl Sparks, president of Howard College; and Bill Stockton, executive associate agency director at the Texas A&M Transportation Institute.
All panels will be livestreamed. Interested in hosting a livestream watch party in your community? Sign up to receive a toolkit to guide you through the process.
The full program will be announced and registration will open on Oct. 9, 2018. Join the email list to be notified when registration opens.
Details
This event will be held on the Texas A&M University campus, and it is free and open to the public. A light breakfast and lunch are included. Attendees can reserve a room at the Texas A&M Hotel & Conference Center in advance here. Paid visitor parking will be available Cain Garage (parking fee not included in registration).


---
The Tribune's symposia are modeled on the celebrated Texas Tribune Festival. These events bring together experts to present and generate productive conversations on major issues of the day.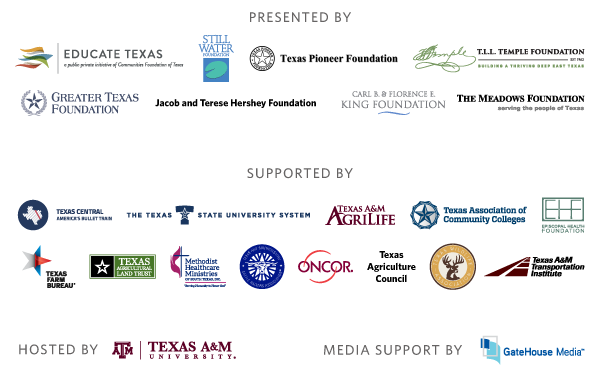 This event is presented by Texas Rural Funders Collaborative: Educate Texas, Greater Texas Foundation, Jacob and Terese Hershey Foundation, King Foundation, The Meadows Foundation, Still Water Foundation, Texas Pioneer Foundation and T.L.L. Temple Foundation. This event is supported by Texas A&M AgriLife, Texas Agricultural Land Trust, Episcopal Health Foundation, Texas Central, Texas Farm Bureau, Methodist Healthcare Ministries of South Texas, Texas Association of Community Colleges, Texas Wildlife Association, Oncor, Texas Agriculture Council, Texas A&M Transportation Institute and Texas State University System. The event is hosted by Texas A&M University. Media support is provided by GateHouse Media.
Tribune events are also supported through contributions from our founding investors and members. Though donors and corporate sponsors underwrite Texas Tribune events, they play no role in determining the content, panelists or line of questioning.