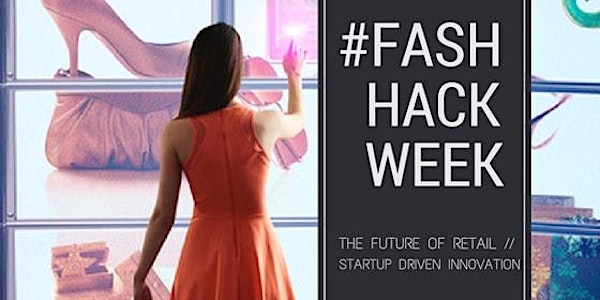 The Future of Retail // Startup Driven Innovation
When and where
Location
Cocoon Networks London 4 Christopher Street London EC2A 2BS United Kingdom
Description
Between fabric recycling technologies and new business models, fashion is at the forefront of its biggest shakeup ever. We can continue to expect hyper-customized concierge and on-demand services, and the integration of ultra-convenience, consumption and entertainment.
Ever wanted to meet the innovators building the future? Now's your chance. During this event we will be bringing together industry experts, leaders, founders, entrepreneurs and investors. It is your unique opportunity to hear from speakers at the forefront of the disruptive fashion tech revolution.
Our presenters will address a range of hot topics, from the future of wearables to the role of AI in e-commerce. The talks will be followed by an informal networking with drinks.
Presenters:
Paul Archer, The Founder of Duel. Paul Archer is a technologist, Best-selling Author of 'It's on the Meter', and World Record-breaking Adventurer. After having spent a number of years building technology and working in advertising, he founded the machine learning Marketing Automation platform, Duel, which is democratising marketing for brands and retailers and turning their customers into a channel.
Paul is an experienced global speaker, moderator and conference host. His appearances have included TEDx, SXSW, Festival of Media, Cannes Lions, Social Media Week, GenerationE, the Content Marketing Institute and Retail.Tech. He also guest lectures at the British School of Fashion.
Mustafa Khanwala, Co-Founder of MishiPay, that allows anyone in the store to pick up an item, scan the barcode on their phone, pay on the phone and just walk out of the door with it. If someone tries to leave without paying though, their patent-pending technology powered by RFID immediately catches that and sounds the alarm.
Mishipay also integrates completely into existing systems of retailers and so we essentially provide every store with the Amazon Go experience at only a fraction of the cost. We are currently working with amazing partners like Cisco, Deloitte, Avery Dennison, Nedap, Ingenico, SAP and Zebra and are doing Proof of Value projects with some of the biggest retailers in Europe such as Camaïeu, Media Markt, and others.
Vikesh Shah, Commercial Director of Metail, which is making fashion fit for all by digitising every garment and every body. Vikesh will be the first to admit he's never really had a passion for fashion! However, he was attracted to Metail's vision of making clothing fit for all after realising that apparel is one of those rare things which is needed by everyone on our planet.
As Commercial Director, Vikesh on one hand helps clothing companies to develop engaging new experiences for customers, by allowing them to try on clothes online. On the other hand, he helps businesses to create new efficiencies, such as removing the need to photograph clothes on models and harness the new insights generated from customers trying on clothes online.
Space is limited, so we highly recommend you RSVP as soon as possible to avoid disappointment.
This event is part of The FashHack Week, a 1-week programme of day workshops and evening events, taking place from 23. October to 26.October aimed at fashion & retail tech startup founders to accelerate their companies. The entry is free for all the FashHack Week tickets holders.