The Future of Protein Dinner
When and where
Location
The Museum of Food and Drink Lab 62 Bayard Brooklyn, NY 11222
Description

Dine on the Future of Protein
One of the most enduring and resonant themes in the realm of food and eating is that of protein.
In this inaugural Future Market dinner series, we take you on a journey through the past, present and what we speculate will be the future of protein consumption.
Each course is an edible exploration of the cultural, nutritional, and environmental zeitgeist around the future of protein. From the wild roaming protein sources of the 1800s to the next frontier of protein from insects and plants, we will give you a full experience of where our food system has been and where it's going.
This dinner will be held at the Museum of Food and Drink (MOFAD) Lab in Brooklyn, NY, one of the best venues in the world to explore the culture, history, science, production, and commerce of food and drink.
It's all delicious, and designed to feed your mind as well as your body. Join us.
The Future of Protein Dinner
Plant, Animal, Insect | Past, Present, Future
June 28 - 7:00 PM
New York City
$125 / pp
The Menu-Story Arc
- Course-Era #1 -
The Industrial Revolution
The Year 1850
"Wild Proteins" / When meat ran wild and free.
- Course-Era #2 -
The Green Revolution
The Year 1950
"The Industrial Protein Complex" / When more food was good food.
- Course-Era #3 -
Today, In Transition
The Year 2020
"Sustainable Hedonism" / Reimagining the Steakhouse
- Course-Era #4 -
Family Meal of the Future
The Year 2035
"Eating Insects: The New Normal" / Comfort food, reimagined
- Course-Era #5 -
The Promise of Endless Protein
The Year 2065
"Feeding 10 Billion People" / The next frontier of protein production and consumption
** Menu includes beverage pairings and interstitial small bites **
Spanning three centuries - from our ancestors to our great-grandchildren - you will be part of a thought-provoking, multisensory journey featuring protein sources such as traditional wild and farmed animals, the emerging range of insects and algae, surprisingly rich fungi and fruits, as well as a glimpse of the innovation in engineered proteins, designed to minimize environmental impact while still delivering the eating experience we all love.
Dine on the Future.
Join us.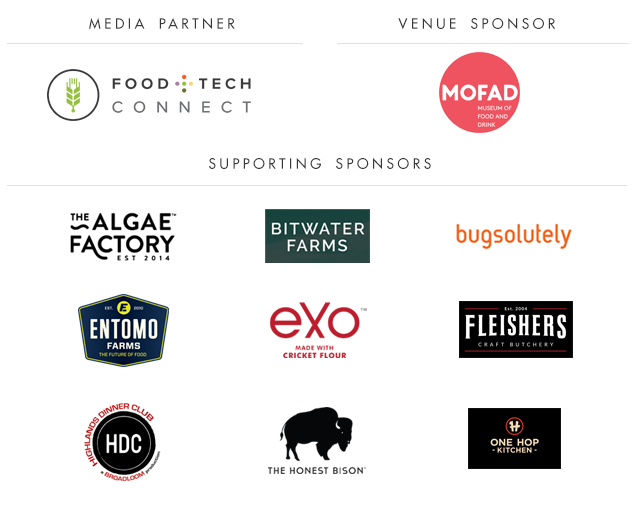 ****
Learn More About Our Sponsors
Food+Tech Connect
Museum of Food and Drink
The Algae Factory
Bitwater Farms
Bugsolutely
Entomo Farms
Exo
Fleishers Craft Butchery
Highlands Dinner Club
The Honest Bison
One Hop Kitchen
To learn more about the Future Market,
visit us at http://thefuturemarket.com
****
Note: Reservations are first come, first serve with no refunds or cancellations once reserved. We cannot accommodate substitutions to the menu and there is no vegetarian option available. Please notify us of any serious food allergies and we will do our best to accommodate, but may not be able to make an appropriate substitution.
If you have questions, please email info@thefuturemarket.com.