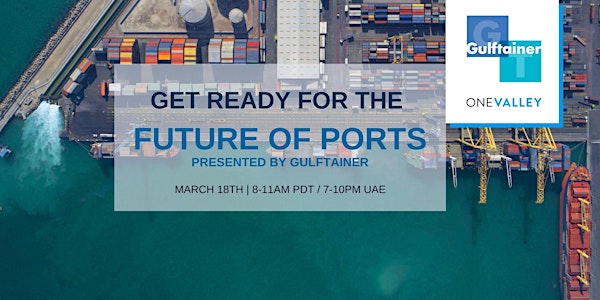 The Future of Ports 2021, presented by Gulftainer (8am PDT/7pm UAE)
WITNESS THE IDEAS SHAPING THE FUTURE OF PORTS AND LOGISTICS
About this event
March 18th | 8-11am PDT / 7-10pm UAE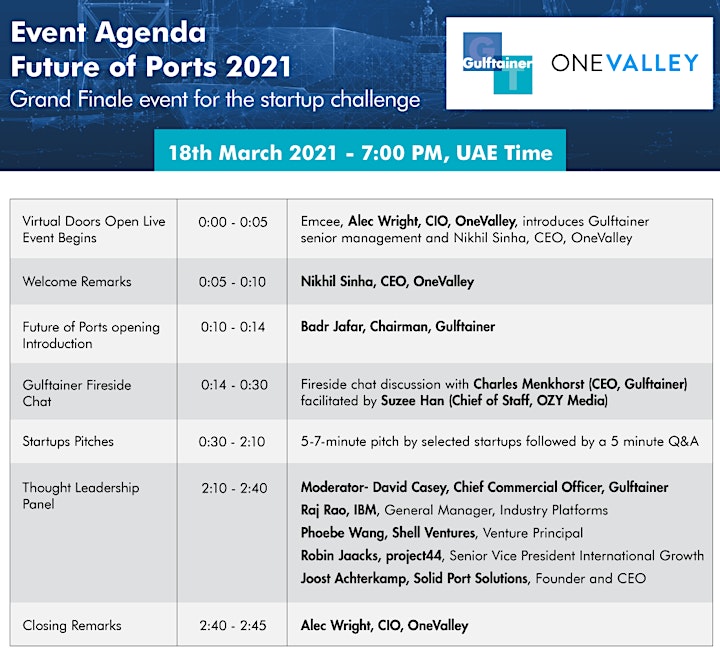 Leaders and innovators spearheading the future of the Shipping & Logistics industry will gather for The Future of Ports 2021 - presented by Gulftainer.
This virtual event will be a culmination of a 6 month-long Startup Challenge to find the top cutting-edge startups that are transforming the port management and logistics ecosystem.
The top 10 teams will compete for their chance to secure cash prizes and a paid pilot with Gulftainer. Each company has gone through a rigorous process, beating out hundreds of other candidates, to reach this final phase of the competition.
Meet the presenting startups
Artemis Robotics - provides automation to see the unseen inside your structural assets like never before.
Authenticiti - a supply chain overlay application powered by blockchain.
Creation Labs - autonomy for industrial vehicles. Making logistics safer, greener and more fuel efficient.
Docktech - Digital Twins of Waterways for ports and rivers.
eYARD - cloud based software that uses AI to help container terminal operators cut costs and optimize operations.
IronYun - Next generation AI video platform B2B software.
Moeco - Innovative real-time monitoring and insights about companies' goods, shipments, and inventory.
Morpheus.Network - Digital and sustainable global supply chains using emerging technology middleware & trusted information flows.
ThroughPut - Industrial AI software leveraging existing data to optimize supply chains to increase output, inventory turns & profits.
ZaiNar - Tracking the real-time 3D location of phones, vehicles, drones, IoT, and physical assets.
These teams represent the most exciting, transformative technologies across the five key categories of the competition.
In addition to the top 10 presenting companies, the event will include talks from industry thought leaders on the disruption of innovation and technology within the Supply Chain and Logistics ecosystem, and what the future holds for the industry.
The event will feature talks from senior members of Gulftainer's leadership including Badr Jafar, Gulftainer Chairman, plus a Fireside Chat with Charles Menkhorst, Gulftainer CEO facilitated by Suzee Han, Chief of Staff at Ozy Media.
Nikhil Sinha, CEO of OneValley will also speak in addition to a panel of supply chain innovation thought leaders including Raj Rao, General Manager at IBM, Phoebe Wang, Venture Principal at Shell Ventures, Robin Jaacks, SVP International Growth at project44, and Joost Achterkamp, Founder and CEO of Solid Port Solutions, moderated by David Casey, Group Chief Commercial Officer at Gulftainer.