Description
FUTURE OF ORCHESTRAL GARMENTS
Baltimore Symphony Orchestra Taps The New School's Parsons and Mannes College
To Envision the Future of Orchestral Performance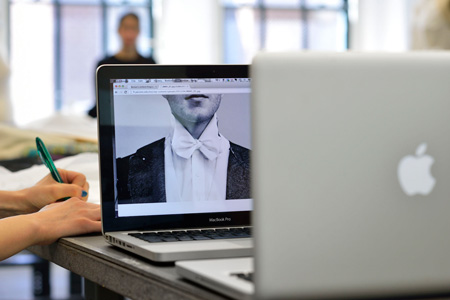 NEW YORK, April 18, 2013—The Baltimore Symphony Orchestra and its Music Director Marin Alsop have challenged students from Parsons The New School for Design and its sister school, Mannes College The New School for Music, to envision the future of orchestral performance. The resulting work will debut in an event that brings together music, fashion and technology in new and innovative ways.
The yearlong collaboration is led by Parsons faculty members, fashion designer Gabi Asfour of threeASFOUR and wearable technology designer Sabine Seymour, with support from Richard Kessler, dean of Mannes College. The fashions, designed by students in the Integrated Design program at Parsons, bring together new and vintage garments to create performance wear that is sustainable and responsive to the way musicians move and play. Wearable technology, designed by students in the School of Art, Media and Technology at Parsons, is being incorporated into several of the looks. This technology will demonstrate how the performance itself can be enhanced by new means of visual expression, with the garments and performance space itself serving as a canvas for motion and sound-activated digital projections.
Marin Alsop and Parsons board member and Alsop mentor Tomio Taki will attend the event, with Mannes students performing William Bolcom's The Serpent's Kiss for solo piano; When Music is Missing, Music Sings by Stuart Saunders Smith (a work for found instruments); and Lowell Liebermann's Piano Quintet.
There will also be a live stream of the event found here