Everyone is talking about NFTs, now you can hear about it from the top thought leaders in the industry.
About this Event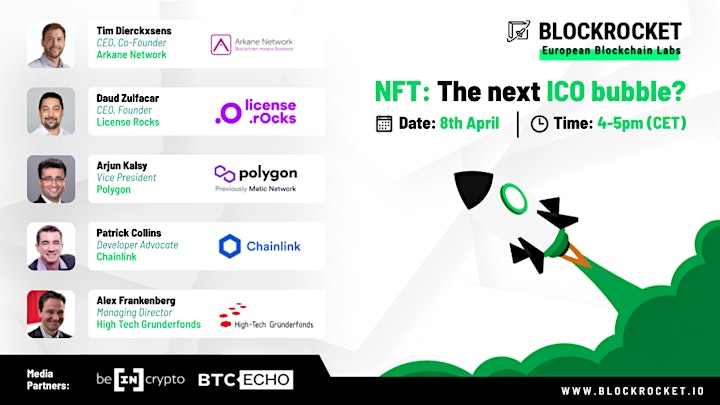 Listen to some of the most successful Crypto Projects like Matic(Polygon), Chainlink, VC Investor, and startup founders, share their insights on what's going on today and how you can get ahead.
WHY YOU SHOULD JOIN?
What if you could bring together the smartest people in the NFT, Gaming, and Collectibles industry to share their insight on what's going on, and where the industry is going.
We believe in the "Wisdom of Crowds". You'll hear them talk about hotly debated topics, and also hear some of the top projects pitch theirs. Join us for an exclusive event featuring lively discussion about the future of NFTs, where world-renowned experts in the blockchain and NFT space share their thoughts about it. The event also comes with a Q&A session, so be prepared to get all the info you need!
'The future of NFTs' belongs to the event series about different blockchain topics that are brought together by BLOCKROCKET. BLOCKROCKET is an early-stage investor and digital accelerator program for blockchain startups in Germany that helps startups, corporates, and investors leverage the potential of blockchain technology. Since their launch in 2019, they have acquired numerous well-known partners and mentors and handpicked some of the best blockchain startups among 150 applications for their program.
More information about BLOCKROCKET: https://www.blockrocket.io/
EVENT SPEAKERS:
Tim Dierckxsens, CEO and Co-Founder of Arkane Network
Daud Zulfacar, CEO and Founder, License Rocks
Arjun Kalsy, Vice President, Polygon (Matic)
Patrick Collins, Developer Advocate, Chainlink
Alex Frankenberg, Managing Director, High Tech Grunderfond
MODERATOR
Benjamin Horvath, Managing Director of BLOCKROCKET - European Blockchain Labs
Sagar Barvaliya, Head of Venture Development of BLOCKROCKET -European Blockchain Labs
DATE & TIME
Date: Thursday, April 8, 2021, 16h00-17h00 (CET)
Mode: online talk via Zoom; Zoom dial-in URL will be sent previous to the online talk
WHY DO WE DO ONLINE TALKS? CORONA.
Blockchain and community building. This is our mission. The Corona virus did not make things easier for us, but we will now move our events online to help education and dissemination in the blockchain area.
Do you want to become our speaker? We aim at 500+ video conference participants per talk. Write to: team@disrupt-network.io
HOW TO STAY UPDATED
We do online talks and online panel discussions 2x per week. We frequently post our next events on Twitter and on LinkedIn. Follow us to stay up to date:
LANGUAGE
This talk will be held in English.
CONTACT
Mail: team@disrupt-network.io
LinkedIn: https://www.linkedin.com/company/disrupt-network/
DATA PROTECTION
Through participating in this meetup (that is, through ordering a free ticket with Eventbrite), the participant gives his consent that Disrupt Network UG (1) saves his name and contact data (i.e. email), (2) is later on allowed to send emails to the participant, and (3) is allowed to take photos and videos during the meetup that might be published online and that might include the participant. If the participant does not agree to points (1), (2) and (3), he or she should not order a ticket for the meetup.