About this Event
What is shared micromobility?
Shared micromobility refers to any small, human or electric-powered transportation solution such as bikes, e-bikes, scooters, e-scooters or any other small, lightweight vehicle that is being used as a shared resource between multiple users.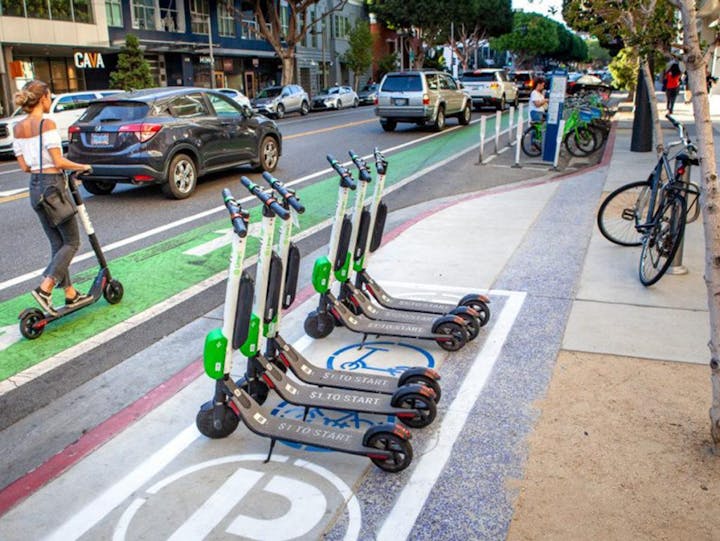 Technological advances in electrification, automation and the sharing economy are converging to reshape the transportation sector. Shared micromobility is already taking many cities by storm with the rise of electric scooters and dockless bikes. How will Metro Vancouver adopt these technologies in a way that supports our quality of life?
What changes are coming, and how will micromobility services integrate with public and private transportation systems? How will our roads and sidewalks accommodate these emerging forms of micromobility? And what do these changes mean for our cities, and how we choose to use and navigate public spaces?
As TransLink prepares to update Metro Vancouver's transportation plan through to 2050, we're proud to convene discussions with the public around the future of how we'll move. Join us for an evening of dialogue around shared micromobility with industry, academia and local policymakers. You'll also have an opportunity to demo an electric scooter or e-assist bike following the event.
This event is free but registration is required due to limited seating available. Save your seats now.
Shape the future of how we move. And live. Sign up to receive our e-newsletter. Transport 2050 engagement begins May 2019!
Agenda
Emcee: Bowinn Ma, MLA for North Vancouver-Lonsdale and Parliamentary Secretary for TransLink
Opening Remarks:
Andrew McCurran, Strategic Planning & Policy Director, TransLink
Adam Hyslop, Transportation Planner, UBC Campus & Community Planning
Presentations:
Chris Schafer, Lime
Michael van Hemmen, Uber/JUMP
Mia Kohout, Mobi
Dr. Alex Bigazzi, UBC (Human-electric hybrid vehicles: Implications of new non-auto mobility options for street design and policy in the Vancouver region)
Panel Discussion:
Chris Schafer, Lime
Michael van Hemmen, Uber/JUMP
Mia Kohout, Mobi
Scott Edwards, City of Vancouver
Jennifer Draper, City of North Vancouver
Dr. Alex Bigazzi, UBC
Electric scooter and e-assist bike demo (Robson Square Plaza)
About the Speakers
Bowinn Ma, MLA for North Vancouver-Lonsdale and Parliamentary Secretary for TransLink
Elected as the MLA for North Vancouver-Lonsdale in May 2017, Bowinn is also a licensed Professional Engineer and certified Project Management Professional. Prior to being elected MLA, she managed terminal expansion and redevelopment projects at the Vancouver International Airport.
Bowinn's degree in civil engineering included an academic focus on transportation engineering, which serves her well in her efforts to improve transportation on the North Shore and throughout the Lower Mainland. She also holds a Masters degree from the UBC Sauder School of Business.
Dr. Alex Bigazzi, UBC
Dr. Bigazzi is an assistant professor at UBC with a joint appointment in the Department of Civil Engineering and the School of Community and Regional Planning. Prior to joining UBC, he received his Ph.D. in Civil Engineering from Portland State University investigating urban bicyclists' uptake of traffic-related air pollution. His primary research areas include active travel behavior (including emerging vehicles such as e-bikes), and transportation-related emissions and air quality.
As part of the New Mobility Research Grant Program, Dr. Bigazzi will share an update on his current research project, entitled Human-electric hybrid vehicles: Implications of new non-auto mobility options for street design and policy in the Vancouver region. This research looks at how new forms of transportation, namely bikes, scooters and skateboards that are electric-assist or non-electric assist, will share the road with pedestrians, cyclists and other non-car road users. Understanding how these different technologies behave will help inform policy development and future roadway design.
Scott Edwards, City of Vancouver
Scott Edwards has over 20 years of experience in municipal engineering with a focus in transportation and public space, bringing innovative projects and programs to Vancouver. His career has focused on supporting sustainable transportation and creating a vibrant public realm. Over the past decade, Scott has been instrumental in the planning, development, and implementation of public bike share - "Mobi" - to the City of Vancouver.
Jennifer Draper, City of North Vancouver
As the Manager of Transportation Planning for the City of North Vancouver, Jennifer is applying her civil engineering and urban planning backgrounds to the creation of innovative policies and plans to improve the experience for all people who use the transportation network. Current projects include the development of an e-bike share pilot for the North Shore and an integrated strategy for mobility with sustainability, community wellbeing, and the City's zoning tools. Prior to joining the City of North Vancouver, Jennifer spent several years at the City of Vancouver and in consulting both nationally and internationally.
Mia Kohout, Mobi
Mia Kohout is the General Manager of Vancouver Bike Share Inc, better known as Mobi by Shaw Go, Vancouver's public bike sharing program. Mia is thrilled that Vancouverites finally have access to a bike sharing program and is excited to see how Mobi has already changed the way that people live, work and play in the city. Mia believes that bike share is a catalyst for community change and a great way to get more people riding bikes.
Mia is also the co-owner of Momentum Mag and the founder of Bike to Work Week in Metro Vancouver. She has spent the last decade promoting everyday bicycling in Vancouver and North America. She has a passion for inspiring change in people and cities and loves working towards a happier, healthier and more sustainable future.
Chris Schafer, Lime
Chris Schafer is the Senior Director of Strategic Development in Canada with Lime. In his role, Chris focuses on government, media, and stakeholder relations. Before joining Lime, Chris was Uber Canada's Senior Public Policy Manager. Prior to working for two tech unicorns, Chris was an associate with Gowling Lafleur Henderson LLP, practicing regulatory law where he was also a registered lobbyist for tech clients such as Amazon, in addition to having served as an executive director of a legal foundation, and legal commentator for a TV news channel.
Michael van Hemmen, Uber/Jump
Michael van Hemmen is the western Canada Business Manager for Uber, a technology company that is enabling urban mobility. Based in Vancouver, he oversees Uber's business and external relationships across western Canada. In this role, Michael helped pass Canada's first ridesharing regulations in Edmonton, and grow Uber's business across western Canada. Prior to joining Uber, Michael led mid-range planning for a division of an international resource company and served as Director of Policy for federal Transport Ministers.