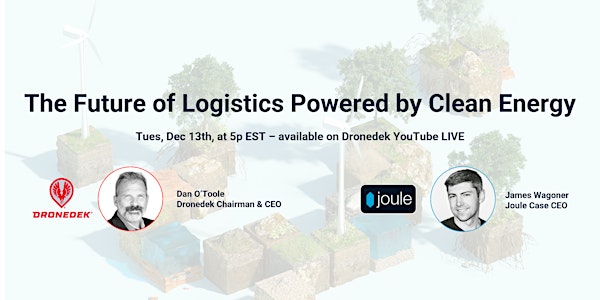 The Future of Logistics Powered by Clean Energy with Dronedek & Joule Case
Dronedek CEO Dan O'Toole will be joined by James Wagoner, CEO of Joule Case to discuss the future of logistics powered by clean energy
About this event
Join us on Tuesday, 12/13 at 5p EST for Tune In Tuesday: The Future of Logistics Powered by Clean Energy
Dronedek CEO Dan O'Toole will be joined by James Wagoner, CEO of Joule Case to discuss their collaborative vision of a future delivery landscape that's powered by clean energy.
About Dronedek: Dronedek is one of the first companies in the world to focus on package security for traditional and autonomous delivery methods. Designed to accept autonomous delivery, the Dronedek mailbox also accepts traditional First-Class mail deliveries and is destined to become an everyday utility service alongside internet, power, or water. The climate-controlled devices will keep packages hot or cold; alerts its users to package arrivals or pickups; recharges drones and other electrical devices; and in times of need can even serve as an alert to emergency response services. An app controls everything from when the device is opened for delivery and retrieval to its emergency alarm features.
Learn more and invest at startengine.com/dronedek
About Joule Case Inc: Joule Case provides power where you need it when you need it, with flexible, patented battery systems that easily scale for a variety of power applications. The company was started in a Boise, Idaho garage by James Wagoner and Alex Livingston, fueled by their shared passion to enable clean and renewable energy to reach more people. They have spent years developing the unique stackable, portable, scalable, easy-to-use battery system now powering live events, food trucks and several other applications across the United States. The flexibility and adaptability of Joule Case systems can be combined together to make larger battery systems with minimal engineering and installation time.
Learn more and invest at wefunder.com/joule.case