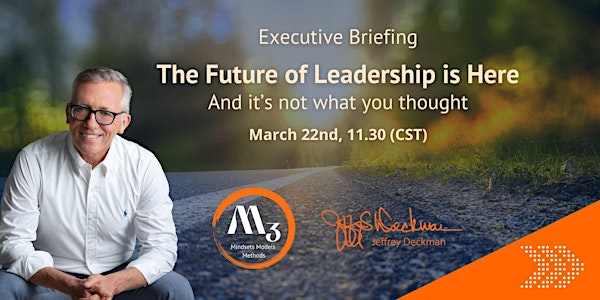 The Future of Leadership is here - And it's not what you thought
Join us for this paradigm-shifting Executive Briefing on the new mindsets, models, and methods that are currently transforming leadership.
Date and time
Wednesday, March 22 · 9:30 - 10:30am PDT
About this event
In this free, one-hour webinar, Jeffrey will discuss why today's leaders must move beyond viewing organizations as linear entities to take a more comprehensive, organic approach to both leadership and organizational development.
You will learn why "managing by Org Chart" has become a liability and you will be shown a powerful new model for organizational development that unleashes and mobilizes previously hidden pools of human capital.
In addition, Jeffrey will discuss the critical role that tribal dynamics, biological influences and even quantum physics and consciousness impact your ability to lead individuals and teams.
At the conclusion there will be a Q&A and a Jeffrey will make a short introduction to his upcoming leadership training and certification program on the M3 Process for Leadership and Organizational Development, the basis for his Innovator of the Year (2021) bronze medal from International Business Awards.
This intensive, 9-week training program delves much deeper into the innovations introduced in this briefing for those interested in fast-tracking their leadership and organizational development training.