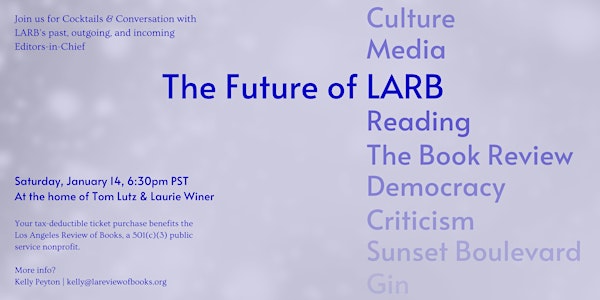 The Future of LARB: Cocktails & Conversation with the Editors-in-Chief
Please join us for celebratory cocktails & conversation with our incoming and outgoing Editors-in-Chief as they discuss LARB's future.
When and where
Location
Home of Tom Lutz & Laurie Winer Silver Lake Los Angeles, CA 90039
About this event
Please join us for a celebratory evening of cocktails and conversation with LARB's past, outgoing, and incoming Editors-in-Chief about the future of the Los Angeles Review of Books, reading, print, the book review, criticism, Sunset Boulevard, gin, democracy, the L.A. River, and more at the home of LARB Founders Tom Lutz and Laurie Winer.
You, our community members, are the future of LARB. Whether you've been with us since the beginning or you're new to our pages, come reminisce and hazard a guess at the road ahead with the eminent writers, teachers, and advocates atop our masthead. Ring in 2023 with LARB.
6:30pm: Cocktails
7pm: Conversation and Q&A
LARB thanks Future Gin for generously donating the evening's libations. Future Gin is a women- and queer-owned and operated distillery. Its founders created a spirit that represents everything we love about California, from its natural bounty to its forward-thinking. Future combines the structure of a dry gin with the vibrant flavors of Southern California. Meyer lemon, honeysuckle, and grape leaf are distilled alongside traditional botanicals to produce a gin that's as classic as a martini and as bright as our future.
This event takes place indoors. For the health and safety of all in attendance, masks are highly encouraged when not actively drinking or eating. Street parking is available only. Tickets must be purchased in advance and will not be available at the door.
Those who contributed at the LARB Benefactor level or above during our year-end fund drive receive complimentary tickets to this event and will receive a promo code from LARB staff. Learn more about how you can support our non-paywalled digital magazine and civic arts programs as a 501(c)(3) nonprofit organization here.
Have questions about this event or need to request accommodations? Please don't hesitate write to LARB Public Programs Manager Kelly Peyton at kelly@lareviewofbooks.org.

ABOUT THE EDITORS-IN-CHIEF
Tom Lutz is Distinguished Professor and Chair of the Department of Creative Writing at University of California at Riverside, and founding editor and publisher of the Los Angeles Review of Books and LARB Books. He is the author of Portraits, a photographic essay (2022), The Kindness of Strangers (2021), Aimlessness (2021), Born Slippy: A Novel (2020), And the Monkey Learned Nothing: Dispatches from a Life in Transit (2017), Drinking Mare's Milk on the Roof of the World: Wandering the Globe from Azerbaijan to Zanzibar (2016), Doing Nothing: A History of Loafers, Loungers, Slackers and Bums (2008), Cosmopolitan Vistas: American Regionalism and Literary Value (2004), Crying: The Natural and Cultural History of Tears (1999), and American Nervousness,1903 (1992). He is the editor of These 'Colored' United States: African American Essays from the 1920s (1996) and some 70 books for LARB and LARB Books. His books have been translated into 12 languages and have been named New York Times Notable Books and Choice Outstanding Academic Title, and have won an American Book Award. He is preparing a new novel, Still Slippy, for publication in 2023, finishing a massive book on the year 1925 in time for the centennial, and working on several other projects.
Boris Dralyuk is the author of My Hollywood and Other Poems (2022), editor of 1917: Stories and Poems from the Russian Revolution (2016), co-editor (with Robert Chandler and Irina Mashinski) of The Penguin Book of Russian Poetry (2015), and translator of volumes by Isaac Babel, Andrey Kurkov, Maxim Osipov, Leo Tolstoy, Mikhail Zoshchenko, and other authors. He is the Editor-in-Chief of the Los Angeles Review of Books, and his poems, translations, and essays have appeared in The New York Review of Books, the Times Literary Supplement, The New Yorker, Granta, and elsewhere.
Michelle Chihara is Associate Dean and Director of the Whittier Scholars Program and Associate Professor of English at Whittier College, where she has taught contemporary American literature, media studies, and creative writing for nine years. Recent peer-reviewed publications include Distinktion: A Journal of Social Theory, American Literary History, Postmodern Culture, and a chapter in New Directions in Print Culture Studies from Bloomsbury Press. She co-edited The Routledge Companion to Literature and Economics (2018). Other essays have appeared in Post45: Contemporaries, Politics/Letters, and Avidly. Before getting her doctorate at in English literature, she received her MFA in fiction, both at University of California, Irvine, and before that, she was a reporter, editor, and freelancer. She worked as a staff writer at two weekly newspapers, The New Haven Advocate and The Boston Phoenix, and as an online editor at the investigative news magazine Mother Jones. Her reporting and prose have appeared in news outlets like The Boston Globe, The Houston Chronicle, and Mother Jones, as well as magazines like n+1, Nerve, and Bloomberg. Her essays have been anthologized, and her essay from Rare Bird Press's volume, Slouching Towards Los Angeles, was featured on LitHub and on European television. She has published fiction, nonfiction, reportage, and essays in a variety of publications, online and off. She once quit her job, sold everything she owned, and moved to Rio de Janeiro to live by the beach and practice capoeira for a year. Since 2017, she has been the Section Editor for Economics and Finance at the Los Angeles Review of Books, where she is also a frequent contributor.