日本の英語教育の遅れを取り戻せ!「The Future of Language Learning」 Edu × Tech

Monday, March 17, 2014 from 7:00 PM to 9:00 PM (JST)
Event Details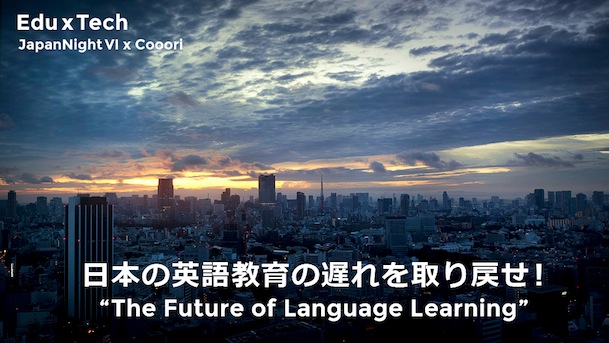 2014年3月17日(月)  19時〜  |    大和スカイホール, 東京
btraxが主催するスタートアップイベント第6回JapanNightで見事優勝を勝ち取ったオンライン言語学習サービスのCoooriが今回、新しく英語学習サービスを開始するにあたりイベントを開催いたします。
韓国や中国などアジア諸国と比べても日本人の英語力は低く、それはTOEFLスコアの比較や英語の必修時間数からも明らかです。グローバル化が進む中、最低限の英語力の重要性は決して否定できません。
Cooori (コーリー) は斬新な学習用UIを備え持つオンラインの言語学習用サービスで、個人が空き時間でも習得出来るように最適化されたプロダクトです。この新シリーズを機に日本語を学習したい人たちだけではなく、現在グローバル化が叫ばれる日本にいる数多くの英語学習者の役にも立てるツールへと進化する真っ最中です。
日本の英語教育が遅れていることを踏まえた上で、最新のテクノロジーが日々飛び交うIT化が進む今、このイベントを通して未来の英語教育や言語学習、また教育そのものの仕方について考えるきっかけになれば良いと考えております。
※取材メディアにご興味のある方は、お気軽に tokyo@btrax.comまでお問い合わせ下さい。
---
■ Event Detail ■

日本の英語教育の遅れを取り戻せ! 「The Future of Language Learning」
Edu × Tech|JapanNight VI Post Event
【Date】2014年3月17日(月) 19時〜21時
【Moderator】三重 綾子 (Japan Timesレポーター)
【Panelists】中村 岳 (レアジョブ COO)、
                    本荘 修二 (経営コンサルタント 多摩大学客員教授)、
【Speaker】アルナ・イェンソン (Cooori CEO)、
【Registration】事前登録が必要。(受付順)
---
■ Time Schedule ■
| | |
| --- | --- |
|  19:00-  |  Open / Networking |
|  19:15- |  Opening Message, btax, Cooori Introduction   |
|  21:00-  |  Close  |
※ 他、Coooriによるプレゼンテーション、以下お三方によるパネルディスカッション、
オーディエンス・エクスペリエンス、軽食付きのネットワーキングも行われます。
---
 ■ Moderator ■
三重 綾子
Japan Times, レポーター

TBSの報道記者として、筑紫哲也のニュース23、外信ニュースを担当。2005年からTBSのワシントンD.C支局。

2008年、UC Berkeley Graduate School of Journalismに進学し、2010年5月に修士課程を終了し、AOLが出資する超地元密着型報道機関Patch.comの記者を務め、サンフランシスコ近郊で取材活動にあたる他、ウォール・ストリート・ジャーナルの日本語版にコラムを掲載。現在はJapan Timesで政治取材を担当する。@jt_ayakomie
---
■ Panel Discussion ■
○ テーマ『IT化が進む中、

英語教育が進むべき方向とは?

』
"日本人は英語にアレルギー反応がある " と言われる様に、日本人の英語力が世界平均と比較すると低いことは良く知られています。実際に、約30カ国あるアジア諸国の中で日本のTOEFLのスコアランキングは

27位

、英語の必修時間は韓国、中国と比べると少なく学習する英単語の数は、中国が6,150語に対し日本は

3,080語

と言われています。どうすればこの状況を打破し、巻き返しをはかれるのでしょうか?
そこで今回のパネルディスカッションでは以下の項目について論議します。
最先端で日本の英語教育/eラーニングに関わっている人たちやスタートアップの成功事例とは?また、彼らが直面する壁とは?
楽天やユニクロ、日産など「社内英語公用語」を発表している大企業が目立つが、実行するにあたり解決しておかなければならない問題点とは?実際はどう機能しているのか?また導入後の社員の英語力スキルアップ対策や使用ツールとは?
---
■ Panelist ■
中村 岳
株式会社レアジョブ, 代表取締役副社長 COO

2003年に東京大学工学部卒業後、2005年、同大大学院情報理工学系研究科を卒業し、NTTドコモに入社。2007年にCEOの加藤智久とともに、株式会社レアジョブを創業。
現在は、「日本人1,000万人を英語が話せるようにする」をミッションに、オンライン英会話サービス『レアジョブ英会話』を提供中。@gkgk
 

本荘 修二
経営コンサルタント, 多摩大学客員教授

本荘事務所代表として、日米の企業アドバイザーを務める。500 Startups、Founders Institute他のメンターとして起業家支援、コミュニティづくりに取り組む。
ボストンコンサルティンググループ、米Computer Sciences Corp.にて経営コンサルティングに従事の後、CSK/セガ・グループで会長付・グループ戦略室マネジャーを務める。IT特化の投資会社General Atlantic LLC日本代表などを経て、現在に至る。@shonjo
 

星 千枝
ベネッセコーポレーション, デジタル戦略推進部, 主任研究員

津田塾大学数学科卒業。在学中は、ESSのディベート活動にいそしむ。卒業後は、金融機関でのシステムアナリストを経て、教育業界へ。都内中学校や米国シアトルで日米の子供に数学を指導。シアトルではToastmasters Clubで活動。2002年ベネッセコーポレーションに入社。研究部門で主に「21世紀に求められる力」について調査研究。
現在はデジタル新規ビジネスとして、英語教材や、問題解決力を身につけるゲームプラットフォーム「グローバルマス」を研究開発中。
---
Brandon K. Hill (ブランドン・ヒル)
btrax, CEO

サンフランシスコ州立大学デザイン科卒。北海道札幌市出身の日米ハーフ。1997年にアメリカに移住し、現在はサンフランシスコに本社のあるグローバル市場向けBranding/Marketing会社btrax CEO。シリコンバレー・アジア間におけるビジネスやテクノロジーに精通し、日本のスタートアップ業界とも強い繋がりを持つ。定期的に東京でビジネスセミナーも開催。@BrandonKHill
---
■ GRANTOKYO NORTHTOWER 17F 大和スカイホール
■ JR東京駅八重洲北口改札から徒歩約1分
---
■ Sponsor ■
---
---
btraxはサンフランシスコに本社、東京にもオフィスを構えるクリエイティブエイジェンシーです。2004年にサンフランシスコで設立し、今まで多くのアメリカ及び国際企業に対してブランドコンサルティングサービスを提供して参りました。そして10年目の2013年には日本企業の国際展開とイノベーション創出サポートをより効果的に提供する為に、日本法人を設立しました。
グローバルな視野と豊富な経験を持つバイリンガル・スタッフが、サンフランシスコ/シリコンバレーの最新トレンドを取り入れ、革新的なデザインとビジネス・ソリューションを提案します。市場調査から新規事業創出、ローカリゼーション、マーケティング、現地法人設立、その後のセールスプロモーションまでワンストップでの支援サービスを提供しています。
私たちはイノベーションを創造し、社会に新たな変化をもたらすことを社会的使命とし、お客様に最良のパートナーとして選ばれることを目標に、これからも挑戦し続けます。
素朴な疑問から具体的な案件のご相談までお気軽にお問い合わせください!
Have questions about 日本の英語教育の遅れを取り戻せ!「The Future of Language Learning」 Edu × Tech?
Contact btrax, Inc.
Attendee List
Sort by:
Date
When & Where

Chiyoda
1-9-1
Marunouchi
Chiyoda, Tokyo
Japan

Monday, March 17, 2014 from 7:00 PM to 9:00 PM (JST)
Add to my calendar
Organizer
btrax, Inc.
btrax specializes in helping brands successfully enter and grow between the US and Asian markets through culturally relevant strategy, localization and marketing. Our clients range from top startups to Fortune 100 companies. 
For more information on our services or to contact our multicultural team please visit our website. 
Discover useful trends and tips through our freshtrax blog with over 350,000 readers and subscribe to our monthly email blast. 
日本の英語教育の遅れを取り戻せ!「The Future of Language Learning」 Edu × Tech