About this Event
Sponsored by
New York State Associated Press Association
Fordham University's Department of Communication and Media Studies
WFUV Public Radio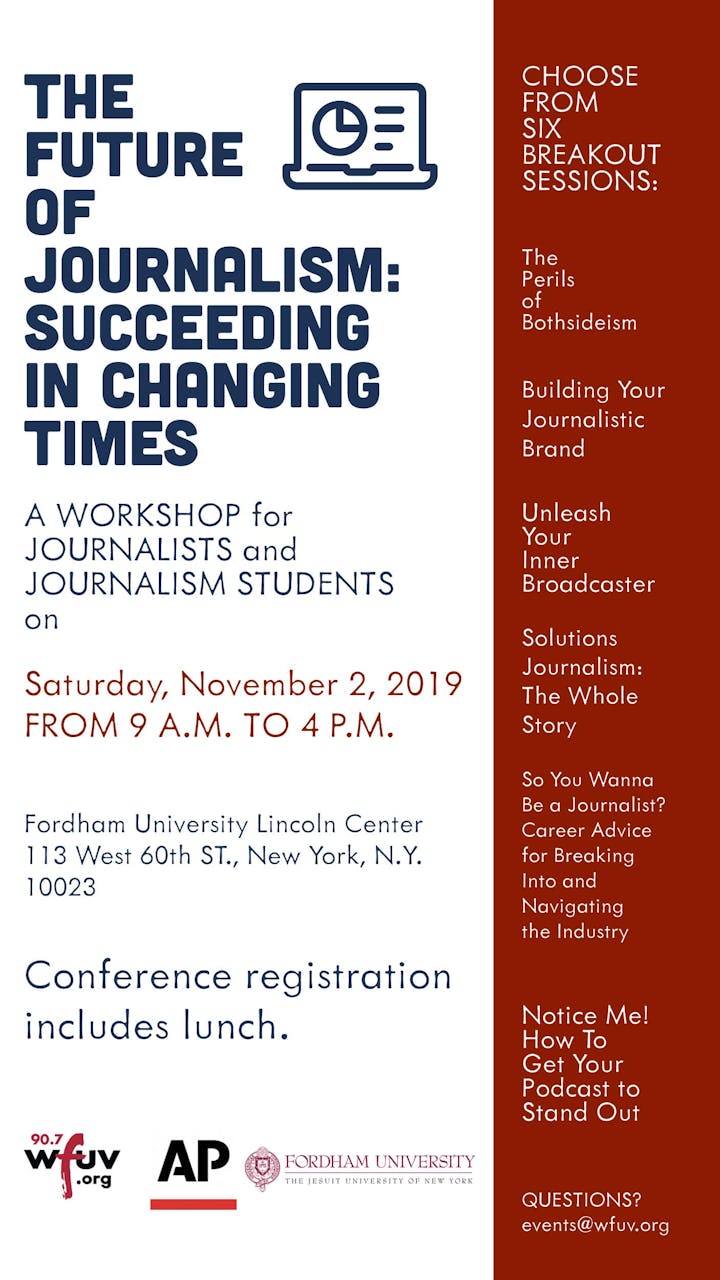 9:00 AM: Attendee Registration
9:20 AM: Welcoming Remarks
Dwayne Desaulniers, AP Regional Director -- Northeast USA
Jacqueline Reich , Chair, Department of Communication and Media Studies
George Bodarky, News Director, WFUV Public Radio; President, NYSAPA
9:30 – 10:30 AM: Opening Session, 12th Floor Lounge
How to Spot Fake News and Deep Fakes -- In June, the House Intelligence Committee held an open hearing on Deepfakes and Artificial Intelligence — national security matters that are also becoming massively important in the journalism world and to anyone that consumes media. Deefakes, or doctored images, video or audio, are becoming increasingly easy to manufacture, which raises issues for journalists verifying information and the public consuming news. Hilke Schellmann, an assistant professor of journalism at NYU and an Emmy-award winning investigative reporter discusses the latest news around deepfakes with Ambika Samarthya-Howard, a video producer and communication specialist and Max Kutner, an award-winning journalist and former staff writer at Newsweek.
10:40 – 11:40 AM: BREAK-OUT SESSIONS
Session A - The Perils of Bothsideism -- News coverage of contemporary American politics is plagued by "bothsidesism," a form of "he said, she said" reporting where journalists present and give credence to both sides of an issue even when one side is completely bogus. This is often called "balance," but it creates a "false equivalency" and misinforms the public. Journalist Lauren Duca, who wrote the "Thigh-High Politics" column for Teen Vogue, discusses the perils of "bothsidesism" and her new book "How to Start a Revolution: Young People and the Future of American Politics" with Angelo Carusone, the president of Media Matters for America.
Session B - Building Your Journalistic Brand
In the social media age, aspiring journalists, especially when they're starting out, are increasingly encouraged to develop and perfect a personal brand. There is an effort to be distinguished from all the other content providers and develop a presence as an expert in their area of coverage. The final piece to building a successful career as a modern journalist is to manage yourself as a company would. Because your online presence is an integral part of your success. This session will explore: Building credibility; knowing when to follow protocol and when to break the rules; networking and building relationships with social media; and mastering both your point of view and your multimedia knowledge. The panel will be moderated by Marisa White, a NY Emmy Award-winning professional with over twenty years of experience in media, and feature MSNBC Executive Producer, Sam Go, and Sideline Reporter/Host at Fox Sports and the Big Ten Network, Coley Harvey.
Session C - Unleash Your Inner Broadcaster -- In today's media landscape, "broadcasting" isn't just for radio and television people. More and more print journalists and those new to broadcasting are required to use their voices for podcasts and other online content. However, finding your voice isn't always easy. Learn techniques so you can deliver copy in a clear, conversational manner and more effectively communicate with your audience. We'll have scripts to help you unleash your inner broadcaster, but please feel free to bring your own. NOTE: While this session is a great way for print journalists to develop stronger vocal ability, it's also an excellent session for radio and television broadcasters to fine-tune their skills and sound better on the air. It is also a great way for newsroom managers to learn new techniques for coaching their own staffs. Your presenter is George Bodarky, a nationally recognized vocal coach. George is also the News Director of WFUV Public Radio and an adjunct professor at Fordham University and CUNY's Graduate School of Journalism.
11:45 – 12:30 PM Lunch, 12th Floor Lounge
12:30 – 1:30 PM GENERAL SESSION, 12th Floor Lounge
Covering the 2020 Elections -- There can be little doubt that election of 2020 will be particularly challenging to cover. With a highly divisive incumbent president, large group of Democratic contenders, and a high-stakes battle for control of Congress, journalists may find it difficult to keep issues in the forefront. Additional complicating factors may also come into play, like Russian meddling, adding to the complexity of keeping readers and viewers well-informed. This panel will gather journalists from four highly influential news organizations to discuss how to cover the election of 2020 with competence and clarity. The panel will reflect on their own experiences so far, and try to offer advice to others who will cover or consume news about the upcoming presidential and congressional elections. Among the topics: how to get past the horse race aspects of the election, the role of advocacy journalism, and best uses of social media.
1:40 – 2:40 PM BREAK-OUT SESSIONS
Session D - Solutions Journalism: The Whole Story -- This session will offer a general overview of solutions journalism, its potential as a tool to build trust with audiences by producing high-quality journalism, and explain how to integrate the technique into daily coverage. Following a presentation that will include examples of solutions journalism, participants will have the opportunity to discuss specific story ideas and how to frame them with a solutions approach. Liza Gross, Vice President/Newsroom Practice Change at Solutions Journalism Network will lead this session.
Session E - So You Wanna Be a Journalist? Career Advice for Breaking Into and Navigating the Industry -- This is an exciting time to be a journalist, but how do you break into the industry? How abundant are the opportunities? What skills are most critical to set yourself apart in the crowded job market? What are the pros and cons of working in this fast-paced 24/7 business? Kris Venezia, News Desk Editor at NPR affiliate station WFUV talks with PIX 11 Reporter Katie Corrado; Yolanda Rodriguez, Associate Director of Career Services at the Craig Newmark Graduate School of Journalism at CUNY; and New York Times Reporter Emily Palmer about how to break into and make it in journalism.
Session F - Notice Me! How To Get Your Podcast to Stand Out.
The days of sitting in your bedroom with a recorder might be over. As the industry matures, the field is becoming more crowded — and much more competitive. If you have an idea for a podcast, how do you get started? And how can you get your podcast to stand out from the rest?
2:50 -- 3:50 PM GENERAL SESSION, 12th Floor Lounge
Session G - Extract the Facts: FOI Tips and Tricks -- Do you want to learn how to use Freedom of Information laws? Are you already filing FOI requests, but want to get better at it? Whether it's your first request or your first request "this week," this session promises to be informative and enlightening. It'll include how-to guidance, front-line tales and a call to media arms to keep public records public. Jarrett Murphy, Executive Editor of City Limits shares his own FOI experiences and talks with Micah Morrison, Chief Investigative Reporter at Judicial Watch; Jeremy Kutner, Deputy General Counsel at ProPublica; and Grace Rauh, NY1 Political Reporter and host of NY1's podcast "Off Topic/On Politics."
3:50 PM – Raffle, Closing Remarks, 12th Floor Lounge