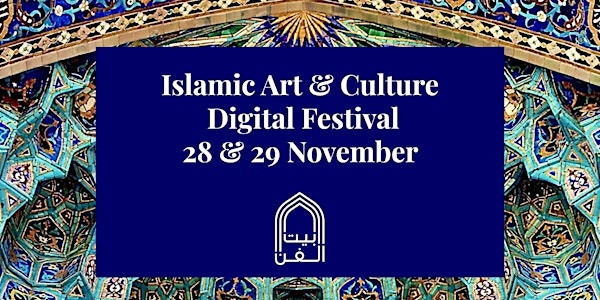 The Future of Islamic Art & Culture Digital Festival
The Future of Islamic Art & Culture Digital Festival
Refund Policy
Contact the organiser to request a refund.
Eventbrite's fee is nonrefundable.
About this event
The first-ever international Islamic Art and Culture Digital Festival takes place online on 28 & 29 November.
Let's celebrate, explore and build the future of Islamic art and culture together…
Bayt Al Fann Islamic Art & Culture Digital Festival is a virtual global gathering, with performances, online exhibitions and conversations.
Over two days artists, academics, writers, thinkers, philosophers and communities will come together and explore the past, present and future of Islamic culture.
If you cannot attend the live event, your ticket provides access to a recording of the festival until summer 2023, so you can watch the festival back at your own convenience.
FESTIVAL PROGRAM
DAY 1: 28 NOVEMBER 2022
Open & Welcome From Bayt Al Fann Collective & Alistair Hudson, Director of the Whitworth and Manchester Art Gallery
The Future of Poetry – A Celebration (Live Performances from Poets)
Islamic Pattern & Sacred Geometry
Samira Mian, Educator & Artist
Eric Broug, Author/Educator/ Artist, specialising in Islamic geometric design
Dr Esra Alhamal, Multi-hyphenate Creative, Educator, Podcaster on Art Illuminated and the co-founder of Bristle and Brush
Rajen Astho, Artist & Geometer
The Art of the Written Word - Arabic Calligraphy
Majid Alyousef, Master Calligraphy Artist and Creative Designer
Hatem Arafa, Calligraphy Artist and Graphic Designer
Joumana Medlej, Calligrapher & Specialist in Kufi scripts
Sasan Nasernia, Calligrapher and Typography Artist
Soraya Syed, Classically Trained Calligrapher, Artist & Emerging Filmmaker
Digital Art & Design
Saks Afridi, Multi-disciplinary Artist
Ahmed Alrefaie (OwaikeO) Illustrator and Graphic Designer
Peter Gould, Founder of Gould Studio
Christina Rountree, Designer, Digital Illustrator, and Multidisciplinary Artist
Muslim Culture & Multiculturalism
Yahya Birt, British Community Historian
Dr. Qayyim Naoki Yamamoto, Assistant Professor at the Graduate school of Turkic Studies, Marmara University.
Aliyah R. Khan, Director of the Global Islamic Studies Center (GISC), and Associate Professor in the Department of English Language and Literature, and the Department of Afroamerican and African Studies, at the University of Michigan, Ann Arbor
Storytelling – Reclaiming Narratives
Sara M Saleh, Human Rights Lawyer, Community Organiser & Writer
Ramey Dawoud, Nubian Language Activist, Actor, and Author
Ausma Zehanat Khan, Award-winning Author
Comedy & Muslim Culture: In the Spotlight - Tez Ilyas, Writer & Comedian
DAY 2: 29 NOVEMBER 2022
Open & Welcome From Bayt Al Fann Collective
Talking About a Revolution & More - Yassmin Abdel-Magied, Writer and Broadcaster
The Art of the Book: Islamic Manuscripts
Dr. Eléonore Cellard, Specialist in Early Qurʾānic Manuscripts
Kristine Rose-Beers, Head of Conservation at the Chester Beatty in Dublin
Mohamad Ali, Director and Curator of the Al-Khatt Al-Jameel Private Collection of Qur'an Manuscripts
Museums & Archives: Preserving the Past for the future - Who decides?
Sadiya Ahmed, Freelance Heritage Consultant and Founder of Everyday Muslim Heritage and Archive Initiative
Nur Sobers-Khan
Moustafa Fahour OAM, Founder of the Islamic Museum of Australia
Poetry & The Art of Language
Taher Adel, Poet & Spoken Word Artist
Hashim Y. Almahfoodh, Poet
Nasima Begum, Performance Poet, Producer and Creative Practitioner
Sharghzadeh, Translator of Persian Poetry
Artists Talks: From the Studio
Shaimaa Osman, Artist & Founder of Salamsanctuary
Ali Yaycıoğlu, Historian & Artist
Ahmet Faruk Yilmaz, Artist & Illustrator
The Future of Traditional Arts
Tehreem Pasha, Artist specializing in Tezhip
Nagihan Seymour, Artist specializing in Tezhip & Sacred Geometry
Artists x2 TBC
The City as Art
Alex Shams, Writer and PhD student of Anthropology at the University of Chicago, Editor of Ajam Collective
Rana Safvi, Historian & Writer
Islamic Art, Tourism & Sacred Spaces
Zirrar, Writer & Part of Editorial Team at Sacred Footsteps
Sophie Ibbotson, Chairman of the Royal Society for Asian Affairs, Director of the Silk Road Literary Festival, and Uzbekistan's Ambassador for Tourism
Muslim History Tours
Omid Safi, Professor of Islamic Spirituality and Contemporary Islamic thought at Duke University
The festival will present Islamic art and culture in the most positive and engaging way possible, Over 50 contributors to the festival, leading in the fields of art, design, archaeology, literature, education and heritage, will discuss and present their perspectives on Islamic art and culture.
The contributors are well known in their respective fields and have a combined following of over 1,000,000 across social media platforms.
Check out the speakers, performers & panelists
• Watch online from anywhere - live or on-demand
• Be inspired and get excited about the future of Islamic art
• Put your questions to the speakers during the live stream
• Learn about the latest developments in Islamic art & culture
• Connect with like minded people through our Bayt Al Fann network
• Discover how you can get involved in the creative industries, with advice from experts and artist studio visits
Bayt Al Fann is a house for everyone, Muslim and non-Muslim to explore and reimagine the future of Islamic art together. The first ever digital festival marks an important moment in digital culture, where Islamic art and heritage will be profiled on a global scale.
The festival marks the first anniversary since the launch of baytalfann.com - a platform dedicated to raising the profile and celebrating the diversity of Islamic art, heritage and culture.
Bayt Al Fann Digital Festival is being held in partnership with The Arts Marketing Association (AMA), part of their Digital Stage Management service.
Thank you to our sponsor Gould Studio
Join us and be part of this historic moment – book your tickets now