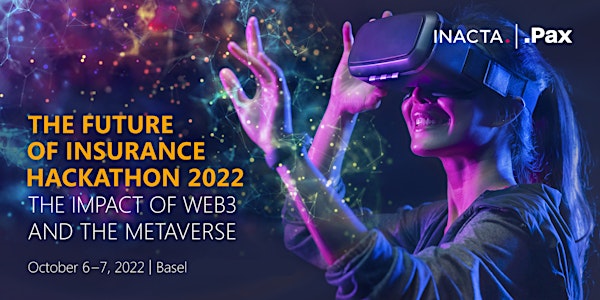 The Future of Insurance Hackathon
Big Data, digitalisation, metaverse, Web 3.0, cyber risks. How will the next Internet generation influence the future of insurance?
When and where
Location
Aeschenpl. 13 13 Aeschenplatz 4052 Basel Switzerland
About this event
Thursday 6th to Friday 7th October 2022
Our hackathon is centered on the question of how the metaverse and the next Internet generation will shape the future of insurance.
The goal of this hackathon is for us to try to build the future of insurance together. Have you ever heard of Web 3.0, the metaverse, AR, VR, or NFT?
We have planned three conferences to give you the basics on these technologies and on the insurance industry. We are honored to have three experts with us who will provide you with a lot of interesting information:
Web 3.0 and metaverse opportunities, Daniel Rutishauser, Head of Blockchain at Inacta
In-depth introduction to augmented reality with a demo of Snapchat Studio tool, Reto Senn, CEO of Bitforge
A brief overview of the insurance sector, Patrick Eugster, CEO of Simpego
During the event, you will be supported by excellent coaches who will help you with technical and business topics.
Whether you are looking to upskill or take part in an informative event, or are just interested in networking – come and join us. Let's meet at our hackathon to try to build the future together.
Some useful information regarding the event:
How do I take part in the event?
The hackathon is for everyone. Whether you are an IT specialist or an insurance expert or are interested in the subject and would like to make a contribution, you are welcome to join us.
Where does the hackathon take place?
The hackathon takes place at the Pax office in Basel or in the metaverse if you wish to participate remotely.
Is overnight accommodation available?
No, unfortunately not. On Thursday night, we close our doors at 22:00 and the event ends on Friday at around 17:30.
*Information on how to participate in the event online will follow shortly.