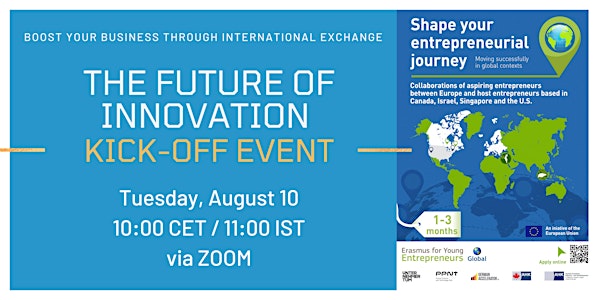 THE FUTURE OF INNOVATION
Connect with talented entrepreneurs and expand your business to Europe!
About this event
Erasmus for Young Entrepreneurs (EYE) Global is an exchange program that gives experienced entrepreneurs based in Israel, Canada, Singapore, South Korea, Taiwan, and the USA the opportunity to collaborate with new aspiring entrepreneurs from the European Union and the UK.
It is based on the popular Erasmus for Young Entrepreneurs program, which has been running in Europe since 2009 and has matched almost 20.000 entrepreneurs in 10.000 exchanges.
Participating in EYE Global is a unique opportunity for companies that would like to gain an international perspective and work with young talents to expand their business to Europe!
Similar to our successful program "The New Kibbutz", "EYE Global" also facilitates the exchange between Germany and Israel. With the New Kibbutz program, we help students from German universities to find internships in Israeli companies that suit their course of studies. The participating companies are mostly in the high-tech sector – some more mature, others young startups. To give a better understanding of how impactful such cooperation can be, we will be hearing testimonials from previous participants.
Learn more during our upcoming virtual event!
AGENDA
10:00 AM - Kick-off
Welcome notes // Nina Sudholt, Project Coordinator, AHK Israel
10:10 AM - The New Kibbutz
Introduction of the New Kibbutz internship program // Liron Koll, Online Content & Project Manager, AHK Israel
Success story // Dan Gildoni, CEO & Founder of Placense; New Kibbutz Alumni: Max Lenzen, Executive Director & DPO at Placense; Jan Barenhoff, Head of Customer Success at Placense
10:35 AM - Erasmus for Young Entrepreneurs (EYE) Global
Introduction of the EYE Global program // Nina Sudholt, Project Coordinator, AHK Israel
EYE Global Testimonial // Daniel Burns, Founder and CEO, Testifi GmbH & Vladislav Pavlov, Sales Manager, Testifi
11:00 AM - Q&A
Interactive round – get rid of all your questions!