The Future of Infrastructure Investments: Connecting the Dots and Hearts
The Future of Infrastructure Investments - The Evolving Role of Public Agencies: Connecting the Dots and Hearts
About this event
The Arab American Association of Engineers and Architects California Chapter (AAAEA-CA) invites you to our virtual conversation with Mr. Hasan Ikhrata (SANDAG) and Mr. Adel Hagekhalil (StreetsLA).
The Future of Infrastructure Investments - The Evolving Role of Public Agencies: Connecting the Dots and Hearts
When: Thursday, June 17, 2021 - 11:30 am to 1:00 pm
Where: Zoom (link will be provided directly to registrants before the event)
The AAAEA-CA Chapter is very proud to have the opportunity to bring you two of the nation's infrastructure leaders, known for their leadership, innovation and inclusivity.
Hasan Ikhrata, Executive Director, San Diego Association of Governments (SANDAG). Considered one of the nation's preeminent transportation planning experts, Hasan leads over 350 professionals to build consensus, make strategic plans, allocate resources, plan, engineer, and build public transportation, and improve the region's quality of life, including the area's 18 cities and the county. Mr. Ikhrata received numerous awards from many organizations. He holds a Bachelor's and a Master's degree in Civil and Industrial Engineering from Zaporozhye University, a Master's degree in Civil Engineering from UCLA, and a PhD Candidacy in Urban Planning and Transportation from USC. Mr. Ikhrata worked for Southern California Association of Governments (SCAG), Los Angeles County Metropolitan Transportation Authority (Metro), and South Coast Air Quality Management District (SCAQMD). Mr. Ikhrata is an adjunct professor in the business school at California State University, Northridge.
Adel Hagekhalil, PE, Executive Director, City of Los Angeles' Bureau of Street Services (StreetsLA). With over 32 years of public service experience in the management of transportation, water, and environmental programs, Adel is responsible for managing, maintaining, and upgrading the City's street network including streets, sidewalks, trees, and bikeways with focus on safety, mobility and sustainability. He is leading StreetsLA in enhancing LA's urban forest and tree canopy while providing innovative technologies to cool our neighborhoods, including integrating green infrastructure and multi-benefit elements. Prior to that, Adel was the Assistant General Manager for the City's Bureau of Sanitation. Adel served on many national and local organizations including as President of the board with the National Association of Clean Water Agencies (NACWA). Adel is the recipient of many local, state, and national leadership and environmental awards.
Tuere Fa'aola, Senior Regional Planner (SANDAG). Tuere is a Principal Regional Planner for Sustainable Communities section where she oversees work on the Regional Plan, housing, equity, and climate resilience. She joined SANDAG after many years as a private sector consultant leading major transportation, transit, land use, and multimodal projects in Southern California. Tuere was the co-lead for the Complete Corridors element of the 5 Big Moves. She serves on SANDAG's Diversity, Equity and Inclusion Council. She has served on the WTS San Diego County chapter board of directors for many years in various roles including chapter president and the chair of the 2018 national conference. WTS SD recently honored her with the 2020 Rosa Parks Diversity Leadership award. She also serves as the Vice Chair of the City of Chula Vista Safety Commission. Tuere earned her Master's in City Planning from San Diego State University and Bachelor of Science in Geography from Old Dominion University.
Ana Tabuena-Ruddy, Landscape Architect, City of Los Angeles' Bureau of Street Services (StreetsLA). Ana is a registered landscape architect with over 15 years of experience working in both the public and private sectors. She is currently charged with grant project development and inter-agency coordination in the Advanced Planning and Grant Management Division of the City of Los Angeles Bureau of Street Services (StreetsLA). In this role, Ana leads her team in seeking large-scale grant funding in the range of $20M-$50M to implement improvements in the City's street network. Ana's goal is to integrate urban greening and stormwater capture into StreetsLA's current project portfolio, to diversify its traditional focus on active transportation. Prior to this role, Ana was in StreetsLA's design-build program where she designed and managed the $12M Measure R and Call for Project-funded Metro Gold Line Eastside Access and Eastside Light Rail Pedestrian Linkages Projects, providing first-last mile street improvements and placemaking along the arts corridor of Boyle Heights.
Registration: All proceeds will benefit AAAEA-CA scholarship fund. AAAEA-CA is a registered non-profit 501 (C) (3) organization. Sponsorship of the event is available. Please contact Dr. Ghina Yamout at ghina@marrscorp.com.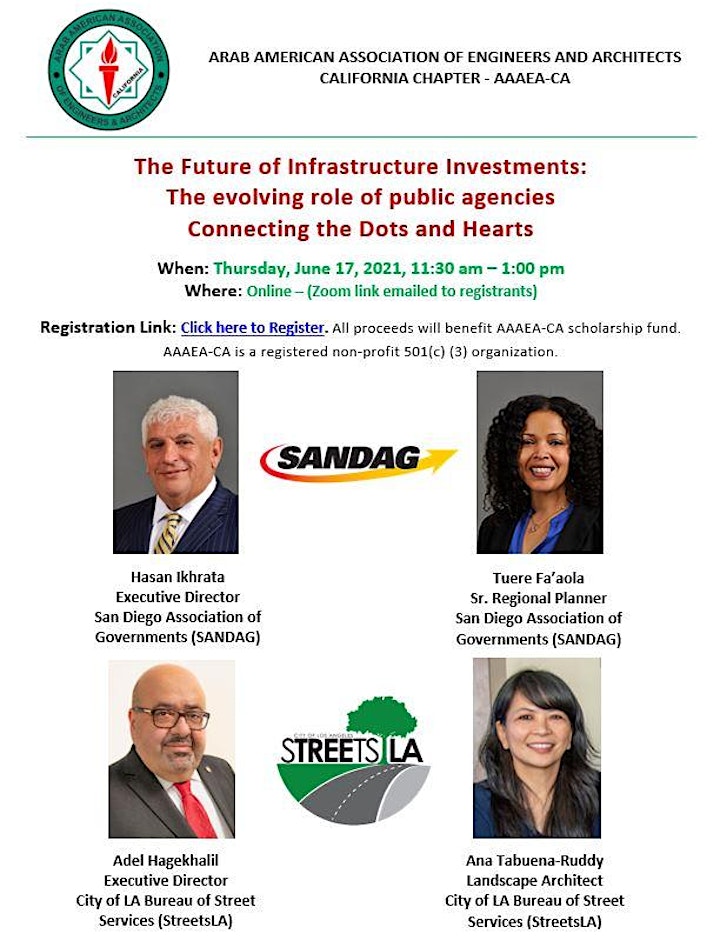 Date and time
Location
Refund policy
Organizer of The Future of Infrastructure Investments: Connecting the Dots and Hearts
As a not-for-profit, non-religious, non-political organization, our goals are to further the careers of our members through networking opportunities, technical seminars, scholarships, and educational opportunities. Since its inception, the AAAEA-CA has relied heavily on sponsors like you to continue to hold the events that we do and provide our students with scholarships. Since 2010, the AAAEA-CA has awarded over 80 scholarships totaling over  $90,000 to high school, undergraduate, and graduate students pursuing degrees in engineering, architecture, or information technology. For the first time ever, the AAAEA-CA will be able to offer scholarships at both our May and December events, thanks to generous contributions from sponsors like you. Through your support, we can continue this legacy of excellence.