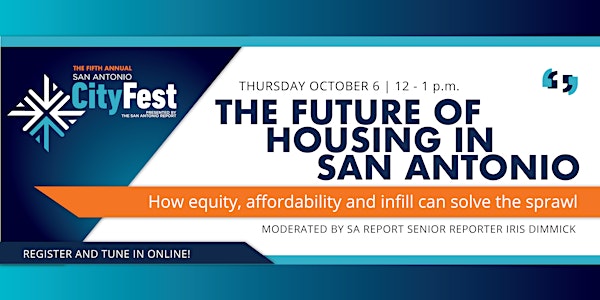 The Future of Housing in San Antonio - 2022 CityFest
How equity, affordability and infill can solve the sprawl
About this event
San Antonio saw the largest increase in population of any major city from 2020 to 2021, and millions more are expected to move to this city and its surrounding communities by 2050. Amid a national housing shortage and rising housing costs, how will San Antonio strategically position itself to add residents, while also protecting affordability for homeowners and renters who are already here? We will also talk in this virtual discussion about the worsening problem of homelessness in San Antonio.
Panelists:
Antonio Petrov - Founder, Urban Future Lab
Mark Carmona - Chief Housing Officer, City of San Antonio
Rich Acosta - President, My City is My Home
Debra Guerrero - Vice President of Government Affairs, NRP Group
Kim Jefferies - President and CEO, Haven for Hope

CityFest: Live Local
Join us for CityFest 2022—four days of dynamic programming curated around the theme "Live Local" from Tuesday, October 4 through Friday, October 7. As San Antonio continues to recover from the worst days of the pandemic and look toward strengthening our community using an equity lens, our fifth annual urban ideas festival will be staged throughout the city and streamed online to promote accessibility and community engagement.
Our keynote luncheon titled "The Exit Interview" will be a conversation with County Judge Nelson Wolff and San Antonio Report co-founder Robert Rivard at the Tobin Center for the Performing Arts. San Antonio Report staff along with invited guests will serve as moderators throughout the week for panels and events to get you connected (or re-connected) to your city.
For more information on CityFest, visit www.cityfestsa.org