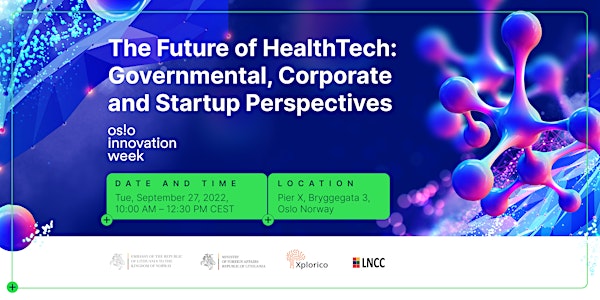 The Future of HealthTech: Governmental, Corporate and Startup Perspectives
The event for decision makers, corporates, investors and startups interested in healthtech potential
When and where
Location
Pier X Bryggegata 7 0250 Oslo Norway
About this event
Digital technologies have transformed many industries – from communication to entertainment, retail, travel and even financial services. Recently data-driven revolution has begun to transform one of the most regulated industries – healthcare. New tools and digital technologies introduced innovative solutions such as remote engagement, personalized treatment, advanced scientific research. It has also led to the accumulation of large data sets, which advanced research models – AI, machine learning, deep learning – are helping to transform into valuable information enabling healthcare professionals to make informed decisions and improve care. This tide of disruption aims to impact every aspect of healthcare industry - from disease prevention and monitoring to diagnosis, patient care and treatment. The changing healthcare landscape creates new challenges and opportunities for all healthcare stakeholders – policymakers, researchers, corporates, investors and startups.
How are policymakers and regulatory agencies embracing this transformational shift? How do they manage to create the right regulatory framework that balances the promotion of innovation and the protection of consumers – quality and security requirements for medical devices, patient data privacy and ethical usage? What kind of infrastructure is needed to ensure adequate scientific research breakthroughs? What are the best strategies for successful cooperation between researchers and businesses, which would lead to commercialization of research results? How do innovative startups harness new business models bringing their HealthTech, MedTech or BioTech solutions to the home market? What support can investors provide to expand promising digital health businesses into new global markets?
Collaboration is critical for success not only within but also between ecosystems. With this event we aim to find out what the Norwegian and Lithuanian ecosystems can offer to innovative HealthTech and wellness businesses and is there a ground for mutually beneficial cooperation. If this is an area of your interest - join us at the event, expand your knowledge of the field, and meet with the knowledgeable experts, successful investors and ambitious founders.
Program
Event moderator - David Holm, Founder and Chairman of Xplorico AS
10.00-10.05 Introductory words
H.E. Jonas Mažeika, Lithuanian Ambassador to Norway
10.10-10.30 Presentations of Norwegian and Lithuanian life sciences ecosystems
 Cathy Capdeville, Head of Healthcare industry at Innovation Norway
Agnė Vaitkevičienė, Executive Director at Lithuanian Biotechnology Association Chief Operating Officer at Cureline Baltic, UAB
10.30-10.55 Panel discussion - the steps policy makers and regulatory agencies are making to unlock the value of the data economy and to create the favorable policy environment for innovative HealthTech businesses:
 Trine Radmann, Head of International Affairs at Norway Health Tech
Magnus Barden, Health Data Sweden, CEO DigitalWell Arena and Compare
Erika Kuročkina, Advisor to the Minister of the Economy and Innovation of Lithuania
 Klas Pettersen, CEO at NORA
 Dovilė Juozapaitė, Senior Medical Biologist at VUH Santaros Klinikos Biobank
10.55-11.10 Coffee break
11.10-11.35 Panel discussion - from lab to market. Key necessities for life sciences research institutions to commercialize innovations:
Agnė Vaitkevičienė, Executive Director at Lithuanian Biotechnology Association Chief Operating Officer at Cureline Baltic, UAB
Tale Skjølsvik, Professor/Vice-Dean Innovation & Work Life, Faculty of Technology, Art & Design, OsloMet - Oslo Metropolitan University
Egil Utheim, Vice President - Health and Home Care at Halodi Robotics
Mindaugas Bulota, KTU Head of National Innovation and Entrepreneurship Center
11.35-12.00 Panel discussion - growing from startup to scale-up in HealthTech sector:
 Katherine Mellis, Investment Professional at Hadean Ventures (tbc)
 Paulius Vilemas, Founder, Investor, Entrepreneur
 Stefan Skoglund, Co-Founder and Startup Advisor at DigitalWell Ventures, Digital Business Developer & Innovation Manager, Lecturer, Author and Investor
 Arnas Karužas, Chief Executive Officer at Ligence, Cardiologist
 Ingrid Olstad Busterud, Chief Executive Officer at Helseinn
12.00-12.20 HealthTech startup pitches
 Dominykas Milašius, Co-Founder of Delta Biosciences
 Kristil Erla Håland, CEO and Founder at Jodacare AS and Jodapro AS
 Arnas Karužas, Chief Executive Officer at Ligence, Cardiologist
 Cecilie Ågotnes, CEO and Founder at CanEat
 Algirdas Noreika, CEO at Ideform
 Mikael Bouchat Karlsson, Co-founder Avanto Care