The Future of Healthcare in the Trump Presidency. AN APOLOGY-
Actions and Detail Panel
The Future of Healthcare in the Trump Presidency. AN APOLOGY-
Thu, January 12, 2017, 9:00 AM – 2:30 PM EST
Description
Upon organizing the Event with FIU, a Medical Doctor, Cheryl Brewster- who is also the "
Dean for Diversity and Inclusion" has imformed me that the panel wasn't "Diverse enough" for FIU to take part.
Unfortunately, the Trump Era is being stifled by Politically Correct Minders destroying a good discussion and furthering the advancement of the Healthcare Industry by super-imposing what THEY define as appropriate. I'm not even necessarily upset at losing the sponsors or the ost money in advertising- what I am most disapointed in is the arrogance of elitism that has circled around this subject. Medicine is highly compartmentalized, and to refuse an intellectual discussion on the matter- demonstrates more about FIU's shortcomings than mine.
What I can offer instead is a chance to interview all or any of the 24 speakers for the event and also take questions from the 89 attendees that registered for this event and compile into a well produced youtube video that outlines these problems before the inauguration. Please email me, if I may interview you and your healthcare business on the subject.
I apologize for the delay in responding, I wish you al the best of success in the New Year, Happy Holidays, Merry Chistmas and if I can serve you in any way please let me know,
Sincerely,
David King
contact@davidtking.us
An Amazing Event. Here are some of the speakers! More On the Way!!!!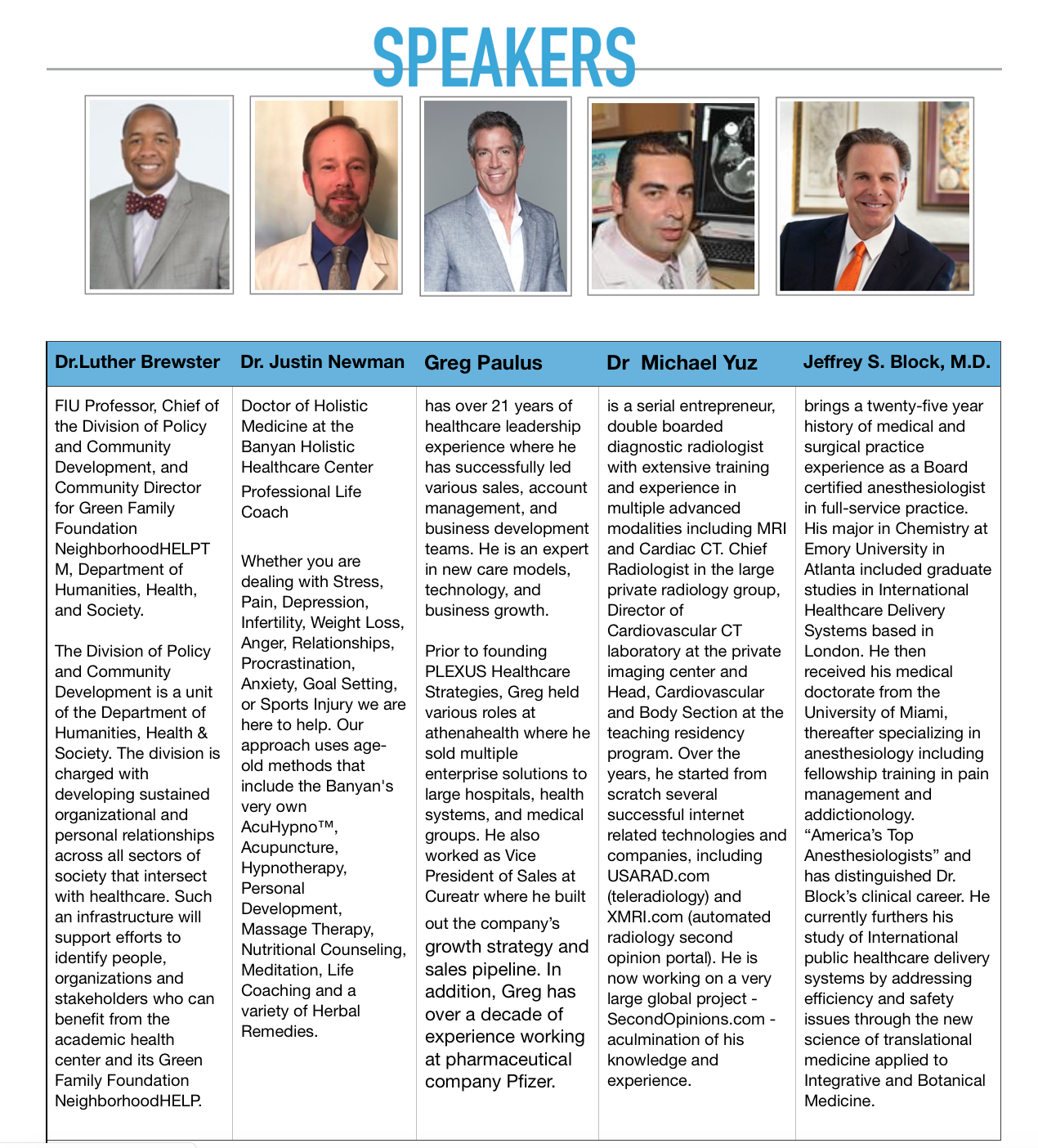 This symposium will focus on examining how the Trump Presidency will change the future outlook of the Healthcare Market throughout the U.S. in the next four years.
Our Expert Speakers will outline their speculations on how to best prepare and profit in areas regarding;
Patient Revenue Models,
Medical & Pharamaceutical Research
HIPAA & Legal Compliance
Insurance Reimbursements
New & Ermerging Technologies
FDA Rules and Requirements, Clinical Studies
Natural & Integrative Medicine
Managed Care & Drug Rehabilition
An analysis on coming market trends and their interaction with new public policies regarding public and private healthcare revenue models. This will be followed by a round table discussion and open question forum. It looks to be an Informative event and a chance to network with top healthcare and business professionals in your field. Advanced seating available.
MORE DETAILS ADDED ALL THE TIME.