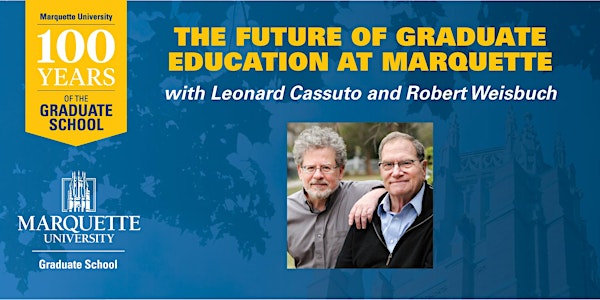 The Future of Graduate Education at Marquette
Celebrate Marquette Graduate School's 100th Anniversary! Immediately following the keynote address join us for cake and a toast.
About this event
This event will be held on campus, location will be sent following registration.
MU attendees, be sure to use your @marquette.edu email to register for this event.
On Tuesday, October 25 at 3pm the Graduate School will kickoff a year of anniversary programming with a keynote lecture highlighting the Future of Graduate Education at Marquette delivered by Leonard Cassuto and Robert Weisbuch national experts in graduate education reform movements and authors of the book The New PhD: How to Build a Better Graduate Education.
Dr. Leonard Cassuto is the author or editor of nine books on American literature and culture and writes the column "The Graduate Adviser," for the Chronicle of Higher Education. Other recent books include The Cambridge History of the American Novel (General Editor, 2011), and The Cambridge Companion to Baseball (2011), winner of the Best Anthology Award from the North American Society of Sports Historians.
Dr. Robert Weisbuch is former President of the Woodrow Wilson National Fellowship Foundation and of Drew University. He spent 25 years at the University of Michigan, where he served as chair of the Department of English, associate vice president for research, associate dean for faculty programs, and interim dean of the Horace H. Rackham School of Graduate Studies. He then served as President of the Woodrow Wilson National Fellowship Foundation for seven years. In 2005, he became the eleventh President of Drew University.